Foodie favorites, part two: We asked resident food lovers for the best Chicago restaurants they've visited recently. And now we're hungry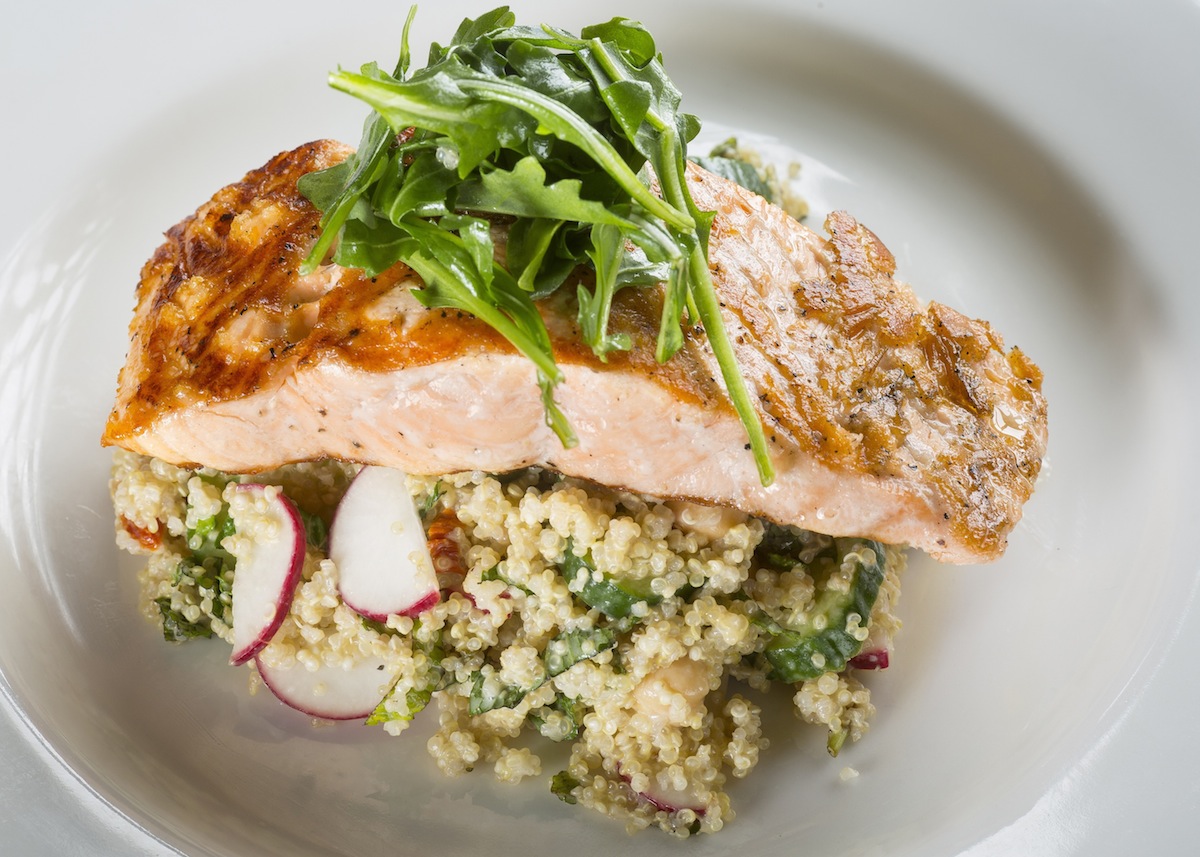 To see the restaurants featured in the first Foodie Favorites installment, click here.
LaBriola Café and Ristorante
535 N. Michigan Ave. in River North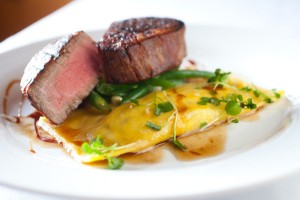 www.LaBriolaCafe.com
One of the newest food ventures on the Magnificent Mile is LaBriola Café & Ristorante. The café is features a casual setting with breakfast items, soups, salads, sandwiches, pastas, burgers and Neapolitan pizza. I love the sweets counter with tons of cakes, cookies, pastries, baked goods and a rotating gelato freezer. On the other side of the café is a simple bar with a globally inspired wine list and craft beers. Just beyond the café is the restaurant, where it's more of an intimate setting with white tablecloths and wine bottles embedded in the walls. This menu consists of handmade pasta, seasonal lasagna, prime steaks and seafood.
Sepia
123 N. Jefferson in the West Loop
www.SepiaChicago.com
I was very excited to take my girlfriend here for her 30th birthday. As a hotel concierge, it was a long overdue first visit. Walking in, the restaurant features a warm, rustic feel, complimenting old Chicago with photos and memorabilia. Attention to detail is everywhere: chandelier lighting, wood tables and food ingredients. My girlfriend and I were very excited to experience chef Andrew Zimmerman's seasonal menu. I picked the Berkshire pork collar with apple, sanguinaccio and parsnip in black vinegar. Our server was very knowledgeable of the menu and wine list, and of course, the birthday dessert was a plus!
Celeste
111 W. Hubbard in River North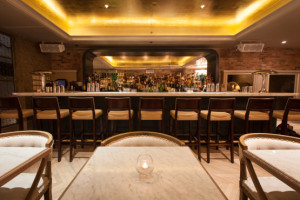 www.CelesteChicago.com
Walking into Celeste is like walking back into time, like Chicago around the World's Fair. The bar on the first level is composed of wood and exposed brick, serving small bites, progressive cocktails and craft beer. The dining room on the second level, also known as the "Deco Room," is where we ate. We sat at a circle booth facing the street, which created a nice supper club feel. The menu design included scientific logics and figures about astronomy and stars. Being it was Chicago Restaurant Week, we had a three-course prix-fixe menu that was a great reflection of the regular menu. I highly recommend the innovative cocktail list. Come summertime, I look forward to returning for their rooftop garden.
— Anthony Gates, concierge at the Doubletree
Green Street Smoked Meats
112 N. Green in the West Loop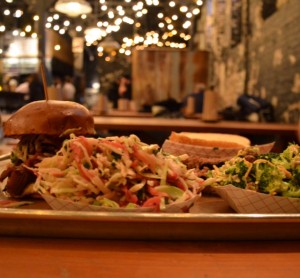 www.GreenStreetMeats.com
The gem that is Green Street Smoked Meats is unassumingly tucked away in a warehouse. The open, rustic space with communal seating, a laid-back environment and ordering in line with a lunch tray combine to only enhance the charm of this establishment. The staff is knowledgeable and friendly, quick to offer suggestions and personal favorites. If you're with a group, I would recommend sampling a few items. Some of our favorites: pork ribs, sliced brisket, pulled pork sandwich (personal favorite), broccoli salad (a must) and coleslaw. They also have a great bar; the Revolution Anti-Hero paired well with the meats.
Nini's Deli
543 N. Noble in Noble Square
www.NinisDeli.com
This family-run and friendly, laid-back deli is a local favorite in West Town. The Cuban steak sandwich (add avocado) is out of this world… I am drooling as I reminisce. I would also recommend topping off your meal with a sweet empanada, which consisted of peanut butter and apples stuffed in a warm, baked pastry. Although you can dine in, it is one of my favorite places to order carryout. Vegetarian and gluten-free options are also available.
Maude's Liquor Bar
840 W. Randolph in the West Loop
www.MaudesLiquorBar.com
Maude's is the perfect spot for a date night or an evening out with friends. An ambiance has been created, which makes it easy to forget the city is bustling right outside the door. Service is attentive but relaxed, which allows for a long, leisurely meal and drinks with enough check-ins to feel taken care of, yet enough space to enjoy the food and company. Standouts included roasted bone marrow, salmon tartare, blackened brussel sprouts and pomme frites (aka fancy fries).
Del Seoul
2568 N. Clark in Lincoln Park
www.DelSeoul.com
For amazing, well-priced Korean barbecue, my go-to is Del Seoul. If you are looking for a casual, quick and delicious dine-in or take-out experience, this is an awesome place. I would strongly recommend the kalbi (grilled beef short rib) and spicy barbecue pork tacos, Seoul-style street dumplings and the kimchi fries.
— Meghan Johnson
Cape Cod Room
140 E. Walton in the Gold Coast
www.TheDrakeHotel.com/dining/cape-cod
For a classy room, go to the historic Cape Cod Room. Executive chef Herve Cuyeu creates seasonal American fare with international flair. Start with the seafood-stuffed potato gratin, then enjoy the grouper with spaghetti squash, potato puree and sage brown butter. A delicious dessert is the warm pear crumble with ginger gelato by pastry chef Christina Schubert. Make sure you linger at the long bar where Marilyn Monroe and Joe DiMaggio carved their initials.
Nico Osteria
1015 N. Rush in the Gold Coast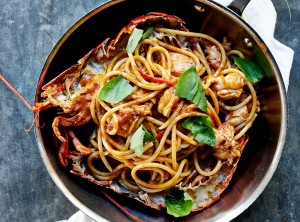 www.NicoOsteria.com
For chic cuisine, it's the new restaurant in the Gold Coast that I tried this spring, Nico Osteria. Paul Kahan opened this rustic Italian spot a year ago to critical acclaim and loyal neighborhood clientele. Sit at a welcoming window seat to try the sustainable menu and gaze out at those passing by on Rush Street. Chef Ehrling Wu-Bower prepares "crudo," a fresh-bite selection changed daily. Recommended entrees are the lobster spaghetti, roasted rainbow trout or pan-seared Dover sole. Save room for dessert and pastry chef Amanda Rockman's key lime meringata. Your cocktail must is a bella bianco with tequila or the Gold Coast julep with dry vermouth, bitters and apricot liqueur.
Doc B's Fresh Kitchen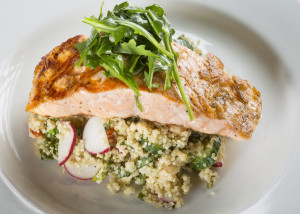 100 E. Walton in the Gold Coast or 55 E. Grand in River North
www.DocBsFreshKitchen.com
My casual choice is Doc B's on Walton. One can relax in a booth or sit at the expansive front windows. What to try from the healthy menu? The turkey burger with roasted red pepper, avocado, onion and vinaigrette is most popular, as is the California salad. The wok out bowl is not to be missed with quinoa and choices of seared ahi tuna, kale, carrots, mushrooms, broccoli, onions and cashews. Room for dessert? Choose between the amazing gelato cookie sandwiches: salted caramel, raisin and oatmeal, or chocolate chocolate chip.
— Andrea Behrstock, concierge at The Drake
Boka
1729 N. Halsted in Lincoln Park
www.BokaChicago.com
The food here is amazing, especially the smoked foie gras and octopus. It held up to the hype of a Michelin-star restaurant with its superb service, beautiful presentations and amalgamation of flavors and taste.
Shaw's Crab House
21 E. Hubbard in River North
www.ShawsCrabHouse.com
This is an oldie but a goodie for me, and a wonderful Lettuce Entertain You establishment. The ambience is always fun and laid back, and you can't go wrong with a bottle of Sancerre with a crispy wedge salad and two-pound lobster.
Ceres' Table
3124 N. Broadway in Lakeview
www.CeresTable.com
In a city filled with deep-dish pizza, this place is by far the best for Neapolitan thin-crust pizza. I am always on a search for thin crust, and I found a keeper here. The crust is light and fluffy with a sauce that is blended with the perfect amount of seasoning. The restaurant is laid back, and the Italian pizza maker is fantastic and willing to please. I love nothing more than going to a restaurant where the chef greets you, chats with you, and says "Try this." Sit at the pizza bar, and you won't be disappointed.
— Faye Gordon