New on the scene: Recapping recent restaurant and bar openings in Chicago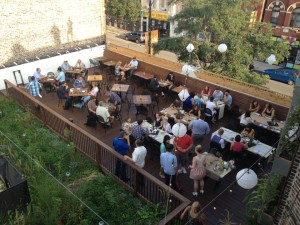 These are a few of the exciting new eating and drinking establishments to open in Chicago recently
By Taylor Tolbert
Homestead on the Roof
1924 W. Chicago

www.HomesteadOnTheRoof.com
Hanging gardens on a rooftop patio that doubles as the restaurant's organic farm, a varied yet concise menu, and a passionate team behind it all — that's what you'll find at Homestead. This farm-to-table restaurant is as close to perfect for summertime as you can get in the city.
Eleven Lincoln Park
2301 N. Clark
www.ElevenCityDiner.com
All the charms of Eleven City Diner in the South Loop, now in Lincoln Park. Pastrami stacked a mile high on rye, a highly educated soda jerk and banana splits to die for are all on the menu here at the newest offshoot of a Chicago favorite. Come in for the root beer, stay for the sundae bar.
Lao 18
18 W. Hubbard
www.Lao18.com
Celebrity chef and Chinatown favorite Tony Hu is taking his talents to River North with a new Szechuan-inspired restaurant. Like any great Szechuan menu, you'll find plenty of heat and spiciness here, along with creative cocktails and eye-popping décor.
Mott St
1401 N. Ashland
www.MottStreetChicago.com
If you ever find yourself craving fried Brussels sprouts with lamb pancetta (and who doesn't?!), Mott St is the place for you. Or, you know, if you just want a great meal and great atmosphere. It's the newest restaurant from the Ruxbin crew, so you know it won't disappoint. But get there early, as the 30-seat patio is sure to fill up before the dinner hour.
Tre Soldi
212 E. Ohio
www.TreSoldiChicago.com
This new Streeterville restaurant pulls its inspiration from Roman culture, art and, of course, cuisine. The menu boasts great antipasti, pastas and pizzas. And the combination of owner Jack Weiss (Coco Pazzo) and chef Brandon Wolff (Signature Room) is sure to satisfy.
Old Fifth
1027 W. Madison
www.OldFifth.com
With a Madison Street address insinuating close proximity to the Madhouse, you'd almost expect that the walls glow red with a Hawks win. You might not expect a double-decker pizza or fries topped with melted cheddar and braised oxtail, but that's what you'll find at this West Loop whiskey bar.
Endgrain
1851 W. Addison

www.EndgrainRestaurant.com
Donuts and Nutella seem to be all the rage right now. Endgrain combines both of these delicious treats with a Nutella milkstout donut, but you better hurry there before they're sold out. Luckily, Endgrain is open all day and offers more than just donuts. They've got an extensive brunch menu and fried chicken or hanger steak for dinner.
Gallery Bar
738 N. Clark
www.GalleryBarChicago.com
On paper, this place may seem a bit overwhelming. Pop art on the walls, Asian burritos, wonton nachos and beer cocktails — where do you start? Everywhere. This River North bar and restaurant will surely appeal to all of your senses.

MAK
1924 W. Division
www.MakRestaurant.com
Chinese fast food generally makes us nervous, but MAK in Wicker Park has finally provided a quick and easy (and safe!) way for Chicagoans to get their Chinese fix. Owner Tommy Wang brings his family's traditional fare to the city in a creative way — pick either a bowl or a wrap and fill it with delicious ingredients at your own choosing (think Chipotle, sort of). Every order comes with a neat fork/chopstick combo, aptly named a "chork."
Juno
2638 N. Lincoln
www.JunoSushi.com
Lincoln Park's newest Japanese restaurant, led by restaurateur Jason Chan and chef B.K. Park (Arami), has a modern feel with some traditional aspects. Pork belly ramen, sushi rolls and sashimi platters, bowls full of steamed clams and mussels with pork sausage in sake broth… is your mouth watering yet?
DryHop Brewers
3155 N. Broadway

www.DryHopChicago.com
You may walk into DryHop and say to yourself, "Hey, I think this used to be a sex shop." Hopefully you're thinking that quietly to yourself and not out loud, but you are correct. Occupying the space that was once the Pleasure Chest, DryHop offers adult products of a different kind — craft beer. Beer nerds of Chicago will love this new Lakeview brewery, and bacon enthusiasts will love the food menu. Beer and bacon with the spirit of sex, what more could you ask for?
El Hefe
15 W. Hubbard
www.ElHefeChicago.com
Ever heard of "table tap technology?" It's any alcohol lover's greatest dream and worst nightmare in an iPad. It basically allows you to get select beer and liquor at any time right at your table using pay-as-you-pour method, no waitress needed (although she is probably scantily clad and you'll want to say hi). El Hefe offers this fantastic innovation, along with street tacos and delicious burgers.
Chez Simo
1968 W. Lawrence
www.ChezSimoBistro.com
Chez Simo, tucked in a cozy nook of Ravenswood, offers traditional French cuisine while still remaining accessible to anyone not hailing from the City of Lights. You can impress your date by perfectly pronouncing, "croquet monsieur" or just play it safe with the braised lamb shank. Either way, you're in good hands.
The Twisted Vine
3530 N. Halsted
www.Facebook.com/TwistedVineChicago
Wrigleyville isn't just for frat brothers and Old Style beer, although it's got a plethora of both. Just blocks from Wrigley Field is a quaint and romantic wine bar with whiskey to spare. Stop in f
or a nice drink before a Cubs game or stay all night and enjoy the beverages and ambiance.
Parson's Chicken & Fish
2952 W. Armitage
www.ParsonsChickenAndFish.com
This place screams summertime. Picnic tables in a huge patio area, buckets of fried chicken, even funnel cake is on the menu at Parson's Chicken & Fish in Logan Square. You can even indulge in an adult slurpee in the form of a Negroni slushy, available by the glass or carafe, so you should probably go ahead and break your lease now since you'll know where you'll be all summer.
J. Rocco Italian Table & Bar
749 N. Clark
www.JRoccoItalian.com
We'll make this short and sweet — there are five different types of meatballs at this new River North Italian joint. Need more convincing? How about a James Beard-nominated chef and herbs and greens grown in-house? Done and done.