Good eats at State & Lake, Weather Mark and Burger Joint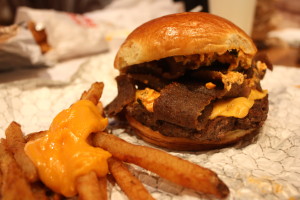 Your ads will be inserted here by
Easy Ads.
Please go to the plugin admin page to set up your ad code.
State & Lake Chicago Tavern

Location: 201 N. State St.
www.StateAndLakeChicago.com
The scene: State & Lake more closely resembles the feeling of walking into my grandma's house than what I thought a bar connected to a four-star hotel would be like. Executive chef Evan Percoco takes comfort food to the next level in this historic space with a Miami-Vice-meets-Rust-Belt-chic feel.
Food and drink: Percoco describes his food as "approachable Midwestern cuisine with an element of sophistication." The restaurant recently adopted a farm-to-fork philosophy and obtains its grass-fed beef and Amish chicken from small Midwestern farmers. With the tasty butcher burger, Percoco re-invents a classic with his own comfy spin. It comes served on a soft pretzel bun and is topped with tavern mayo (the State & Lake version of "special sauce") and homemade bread-and-butter pickles. The "Pass the Jar" menu offers a variety of spreads served with garlic toast, including beet spread with goat feta and lemon jam.
The strange combination of ingredients in the jams is delicious. State & Lake carries an extensive selection of craft beer from the Midwest, including Goose Island, 5 Rabbit Brewery and Virtue Brand, brewers of my favorite, Red Streak Cider.
What caught our eye: The interior walls of State & Lake are upholstered with chocolate-colored leather tiles and black-and-white photographs. The bar, brightened with vintage glass bottles in a variety of colors, is offset by rectangular panels suspended from the ceiling. The soft lighting, comfy chairs and rich colors create an inviting atmosphere.
We'll be back because… the soft décor, warm ambience and delicious, affordable food made for a positive experience that will keep us recommending it to friends. This tavern is ideal for a late lunch, hearty dinner or pre-concert snack.
— Nicole Weddington
Weather Mark Tavern
Location: 1503 S. Michigan Ave
www.weathermarktavern.com
The scene: Located in the bustling South Loop, the Weather Mark Tavern is the perfect place for anyone looking for a laid-back, nautical-themed pub, but not interested in settling for a meal "fresh" from the freezer. The lounge-style seating opposite the bar complements the wide-open dining area toward the back.
Food and drink: While Weather Mark offers your standard bar staples like burgers and wings, which rock in their own right, it also boasts out-of-the-ordinary dishes that will leave your taste buds clamoring for more. Take their pigs in a blanket dish for instance; these are not your aunt's lame attempt at an appetizer. The "pigs" are venison and wild boar sausage wrapped up in a "blanket" of homemade puff pastry, and they are seriously one of the best appetizers I've ever had. Their entrées won't fail to impress either. With selections like filet mignon, tilapia en papillote and a 14-ounce grilled pork chop, the chow
here is phenomenal and not what you'd expect from a neighborhood tavern. The bar offers a nice selection of craft beer and an enormous list of quality rums from around the world. "When a lot of people think of rum, they just think of Bacardi and Captain Morgan, and they're not aware that fine sipping rums even exist," owner Mark Stern explains. Weather Mark also pours trademark cocktails like my favorite, the "Dark & Stormy," which combines Gosling's black seal rum and ginger beer.
Your ads will be inserted here by
Easy Ads.
Please go to the plugin admin page to set up your ad code.
What caught our eye: The paddleboat hanging from the ceiling and the harpoon gun affixed to the wall help add to the marine theme, but the real star of this show is the cuisine.
We'll be back because… it's a South Loop original that has become part of its community by truly learning what its guests want. Oh, and did we mention the food was great?
— Zak Waltner
Burger Joint

Location: 675 N. Franklin in River North (delivery available). Opening soon in Ogilvie train station.
www.BurgerJointChicago.com

The scene: Having just celebrated its one-year anniversary, Burger Joint, a rustically modern basement level restaurant, carries a friendly, busy vibe. Large wood tables, flat-screen TVs and a huge, sepia-colored Chicago photograph on the wall dress up the place. It didn't take long for the Burger Joint to become a popular lunch staple for neighboring businesses, as well as a late-night destination after the nearby nightclubs and bars close.
Food and drink: Burger Joint feels like a fast-food establishment or corner diner because of the way you order — that being at a counter with an open kitchen in the background and the lovely aromas of g
rilled food emanating throughout. But you quickly realize there's a difference in quality here. The affordable menu is a lovely collection of comfort food like burgers, hot dogs, gyros, chicken pitas, Italian beef, fresh-cut fries, salads and soups. There is some creativity, too. For instance, I couldn't pass up the delectable Crazy Greek, a juicy half-pound burger topped with sliced gyro meat and a "feisty" feta spread. Don't forget to grab a side of Merkt's cheddar cheese sauce for the fries, unless you're feeling like a gut-busting poutine treat — fries topped with brown gravy and cheese curds. Burger Joint is also adding an alcohol license soon.
What caught your eye: The six specialty burgers, seven different ways they serve up fries, and the generous use of high-end artisanal cheeses. We were going out afterward, so we had to abstain, but the wonderfully thick shakes look like they're the real deal too.
We'll be back because… first off, it's a ridiculous burger. It's also a comfortably modern setting, and your food comes out fast. The owners grew up in the family restaurant business, which explains a lot. "It's gourmet fast food at regular prices," says co-owner Dennis Skiadopoulos. "It's fast, it's casual, and it's good." We couldn't agree more.
— Trent Modglin
Your ads will be inserted here by
Easy Ads.
Please go to the plugin admin page to set up your ad code.