Funny people: Five spots to enjoy some classic Chicago comedy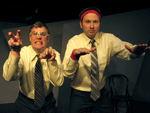 Your ads will be inserted here by
Easy Ads.
Please go to the plugin admin page to set up your ad code.
Chicago's love affair with comedy is second to none. Here are five spots to catch the city's best and brightest
By Megan Green
Chicago and top-level comedy have been synonymous for decades. Many comedy venues have been around for years and proven themselves as a consistent source of hilarity and talent.
From the start of Second City in the 1950s to the brand-new comedy theaters developing today, Chicago has never stopped appreciating a good joke.
Every night of the week, the Windy City offers anyone who wants it the opportunity to laugh. From the long-form improv or interactive games of Comedysportz to the reliable stand-up at Zanies or the culturally satirical skits from Second City — it's all here.
"Most everyone who leaves the stage at Second City and goes on to fame comes back and tells the current cast members that this is the best time artistically," says veteran comedian Andy St. Clair. "You get to do whatever you want every night. Writing a show, you get to make it however you want. And it is pretty great. Pretty exciting."
The Annoyance Theatre
851 W. Belmont
773-561-4665
www.annoyanceproductions.com
The Annoyance Theatre has been cranking out quality plays, musicals and cabaret shows for years. These scripted shows are created through the tool of improvisation, giving each production a feeling of spontaneity. "This is a place where actors really get to create and express," says Jennifer Estlin, the theater's executive producer and president.
The history: In 1987, artistic director Mick Napier and a group of friends decided to create a show that became the successful "Splatter Theatre," leading them to search for their own performance space. The theatre's initial show in its own space was "Coed Prison Sluts," a musical that ran for 11 years, making it the longest running musical in Chicago theater history. Its success, along with that of others, cemented The Annoyance Theatre's place in Chicago's comedy landscape.
What makes it great: The theatre has multiple shows almost every night of the week and is a great place to see up-and-coming talent. Along with the innovative performances, the Annoyance offers a variety of classes as well, covering improv and about every other comedy-centric interest.
ComedySportz
929 W. Belmont Ave.
773-549-8080
www.comedysportzchicago.com
The short-form improv shows at ComedySportz are described as "competitive improvisation" and are as clean and original as you'll find. Anyone who has seen TV's "Who's Line Is It Anyway?" will recognize the style of these games, but ComedySportz's red and blue teams (and referee) make them come to life with creativity, music and loads of energy.
The history: ComedySportz Chicago opened in 1987, moving from venue to venue as it grew before finally settling into its impressive new digs in the Lakeview neighborhood in 2008. ComedySportz always strives to have excellent talent in its core ensemble. Actors such as "Saturday Night Live's" Liz Cackowski and "Mad TV's" Frank Caeti were both part of this company.
What makes it great: ComedySportz stands out by offering short-form improv shows for all ages. "If someone wants consistently funny improv, we are a safe bet," says artistic director Matt Elwell. This theater presents its fast-paced main show Thursday through Saturday nights and offers other shows, such as "Cocktail Hour" and "BattleProv," throughout the week. ComedySportz is also known for its training center, which has fun classes and talented instructors. The main shows are "all ages," meaning they have a little something for everyone, and a more racy late-night series is available for those who want something a little more "adult" in nature.
iO
3541 N. Clark St.
773-880-0199
www.chicago.ioimprov.com
This comedy theater is known as much for its great improv shows as the stars it has created. Well-known performers like Chris Farley and Mike Meyers found their start at iO. With alumni like that, it's obvious this establishment must be doing something right when it comes to making folks laugh.
The history: According to co-founder Charna Halpern, iO "changed the face of improv comedy." In 1981, Halpern founded iO with her partner, Del Close. This was a collaboration that took improv comedy in a new direction. Previously, improvisation had merely been a tool used to create scenes and shows, but iO changed that, creating long-form improvisation. iO took improv from a tool and turned it, as Halpern states, "into an art form."
What makes it great: This theater has two performance spaces, doubling the amount of shows it can house each night of the week. And the performances are mostly original, meaning you will get to see an improv show that will never be seen again. The iO training center, consisting of the main five-level program, a writing program and various electives, has a consistent reputation for providing great training from great teachers.
Second City
1616 N. Wells St.
312-664-4032
www.secondcity.com
It's hard to think of comedy in Chicago without thinking first of Second City. With decades of experience and an alumni list that is second to none, this company continues to serve as a huge draw for locals and tourists alike. "A stop at Second City is like a stop at Wrigley Field," says Second City vice president Kelly Leonard, cementing its iconic status.
The history: Second City first opened in 1959 in the Old Town neighborhood. It became more of a household name with the successful launch of "Saturday Night Live" in 1975. Once people realized that stars like Bill Murray and John Belushi got their start at Second City, they wanted to experience this growing theater for themselves. Today, Second City still regularly launches the careers of many stars like Tina Fey, Stephen Colbert and Steve Carell.
Your ads will be inserted here by
Easy Ads.
Please go to the plugin admin page to set up your ad code.
What makes it great: The shows at Second City, written mostly by the cast, are made up of creative skits that deal with prevalent political, cultural and societal issues that any crowd can easily relate to — and get a kick out of. Performed in one of Second City's two theaters, they regularly play to packed houses and receive strong reviews. The training center at Second City has trained thousands. Most of the classes simply require a payment to attend, but the Second City Conservatory requires an audition. Second City has created a tradition of excellence over 50 years, and with a niche for finding and training the nation's top talent, it shows no signs of slowing down.
Zanies
1548 N. Wells St.
312-337-4027
www.chicago.zanies.com
Zanies, an intimate, old-school comedy club just down the street from Second City, remains the only reliable place to go see stand-up comedians in Chicago. "We book the best comedians we can find, sometimes before people even know them," says Bert Haas, executive vice president of Zanies.
History: Zanies, which began in Chicago and has expanded to Nashville and the Chicago suburbs of St. Charles and Vernon Hills, is in its 31st year in the Old Town neighborhood. According to Haas, every big comedian over the past few decades, such as Jerry Seinfeld, Richard Lewis, Jay Leno and Sarah Silverman, has worked the stage here.
What makes it great: Zanies prides itself on being an intimate, casual environment to watch the best stand-up talent the world has to offer, be it the popular circuit veterans or elite rising talent. The 21-and-over club fits about 100 people and also offers classes of its own.
Other places to see comedy: Chicago's unique comedy circuit does not end with these five landmarks. Smaller venues, like the Playground Theater (3209 N. Halsted St.) or Chemically Imbalanced Comedy (1420 W. Irving Park Rd.), provide comedy shows several times a week. If you want to experience comedy while enjoying a bar atmosphere, check out any one of the numerous "Barprov" nights. One of these locations, The Spot (4437 N. Broadway St.), offers improv each Monday at 8 p.m.
Question to Chicago's comedy actors:
 What makes comedy in Chicago so unique and great?
 "Everyone who does it here does it because they love doing comedy in Chicago. It's a great city to learn the craft of comedy. There's a family atmosphere here, and everyone is rooting everyone else on." — Andy St. Clair
"Comedy in Chicago is extremely unique because the community is so massive and diverse. The amount of people in the community, compiled with amount of time and opportunity to perform, forces comedians to continually innovate and create new perspectives on standard comedic form." — Tamara Nolte
"It's a small, wonderful community, and even when people doing comedy here move away, they look for their fellow Chicagoans in L.A. and New York. If you do this stuff, Chicago's where your roots are, where you heart is." — Emily Wilson 
"Comedy works here because Chicago itself is a pratfall. Our teams collapse theatrically, our weather is a gag reel of inhuman absurdity and our politicians are an endless parade of clowns stepping on the same banana peel again and again. And every time, the city blinks hard, shrugs, stands back up and walks whistling into it again." — Sean Cusick
Your ads will be inserted here by
Easy Ads.
Please go to the plugin admin page to set up your ad code.