A very good year: Check out some of Chicago's top new restaurants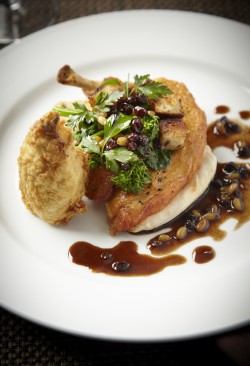 Your ads will be inserted here by
Easy Ads.
Please go to the plugin admin page to set up your ad code.
The Real Chicago takes a closer look at some of the city's best new restaurants from 2010

By Trent Modglin, Jennifer Billock and Danielle Berry
Chicago is known around the globe for its food. And not just deep dish and hot dogs. We're talking real food, innovative food, the kind of food that leaves critics and casual diners alike clamoring to get back for another taste. And 2010 was a particularly good year for Chicago, as a plethora of new restaurants sprouted up, opened eyes and made stomachs growl in anticipation. Read on for some of our favorites.
Chicago Q
1160 N. Dearborn
312-642-1160
The Buzz: Southern quality service with a modern ambiance mingles almost
effortlessly to provide elegant style to an American pastime. Skylit dining, posh private dining rooms and a lounge with plush leather couches and plasma televisions make Chicago Q a great place for a post-sightseeing gathering or family weekend meal.
The Food: Delicious Southern barbeque meets Gold Coast style. Authentic smoked ribs and chicken will surely please the entire family, and the brisket, bacon-and-cheddar hush puppies and pulled pork sandwich will not disappoint. An elegant twist to a summertime backyard tradition.
Quote: "We're growing in popularity in the Gold Coast because Chicago Q is elevated dining one bar below fine dining, only because it's barbeque. With an extensive paired wine list and our smoking process, each dining experience will be memorable." — Gabriel Inchauste, executive chef
Cumin
1414 N. Milwaukee
773-342-1414
The Buzz: As soon as you walk into Cumin, the smell of spices will tickle your nose. The restaurant has a truly ethnic feel with exotic food and bright colors — you'll get an Indian/Nepalese vacation without ever leaving Chicago.
The Food: Cumin has a lunch buffet and serves a la carte dinner. There is a small selection of Nepalese appetizers and entrees, but the menu is mainly Indian.
Quote: "I walked in on one of their first open days and had one of the best goat dishes of my life (goat bhutuwa). The restaurant isn't a typical overwhelmingly large Indian place, but that's because it has Nepalese influence as well. In addition to their wonderful cuisine, they have a creative selection of native brews." — Samantha Cybor, concierge at the Hotel Sax
Dos Diablos
15 W. Hubbard
312-245-3100
The Buzz: This Tex-Mex restaurant and cantina provides a rustic and colorful flare to the hopping River North neighborhood. Dos Diablos, owned by famed Chicago nightlife guru Marc Bortz, is great if you're dining in for lunch or quieting those post-bar cravings.
The Food: The menu is filled with a number of pleasing Tex Mex dishes, and don't forget their fabulous margaritas. The most popular food items are the lobster tacos and the 3.5-pound chimichanga, which is on the house for the person courageous enough to finish it.
The Quote: "Dos Diablos is quickly becoming known for its late-night food and drink experience in River North. Quality food at a decent price point and awesome margaritas and cocktails." — Marisa Siva, River North foodie
Epic
112 W. Hubbard
312-222-4940
The Buzz: EPIC is housed in an old warehouse with three stories and a new rooftop, EPIC Sky. Floor-to-ceiling windows on the second floor make this a great spot for night-time city gazing. The restaurant is eco-friendly too — all the tables are made of reclaimed wood beams from the warehouse.
The Food: Your experience at EPIC will start with rosemary popcorn, the first thing on the table. What
follows is a modern American culinary experience with an ample supply of French technique.
Quote: "The building is somewhere between 14 and 15,000 square feet, so it's definitely a monster of a place. It's hard to put out quality food for so many guests at once, and I think that's something that our chef has really managed to execute well." — Riva Reed, EPIC event coordinator
Gilt Bar
230 W. Kinzie
312-464-9544
The Buzz: Gilt Bar transports you to a twinkly evening the moment you walk in. Dark woods and low lighting are reminiscent of an elegant restaurant patio at midnight. For a taste of Chicago's past, check out the downstairs bare-brick cocktail bar, Curio. You'll feel like you just stepped into an old Chicago speakeasy.
The Food: The food at Gilt Bar is farm-friendly. It's classic American with a decidedly French twist, using surprising gourmet ingredients like roasted bone marrow and pork belly.
Quote: "We're becoming well-known for our classic cocktails. We have the classic diner coming in for dinner and the River North bar crowd. It's good to get both ends of the spectrum." — Jean Tomaro, Gilt Bar manager
Girl and the Goat
809 W. Randolph
312-492-6262
The Buzz: Chef Stephanie Izard, the winner of TV's "Top Chef" two seasons ago, opened her own restaurant this summer to rave reviews, and things have hardly slowed down since. Creative, comfortable, rustic and trendy, Girl and the Goat is
arguably one of the city's most sought-after reservations.
The Food: The affordable menu boasts 10 meat, 10 fish and 10 vegetarian courses, but there's a constant blending of flavors in Izard's style of cooking that creates plenty of crossover appeal. Girl and the Goat stresses using seasonal and local products, from the green beans to the pork belly and all things in between. The chickpea fritters, smoked goat pizza, lamb shank, fresh bread and seared scallops with pumpkin brandade come highly recommended.
Your ads will be inserted here by
Easy Ads.
Please go to the plugin admin page to set up your ad code.
Quote: "I think people can really relate to Stephanie and relate to the space. Even outside of the TV show, just seeing her work in the kitchen, seeing her talk to customers, she's amazing. That's her personality, the kind of person you want to sit next to and have a beer with. And that's the feeling you really get when you walk in." — Daniel Russo, general manager
Henri
18 S. Michigan
312-578-0763
The Buzz: The lavish and chic décor allows you to sneak away to Paris for a bite to eat. Velvet-covered chocolate walls, silk drapes and sea foam chairs serve as a calming atmosphere in the heart of busy Michigan Avenue. Enjoy an innovation fusion of American and French food in a tranquil environment.
The Food: French cuisine is met with a modern twist, culminating with a lobster and foie gras beef wellington, short rib burger and a number of daily and seasonal specials. The extensive wine list is also sure to please and complement your meal. Save room for dessert, as the crème brulee and lemon soufflé are house favorites.
The Quote: "Henri provides high-end French cuisine in an intimate and unique space unlike any other restaurant in the area. Our list of bio-dynamic organic wines also enhances the dining experience." — Terry McNeese, Henri's director of operations
Longman & Eagle
2657 N. Kedzie
773-276-7110.
The Buzz: Jared Wentworth's regional American fare carries an emphasis on sourcing the finest local ingredients the region has to offer. As a nicely executed pub concept, the upstairs of L&E is being turned into a type of rustic inn, complete with six sleeping rooms.
The Food: Be prepared for some tempting, creative and adventurous ever-changing menu items, like the wild boar sloppy joe or grape French toast. They love — and tout — their whiskey at L&E and have a solid selection of bottled and draft beer, seasonal craft cocktails, unusual spirits and small batch wines.
Quote: "Definitely a place that is off the beaten tourist path in the Logan Square neighborhood. L&E focuses on local American (sometimes atypical) ingredients prepared in an open kitchen. The bar is the main attraction when walking into the place — as it should be — and consists of over 30 whiskeys ($3 daily shots) and a plethora of beer. The menu is playful and worth diving outside your comfort zone." — Samantha Cybor, concierge at the Hotel Sax
Purple Pig
312 N. Michigan Ave
312-464-1744
The Buzz: The Purple Pig is a collaboration of chefs Scott Harris (Mia Francesca), Tony Mantuano (Spiaggia) and Jimmy Bannos and Jimmy Bannos Jr. (Heaven on Seven), which is like assembling an all-star team for the kitchen. Their specialties: "Cheese, Swine and Wine." Small plates, late hours and communal tables only add to the foodie vibe.
The Food: The menu features housemade charcuterie, cheeses and classic Mediterranean fare plus an extensive yet accessible wine list. Don't be afraid to step
away from your comfort zone here (roasted bone marrow or pig's ear anyone?), as you won't be disappointed. Try the octopus with summer beans, fingerling potatoes and salsa verde or perhaps the crispy chicken thigh kebabs or milk-braised pork shoulder with mashed potatoes.
Quote: "The menu is thoughtful yet diverse at the same time. The selections, including the raw corn and tomatoes with arugula pesto, are full of robust and memorable flavors. For the adventurous eater, this destination is a must." — Schae Lewis, Co-Founder/Concierge, Mission 2 Organize LLC
Thoughts from the concierge…
Gilt Bar — Has the best (Bouchot) mussels! They have a great house white wine for $3 too!
Chicago Q — The most amazing brisket (Kobe). Also, the room is beautiful, and they take reservations!
Purple Pig — Has food for the adventurous, like pig's ear, as well as fare for the fairly adventurous, like Greek sausage and rapini. Good for a late lunch on Michigan Ave.
— Catherine Davids, Hotel Sax
Epic — "What an amazingly large and hip spot! The bar/lounge takes up the entire first floor, the dining room overlooks Hubbard Street, gorgeous vaulted ceilings and edgy décor throughout and a swanky rooftop bar. The cuisine, by highly acclaimed Chef Wambach is constantly evolving. While the menu isn't too extensive; it focuses on seasonal ingredients. You could spend all night wining and dining here!"
— Samantha Cybor, Hotel Sax
Sable Kitchen and Bar — "I've been to Sable a few times since it opened this year, and each time my experience has been unforgettable. The drinks prepared by Mike Ryan are out of this world. I like the fact that they only use local organic ingredients."
Arami — "This Ukranian Village newcomer is certainly getting a lot of buzz. The sushi is extremely fresh, and the service top-notch. Take advantage of the BYOB rule."
Girl and the Goat — "The Girl and the Goat is a welcome addition to restaurant row on Randolph Street. I love every aspect of this restaurant. The food, service, ambiance and décor work perfectly. Stephanie Izard has outdone herself!"
— Marco Ordonez, concierge at the James Hotel
Your ads will be inserted here by
Easy Ads.
Please go to the plugin admin page to set up your ad code.