Doughnut delight: These sweet treats are popping up all over in Chicago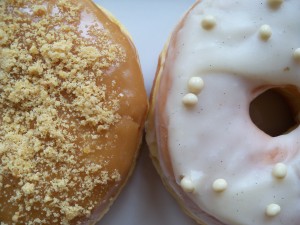 First it was cupcakes in Chicago, now doughnuts. We explore where to cure your craving for these sweet treats
By Corey O'Day
There is a doughnut craze sweeping the city, and we wanted to see what all the fuss was about. Here are a few highly recommended shops that are small on space, but big on taste.
The Doughnut Vault
401 1/2 N. Franklin Street
www.TheDoughnutVault.Tumblr.com
This is basically an ATM that dispenses doughnuts. The tiny storefront necessitates a single-file line that can stretch to 40 or more people. They're open Tuesday through Saturday and close when they sell out — which can be in as little as two hours on the weekend.
That may sound extreme for a bit of fried dough, but customers are saying it's worth it.
"I don't stand in line for anything, but I'll stand in line for these doughnuts," says Kelly D., who pays a visit about twice a month.
The Doughnut Vault serves locally-roasted Bow Truss coffee for only $1, and each week they update their website with a calendar of specials like mocha glaze, pistachio and birthday cake. This way, customers know when to brave the lines for their favorite concoctions. Facebook and Twitter are integral to their operation, keeping hopefuls apprised of line length and remaining inventory. I finally managed to get my hands on the gingerbread stack, a Vault standard that flooded my senses with cider mill memories.
Firecakes
68 W. Hubbard Street
www.FirecakesDonuts.com
A new addition to the River North neighborhood, Firecakes operates on the same supply-and-demand principle. They open at 7:30 a.m. Monday through Friday, 8:30 a.m. on Saturday and Sunday, and close when they run out.
The roster of featured favorites is available online. I was particularly fond of the butterscotch praline-filled doughnut and the decadent but not too sweet Valrhona triple chocolate cake doughnut. For the more adventurous, there is the maple-glazed pineapple & bacon. Firecakes also offers a pre-order option for those who can't spare the line time.
Glazed & Infused
939 W. Armitage, 1553 N. Damen, 813 W. Fulton Market, 201 E. Delaware
www.GoGlazed.com
The Wicker Park location of Glazed & Infused is just a window on the wall under the Damen blue line stop. With regular business hours, there is no danger of missing out on tasty offerings like Oreo cookie long johns and crème brulée bismarks.
On Fridays and Saturdays, the Wicker Park location re-opens from 10 p.m. to 3 a.m. to entice peckish bar patrons — and it works. Crew members call, "Doughnuts! Get your doughnuts!" and the late-night weekend crowd flocks to the window, moths to frosted flame.