An ode to good beer: The welcome influx of Chicago craft breweries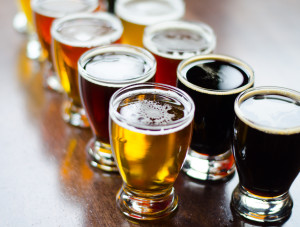 Craft breweries are popping up everywhere in Chicago, and this writer couldn't be happier
By Richard Ray
Not long ago, if you tried to talk to me about the "subtle nuances" in a beer, I would have come to the conclusion you were a pretentious nerd who wasn't about to go halfsies on a 30 rack of PBR with me. But, times change and so do tastes, and here I am recognizing those wonderful nuances, the balance, the fermentation process, the residual yeast of a finally crafted Saison, or the coastal varieties of hops in an APA. I turned into one of those guys, and while the cliché may still have some bite to it, I can't feel it because I'm drinking so many of the delicious beers Chicago offers.
One of the frontrunners on my radar is Begyle Brewing in the North Center neighborhood. They opened in the fall of 2012, but there's nothing amateur about their brews. The guys are originally home brewers with day jobs who started brewing out of friendship and thirst. Though still in their seminal stage, they have already had their beers paired and featured with the menu at the Four Season's restaurant, Allium. They make a mean Johnny Quest Black IPA, which pours black with a tan head and looks like a stout, but carries the piney, citrus taste of an IPA. Delicious.
Revolution Brewing in Logan Square is getting a lot of attention these days, and the reasons are plentiful, especially considering their sparkling brewpub (with a great menu) in Logan Square. Recently, they used A
merican hop varietals found growing near the Shedd Aquarium to make a mild and malty pale ale called Penguin Hops. Other notable selections are the Anti-Hero IPA, the Eugene porter and the Little Crazy Belgian pale ale. These beers have personality and taste.
Half Acre in Lincoln Square is another worthy mention. In the few years they've been open, Half Acre has been embraced by the city with help from their signature Daisy Cutter pale ale, and they opened a new tap room next door to the brewery that allows patrons to bring in their own food or order out from a nearby restaurant. The tap room features perennial and seasonal brews abound for those interested in testing out great new beers.
Craft breweries in Chicago seem to be growing exponentially, introducing a more mindful and textured beer experience in the process. These are just a trio of my favorites, but keep an eye out for the summer issue of The Real Chicago, which will have a beer-centric focus.