Drinking local: We couldn't be more excited about Chicago's craft beer craze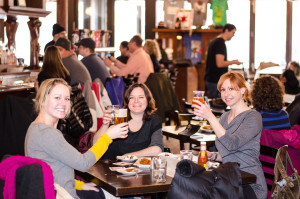 Your ads will be inserted here by
Easy Ads.
Please go to the plugin admin page to set up your ad code.
We decided to explore the quality craft beer being brewed throughout Chicago. All in the name of journalism
By Trent Modglin and Richard Ray
It doesn't take a genius go realize the craft beer movement has officially taken over, and nowhere is this tasty trend more prevalent than right here in Chicago. With successful breweries popping up all over the city, we decided to highlight a few of those making the most noise — and the best beer.
Revolution Brewing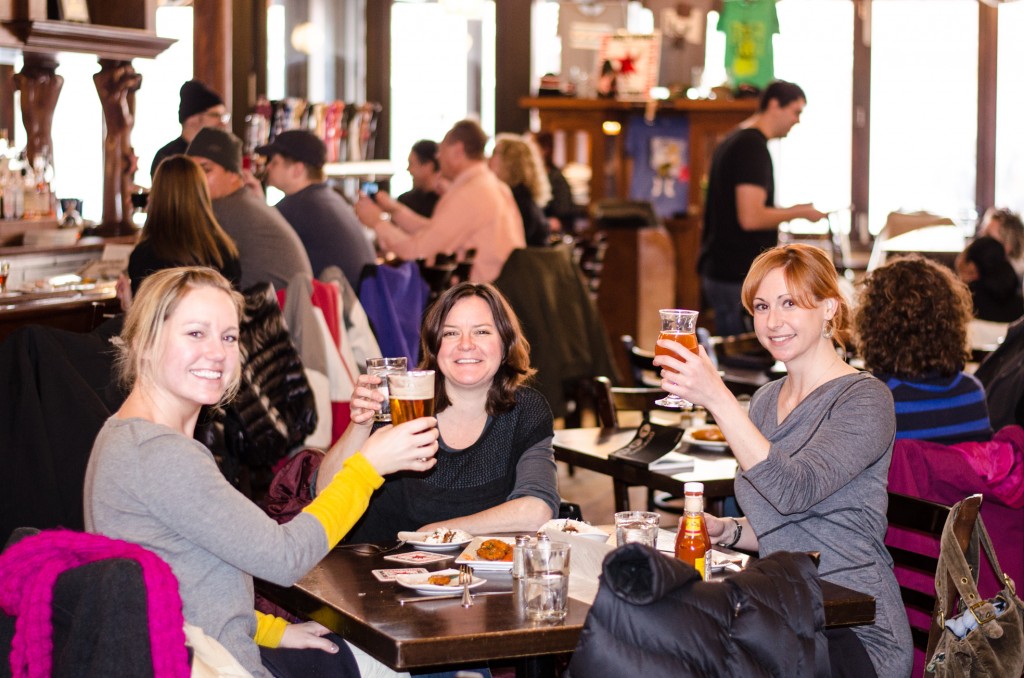 Location: The brewery, with tastings, tours and event space, is located at 3340 N. Kedzie. Revolution's brewpub is at 2323 N. Milwaukee in Logan Square. www.RevBrew.com
What they're famous for: Making a name for themselves in a hurry. Revolution's Anti-Hero IPA has taken Chicago by storm, as has the busy brewpub, offering a great menu and lively, casual vibe. The brewpub produces about 50 different styles of beer each year.
History in short: Josh Deth, founder and managing partner, was a novice homebrewer before landing a job cleaning kegs at the now-defunct Golden Prairie Brewing and, later, at Goose Island as a cellarman and brew pub brewer. After opening Handlebar in 2003 with his wife, his dream finally came true in early 2010 with the opening of Revolution Brewing after three years of raising funds and construction. The brewery and tap room officially opened in 2012.
What they're saying: "We try to do what we do, and that's make beers that are drinkable. We focus on beers that you want to have more than one of. We're not into the wacky, crazy beers with all these ingredients. That's not our thin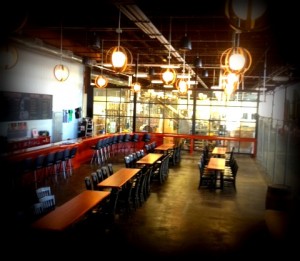 g. … We're more interested in elevating what you think of brewpub cuisine and making different beers that are fresh, local and drinkable. Within a week or two of canning it, we want you drinking it." — Josh Deth, managing partner
Future plans: With the massive brewery and popular brewpub up and thriving in less than three years time, year four and beyond is dedicated toward expanding distribution to downstate Illinois, Indiana, Wisconsin and beyond.
What we liked: Besides the popular Anti-Hero, their robust, chocolaty Eugene Porter and the Bottom Up Whit, a Belgian-style wheat beer spiced with coriander and orange peel, are two other favorites. And you can't go wrong with any of their specialty brews (i.e. Mad Cow Milk Stout, Rosa Hibiscus Ale, Fistmas Holiday Ale). At the brewpub, adorned with a classic tin ceiling, we highly recommend the bacon-fat popcorn, monster burgers, pulled pork and pork belly sandwich. Tasty stuff indeed. And check out the upstairs room at the brewpub or the brewery on Kedzie if you're in search of a unique event space.
— T.M.
Atlas Brewing Company
Location: 2747 N. Lincoln Avenue. www.AtlasBeerCompany.com
What they're famous for: Combining good beer and bowling is never a bad thing, and they have a working relationship with the Seven Ten Lounge next door. Although Atlas doesn't receive the publicity of some of the others, they are producing an impressive range of craft brews, and the food is fresh and creative.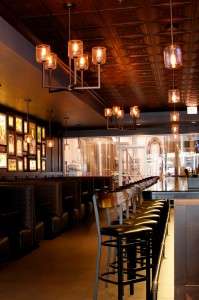 History in short: Atlas was a Chicago brewery that began in 1896 and closed after Prohibition, and brothers Ben and John Saller have brought the name back to represent their craft brew destination. The brothers Saller learned the ropes through a combination travel, bar and restaurant work and extensive home-brewing experimentation. They believe strongly in the innovation and playfulness of the new beer revolution and the development of a depth of flavor.
What they're saying: "Atlas Brewing Company is dedicated to providing fresh craft beer to Chicago. By offering a combination of traditional and experimental beers, we aim please every kind of beer drinker. At our brewpub, we maintain a welcoming atmosphere and serve great, beer-friendly food." — Ben Saller, co-owner
Future plans: Besides continuing to experiment with new flavors and ingredients, the Saller brothers have begun to discuss the possibility of expansion.
What we liked: This is a cool venue, modern yet comfortable, and with the option to bowl right next door. The wide-ranging menu is filled with plenty of appetizing options like a short-rib burger, fried pickles, cheese curd poutine and a pear pizza. As for beer, their Diversey Pale Ale carries a hint of citrus and is quite refreshing. Also, check out their Apricot Farmhouse Amber, the full-bodied, chocolate-flavored Andromeda Milk Stout and limited releases like the whiskey barrel-aged Obfuscation Imperial Stout.
— T.M.
Haymarket Pub and Brewery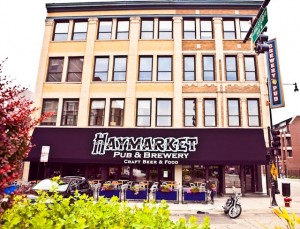 Location: 737 W. Randolph, on the corner of Halsted in the West Loop. www.HaymarketBrewing.com
What they're famous for: Under the watchful eye of brewmaster and owner Pete Crowley, Haymarket specializes in classic Belgian and contemporary American beer styles and has been at the forefront of the bourbon-barrel aging process. The location is ideal, with easy access to the highway, mass transit and other entertainment venues, and there is a major focus on using the freshest ingredients to put an innovative twist on pub fare.
History in short: Haymarket opened its doors in late 2010 and is located in a century-old building near the site of the infamous Haymarket Riots, which took place amidst a tense labor rally back in 1886. The decorated Crowley, who earned his stripes at Rock Bottom Brewery in River North, has won more than 50 local, national and international awards for his brewing.
What they're saying: "Our award-winning brewery focuses on classic Belgian and contemporary American styles of beer, including Abbey ales, saisons, Belgian and American IPAs and barrel aging. We combine this wi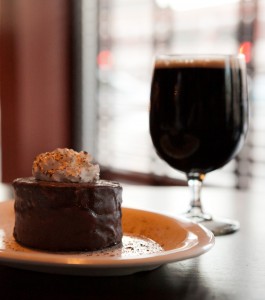 th our all-scratch kitchen specializing in house-cured meats and homemade sausages, while still creating delicious vegan and vegetarian options. With two bars and plenty of space, we are the perfect place for sports, parties, live music or just grabbing a pint." — Pete Crowley, owner and brewmaster
Future plans: Crowley and his partner, John Neurauter, are currently looking for locations to open up a small production facility with a tasting room, though they "haven't decided yet exactly how small." The hope is to have a location announced by spring 2014.
Your ads will be inserted here by
Easy Ads.
Please go to the plugin admin page to set up your ad code.
What we liked: The rear bar and dining room, arrived at following a walk past the brew house and fermentation room, is perfect for parties and special events. It's also home of the Drinking and Writing Theater, which is every bit as fun and creative as it sounds. Haymarket, which hosts regular live music, boasts 32 tap handles, usually a dozen of which are brewed in-house. The Mother Jones Abbey Style Dubbel is a powerfully dark Belgian ale with hints of candy, chocolate, plum and fruit. There is a great list of IPAs available, the most notable being the Last Chance Belgian IPA with its aroma of orange and spices. The burgers and pizza earn strong reviews off what is a remarkably diverse menu. For late-night snacks, try the BBQ pork chili or cured salmon BLT&E.
— T.M.
Half Acre Beer Company
Location: 4257 N. Lincoln Ave. www.HalfAcreBeer.com
What they're famous for: Daisy Cutter pale ale, hoppy and floral but not overly bitter or overbearing in any aspect. Half Acre has a store with a tasting room and apparel, cans and growlers to go, as well as a traditional taproom next door.
History in short: Owner Gabriel Magliaro began by using Sand Creek Brewery's equipment in Black River Falls, Wisc., to develop his recipes. Magliaro and Co. eventually got a lease and equipment set up in the quaint North Center neighborhood where the brewery truly came to life. In 2009, the Half Acre storefront opened, and in 2013, the taproom followed.
What they're saying: "We try to be ourselves and do things we would enjoy." — Gabriel Magliaro, founder
Future plans: A restaurant is planned for a recently acquired neighboring building, and expanded distribution is in the works.
What we liked: The Daisy Cutter's floral hop-forward flavor is enough to satiate any pale ale enthusiast's cravings. The Space IPA and Pony Pils are both uniquely delicious takes on staple styles as well. The taproom is ideal for private events, and the well-versed employees at the store make it easy to grab the proper beer of choice to take home.
— R.R.

DryHop Brewers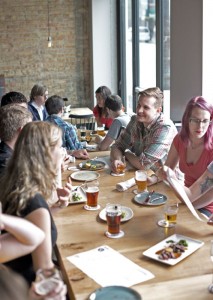 Location: 3155 N. Broadway. www.DryHopChicago.com
What they're famous for: Delicious signature and collaboration beers with other local breweries like Begyle (Johnny Quest Thinks We're Sellouts black IPA), as well as delicious food (get the burger) and a unique brewpub interior that makes you feel like you're inside a very comfy brewery.
History in short: Owner Greg Shuff started off, like many, as a home brewer and continued his education at the Siebel Institute in Chicago as well as the Domens Academy in Munich, Germany. After working at various North American breweries and traveling Europe, Greg set up shop in Lakeview with DryHop Brewers, where he implements his knowledge into an accessible and delectable craft.
What they're saying: "DryHop's objective is to improve the quality of life of the people we come in contact with." — Greg Shuff, owner
Future plans: There is potential for another brewpub with a different concept focusing on beers from the border of France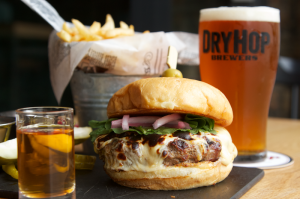 and Belgium.
What we liked: The first beer they ever brewed, and still serve, Batch 001 Cream Ale is easy to drink but still nuanced and unique. Tastes like it sounds. Also, Devil's Rain, DryHop's heavy-hitting double Belgian style was a great beer to end the night with. The brewpub's delightful menu focuses on shared plates with dishes designed to showcase the flavors and seasonality of the brewery. Very creative stuff.
— R.R.
Metropolitan Brewing
Location: 5121 N. Ravenswood. www.MetroBrewing.com
What they're famous for: Metropolitan defies craft beer trends by emphasizing German-style lagers, a beer often marginalized by today's brewing scene that is saturated with a variety of pale ales. Metropolitan's lagers are crafted with an artisanal approach rivaling the beer status quo and breathing new life into a traditional and age-honored beer variety, the lager.
History in short: Doug and Tracy Hurst opened Metropolitan Brewing in the Ravenswood neighborhood after Doug got his degree in brewing technology. The brewery's emphasis on craft German-style lagers helps fill a niche where the market is otherwise dominated by variations of ales. The brewery is typically not open to public tours and does not directly sell to consumers due to their steadfast focus on production.
What fans are saying: "It's completely drinkable, very smooth. … I enjoy Crankshaft because it's a very beer-flavored beer." — Blake Carlson
Future plans: Metropolitan's future plans are dictated by their wild success. The demand for their unique brews has prompted them to begin the hunt for a larger brewery as well as a sampling room. Expect them to consider a more public approach that includes tours, merchandise and general revelry. Be on the lookout for their Oktoberfest.
What we liked: The Dynamo Copper Lager is a testament to the brewery's efforts to sustain traditional German lagers but keep them new and interesting. A fine balance between malt and hops makes this beer as drinkable as it is textured in its taste. Not to be missed.
— R.R.
Begyle Brewing Company
Location: 1800 W. Cuyler. www.BegyleBrewing.com
What they're famous for: The brewers have a "think local, drink local" attitude and have stated they want to be a community-oriented organization, supporting local events, charities, businesses and people.
History in short: Begyle will celebrate their one-year anniversary of opening to the public this October. The brewery was started by three friends working day jobs in the Loop and then working on their beer in the evenings. Eventually, they were licensed as a production facility and began selling their beers to neighboring bars. Today, Begyle's beers are paired with the menu at the Four Seasons' restaurant Allium and can be found in many bars on Chicago's north side.
What they're saying: "Chicago has such a history of tide houses and local breweries, they were basically like social media. Getting knowledge of what's going on is found at the local pub, and we kind of lost that, so what we want to do is bring that back and be a focal point of the community." — Kevin Cary, co-founder
Future plans: Begyle is in the process of building a new retail location (where they will sell growlers) and launching a community-supported beer collaborative where active members will receive craft beer, much like the way a community-supported agriculture co-op works.
What we liked: The Rua Irish-style red ale is a unique take on the style. Malty with subtle grains and a slightly fruity finish, this will win the imbiber over with its tasty transitions from the first sip to the last.
— R.R.
Your ads will be inserted here by
Easy Ads.
Please go to the plugin admin page to set up your ad code.