Good Eats at Epic: A dynamic setting for decadent, regional American cuisine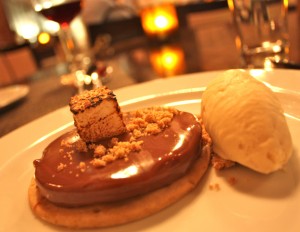 Your ads will be inserted here by
Easy Ads.
Please go to the plugin admin page to set up your ad code.
So much more than just another stylish nightspot on Hubbard
By Trent Modglin
Where you'll find it: 112 W. Hubbard, in the heart of the Hubbard Street nightlife district in River North. (312) 222-4940. www.EpicRestaurantChicago.com
When it's open: Lunch: Mon-Fri: 11:30 a.m.-2:30 p.m. Dinner: Mon-Thurs: 5:30 p.m.-10 p.m. Fri-Sat: 5:30 p.m.-11 p.m. (Lounge and rooftop have separate hours).
First impressions: Epic's interior is, for lack of a better, more descriptive phrase, epic. It's also dynamic. And modern. Huge and beautiful, too. There are three distinctly different levels (including a lounge and rooftop
), so it's possible to not fully appreciate this venue if you only grab a drink downstairs. The combination of exposed brick walls and floor-to-elevated-ceiling windows is impressive. Safe to say they didn't overlook the details during the design process.
The atmosphere: The contemporary, industrial feel and low lighting of what is a cavernous space create a uniquely high-end ambiance. Translation: It doesn't resemble any other restaurant in Chicago. Surrounding us were business dinners, dressed-up couples on dates and a large group of women catching up and enjoying their wine. Background music is upbeat and a little funky, but it's subtle enough as to not affect conversation. If you're dining late, know that Epic's lounge can take on more of a nightclub feel as the night wears on.
Menu variety: Epic focuses on regional American cuisine, but the sound of that doesn't do the menu justice. Take this smattering of the menu as a mouth-watering example: Coffee & cinnamon-rubbed rack of lamb, premium angus steaks, seared foie gras with blackberry compote and spoon bread waffle, cornmeal-dusted ahi tuna and a bourbon-glazed pork chop with braised greens, along with an extensive raw bar.
Your ads will be inserted here by
Easy Ads.
Please go to the plugin admin page to set up your ad code.
What we decided on: It's not very often that you can order six different dishes and not be able to pick a favorite because they're all so incredibly decadent. Impressive consistency across the board with our selections of potato gnocchi with lamb sausage and rich fennel butter; grilled salmon with asparagus, tender pork belly and mushrooms in lavender paprika butter; juicy 16-ounce New York strip with a side of seared scallops in a lobster reduction; smoked cheddar macaroni and cheese topped with crushed potato chips; crispy parmesan duck-fat potatoes. For dessert, we couldn't pass up the rich but light s'mores tart, consisting of milk chocolate, graham cracker
streusel and toasted marshmallow ice cream.
Something that caught our eye: Although we were having dinner, the "power lunch prix fixe menu" looked appealing with its choice of two appetizers, three entrees and a dessert. … While completely satisfied with our selections, the more entrees we saw at other tables, the more we understood the Michelin recommendation. … The popular rooftop patio is a place to be seen in River North, but get there early to beat the crowd and be prepared to order bottle service if you want to reserve a table.
Your ads will be inserted here by
Easy Ads.
Please go to the plugin admin page to set up your ad code.