A Round of Drinks at Emporium Arcade Bar: Relive your video-game youth while hoisting a craft beer with friends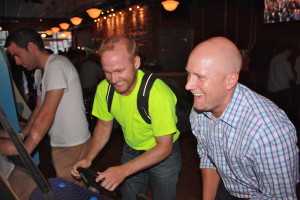 Your ads will be inserted here by
Easy Ads.
Please go to the plugin admin page to set up your ad code.
By Zak Waltner
For years, a night of drinking with friends while playing NBA Jam involved mashing on Cheeto-crusted Sega buttons in your parents' basement or cramped dorm room. Thankfully, things have progressed since then, especially with The Emporium Arcade Bar opening in the Wicker Park neighborhood earlier this
summer. Located amidst a seemingly endless strip of furniture stores on Milwaukee Avenue, The Emporium offers Chicagoans a unique and nostalgic place to grab a drink and play an old favorite video game with friends.
If you're anything like me, the Emporium's concept would be enough for you to go check it out: a retro-arcade meets a bar with an extensive whiskey and beer selection. It almost sounds too good to be true — the quality beer and whiskey selection paired with great vintage arcade cabinets caters to your inner child while also satisfying your adult thirst.
Everything about the Emporium seems like it was hand picked. From the craft beers on their extensive and ever-changing list (including selections from Goose Island, North Coast, Great Lakes and Lagunitas) to the 37 classic games available to play, the Emporium doesn't waste its patrons' time with filler.
"We don't have Bud Light or Miller Lite because I wouldn't want to drink that stuff," co-owner Danny
Marks says. "We want the bar itself to be as popular as the games, so we want to offer things people actually want to drink."
Your ads will be inserted here by
Easy Ads.
Please go to the plugin admin page to set up your ad code.
"We do our best to cater to a really wide range of beer pallets," says Jared, one of Emporium's bartenders. "We want to offer the favorites that craft beer fans will be looking for, but also offer some stuff that most people don't expect, or haven't even heard of."
In addition to their frequently changing beer list that includes 20-plus craft beers, the Emporium also boasts a selection of nearly 50 whiskeys from around the world.
When it comes to the games offered at the Emporium, expect a plethora of arcade classics from older favorites like Frogger, Mike Tyson's Punch Out, Donkey Kong and Galaga to pure '90s nostalgia in the form of The Simpsons' arcade game, Street Fighter II and NBA Jam.
New Wicker Park resident Brian says he was "genuinely blown away by the selection of old–school games they have."
In true retro arcade fashion, each machine runs on gold tokens, four for a dollar, purchased from the exchange machine near the bar. During my visit, all machines were operational, and most were equipped with a shelf for your drink.
Although The Emporium shuts off each game every night to save energy and preserve the machines themselves, bragging rights are recorded via a huge chalkboard that keeps the bar's high scores for each game. The Emporium also periodically hosts tournaments for favorites like NBA Jam and Mortal Kombat.
The Emporium Arcade Bar is located at 1366 N. Milwaukee Ave. For a current list of available games and craft beers, check out their website at www.EmporiumChicago.com
Your ads will be inserted here by
Easy Ads.
Please go to the plugin admin page to set up your ad code.