Top Chef, Chicago style: Analyzing the city's hottest restaurants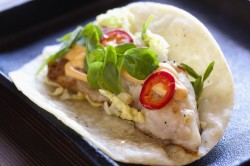 We went right to some of the best foodie sources we know to get the scoop on which restaurants are hottest right now in the city
Samantha Cybor
GT Fish & Oyster
531 N. Wells
A Bib Gourmand rating is definitely enough to land a restaurant on a "Hot List." But then add a renowned chef, successful restaurant enterprise and affordable fresh seafood in the Midwest, and you've got an all-around victory.
Boka Restaurant Group, the team responsible for other wildly booming restaurants such as Girl and the Goat and Boka, helped launch James Beard-nominated chef Giuseppe Tentori into the spotlight. Tentori has the lunch menu portioned off into oysters, hot, cold, sandwiches and dessert.
Head over with some friends for a late weekday lunch (since the place gets slammed during peak hours) and go crazy with ordering. The menu is designed for sharing, but hoard the lobster roll for yourself. It's packed with massive chunks of lobster served on perfect buttery bread. This won't be the cheapest lunch, so to make up for it by returning after 10 p.m. for half-price oysters.
Tavernita
151 West Erie
Sleek. Sultry. Dazzling. But enough about chef Ryan Poli's hair. Tavernita is easily one of the most talked about new restaurants to recently grace the River North neighborhood. Chef Poli does Chicago a big favor by bringing authentic Spanish tapas to his gorgeously trendy digs.
There are enough menu options without being overwhelmed, but I was still in need to some professional guidance. Therefore, we went with our server's recommendations of artichoke salad, lamb sausage, suckling pig (cheeks!), mmmm … and the patatas. The kegged drinks are not to be missed either — the Booty Collins was like liquid euphoria.
For an even more bona fide tapas bar experience, check out Barcito, the primarily standing-room only, no reservations, pinxtos-serving room connected to Tavernita. Most likely there will be an outdoor patio on LaSalle when the warmer weather arrives. Or as I prefer to envision it, Las Ramblas.
Mercat a la Planxa
638 S. Michigan Ave.
While most know that Mercat a la Planxa has been serving outstanding lunch and dinner for a few years; their brunch has been under the radar. I was tipped off about this Sunday-only gem by a co-worker. Chef Jose Garces (Iron Chef America) creatively alters the seven-course —not for vegetarians — brunch menu every week from brioche French toast to grilled piquillo peppers to lobster scrambled eggs. Some items may remain such as, one of my personal weaknesses, the truffled eggs benedict with chorizo. Don't worry, there will always be the carving station with the cochinillo asado (baby suckling pig) stuffed with garlicky, basil goodness as well as additional Spanish charcuterie and cheeses. I'm not sure which is better: all this food-coma inducing breakfast for $25 or the endless mimosas, sangria, and make-your-own Bloody Marys for an additional $8.
Hilary Ward
Barrelhouse Flat
2624 N. Lincoln
I have three words for you: maple bacon popcorn. Sound good? Finger-licking good, yes. How about a seemingly endless tub of it for $4, washed down with a (very dangerously) delicious house rum punch from a vat shared with close friends? That's my kind of evening.
Barrelhouse Flat is the hot new spot in Lincoln Park (steps from Million Dollar Quartet and Lou Malnati's Pizza), serving you classic house-made cocktails and substantial late-night bites. This place makes drinking from a glass teacup even seem studly. There's an upright piano tucked in a corner, a cozy upstairs with pool tables and velvet chairs and… did I mention bacon popcorn?
Barrelhouse is swanky while incredibly unpretentious. The friendly service will help you pick from the well-organized eight-page crafted cocktail menu. These guys really know what they're doing. The drinks are strong, the food craveable and the décor, vibe and service are — dare I say — never "Flat."
Union Sushi + Barbecue Bar

151 West Erie
With a hip, urban feel unlike any other sushi spot around, Union Sushi takes the formality out of the typically serene sushi experience. Colorful graffiti, a trendy soundtrack and a friendly and knowledgeable staff make this lively scene a definite go-to for unique sushi and spirits. Don't miss the alligator skewer, truffled tuna or the River North roll.
Benny's Chop House
444 N. Wabash
If you're heading to Benny's Chop House, prepare yourself for top-notch steak a
nd service. Live piano music floats from the bar and through the dining room as you peruse the incredible wine list and expansive protein options. Try the bone-in New York strip, although there is nothing on this menu to avoid. Be sure to save room for the s'mores cheese cake, my favorite dessert in the city. There may be a steakhouse for every Starbucks in Chicago, but Benny's will always stand out from the crowd.
Acadia
1639 S. Wabash
It's no secret that Chicago is known for its world-class restaurants. Alas, with this reputation also comes the stereotypical four-digit bills, snooty service and the "I am allowed to sneeze?" level of uncomfortable formality. Not anymore!
Acadia in the South Loop wipes these ideas off the board while producing one of the best dining experiences in the city. Acadia serves Maine-based seafood and contemporary American cuisine paired with an immense wine list and cocktail program. The shocker: Entrees average $26, an unbelievable price at a restaurant that's well on its way to a star or two from the Michelin crew.
With a soothing motif and welcoming staff, you're set for a relaxed evening of high-quality dining at a price point (and level of pretentiousness) so low, they'll knock you off your feet and deep into the cozy white dining chairs. It's OK to slouch here; you'll be enjoying the food too much to focus on your form anyway.
Luis Torres
Epic
112 W. Hubbard
This contemporary American restaurant is a popular destination that has it all. Not only is the cuisine top-notch, but the service is outstanding, making the entire experience everlasting. The high ceilings and big windows add to the restaurant's modern, chic look. I had the best sea bass while dining there, and it boasts an impressive wine list.
Epic attracts both locals and tourists, and it has enough space to cater to groups both large and small. The atmosphere is very lively on weekends, as cocktails are created, tunes are thumping and flat screens broadcast different sporting events. The second level has a more intimate setting for dinner, but when the weather permits, be sure to check out the rooftop lounge. Epic stands out and is certainly one of my favorite places in the city.
Quay
465 E. Illinois
In mid-July of 2011, Quay opened its doors and gave Streeterville a hip, trendy restaurant to add to the must-do list. It generated a buzz well before opening and has met all the expectations thus far. The menu is American fare with a unique, contemporary twist to it that really tempts the taste buds.
As you walk in, the sports-themed bar has flat screens surrounding it and a great selection of microbrews flowing. As you go further back, the quiet
er and more modern dining room seats up to 100 people. It doesn't end there, as the back part of the restaurant displays a second bar, more TVs and an atrium with a lounge that overlooks the Ogden slip along the Chicago River. It definitely is convenient, considering you can dock your boat and enter Quay through the rear entrance like I experienced with some friends over the summer (not your typical parking space).
They also order pay-per-view events for boxing and MMA fans, adding excitement to the already lively ambiance. Quay is easily accessible and conveniently just steps away from Navy Pier. A must see.
The Bedford
1612 W. Division
One of the trendiest places that has created quite a buzz in Wicker Park. This American contemporary restaurant has been the talk of the town since it opened in late April 2011. It's housed in the former MB Bank building, and it went through quite a rehab, which made for a swanky yet innovative place where the cool kids hang out.
The design team did a very good job, considering they converted the former bank vault into a hip, modern lounge that still displays the safety deposit boxes once occupied by the bank. Chef Mark Steuer broke new ground with a creative menu that's broken up into six sections that vary on the produce of the season. The menu is unique, the cocktails are exclusive and the design is very cutting edge. The music is varied and attracts a lot of people looking for something a little different than a downtown vibe.
Definitely a place worth checking out whether it's for dinner or a casual drink. Undeniably one of the hippest places in town.