You can always have Paris: Breaking down Chicago's French restaurant revolution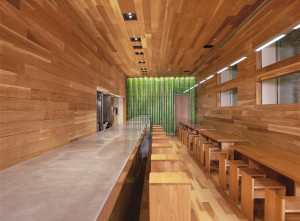 Your ads will be inserted here by
Easy Ads.
Please go to the plugin admin page to set up your ad code.
An influx of modern French restaurants have taken hold in Chicago. And we're just fine with that
By Trent Modglin
The popularity of French dining is nothing new, certainly, but restaurateurs going to great lengths to create a casually modern, affordable, authentic bistro experience is.
Especially when you include the popular trend of small-plate options, allowing guests to share with one another and, in turn, enjoy more of the menu.
What follows is a look at a few of the most recommended French restaurants in Chicago, as decided by a survey of locals who you won't find at home very often on a Saturday night. Bon appétit!
Avec
615 W. Randolph
(312) 377-2002
www.AvecRestaurant.com
The story: Although Avec is way too diverse to really label it "French," there are enough French influences here to include it on the list. Avec, a modern, cedar-lined wine bar from the award-winning team behind popular dining spots Blackbird, The Publican and Big Star, offers a menu of rustic food, including hand-crafted charcuterie, inspired by the wine-growing regions of southwestern Europe. The menu is neatly divided into four affordable sections: small plates, large plates, salumi and cheese assortments, which, along with the table settings and narrow room, invite a communal, unhurried approach to dining.
A favorite dish: It's difficult to narrow down, but try the marinated hanger steak with puy lentils, spinach, oranges and fried capers. Also recommended: chorizo-stuffed medjool dates with smoked bacon and piquillo pepper-tomato sauce.
Why you should go: Unconventionally creative Paul Kahan is widely considered to be one of the country's most influential working chefs. Everything he touches seems to garner acclaim. Focusing on hearty wines from small European producers, Avec's wine list offers 130 selections starting as low as $20 a bottle.
Final thoughts: "From the classy yet friendly communal seating, to the fresh, innovative, sharable menu, Avec is worth going back to again and again. … Although I eat out pretty frequently, I haven't had a great dining experience like this in a while."
Bistro Campagne
4518 N Lincoln
(773) 271-6100
www.BistroCampagne.com
The story: Opened in 2002, Bistro Campagne is a warm and friendly neighborhood restaurant in the tradition of a true French bistro. Located in the popular Lincoln Square neighborhood on the city's north side, the setting is a charming blend of prairie-inspired decor and lively Gallic spirit. A seasonally changing menu of classic bistro fare with a commitment to organic agriculture, as well as a beautiful outdoor garden area, are the big draws.
A favorite dish: The cassoulet, consisting of duck confit, pork shoulder, andouille and white beans, topped with bread crumbs and duck cracklings. For brunch, try the brioche French toast stuffed with chocolate-hazelnut, orange marmalade and vanilla chantilly.
Why you should go: It's a quaint neighborhood bistro boasting fresh flavors and a beautiful outdoor dining area for those warm spring and summer nights.
Final thoughts: "Authentic, non-fussy French bistro fare seems hard to find these days, but this is what Bistro Campagne built its reputation on. … I must have changed my mind five times trying to decide because I wanted everything. … The place to go with that special someone on a special night."
Bistronomic
840 N. Wabash
(312) 944-8400
www.Bistronomic.net
Your ads will be inserted here by
Easy Ads.
Please go to the plugin admin page to set up your ad code.
The story: A modern take on the classic French bistro, Bistronomic carries with it a cozy vibe with chic, contemporary décor and vibrant colors. As chef Martial Nouguier's long-time dream, it's an approachable and affordable dining spot rooted in French culture and just a couple blocks from Michigan Avenue in Chicago's trendy Gold Coast neighborhood.
A favorite dish: The basil mussels, followed by a really nice butternut squash ravioli, or the organic Amish chicken with mushroom ragout, Italian parsley and lemon confit. And don't forget to top it off with the black and white crème brulee.
Why you should go: While Bistronomic is not a particularly large place, and it's typically crowded for dinner, it's surprisingly easy to carry on a conversation here. You'll find it's very difficult to make a decision, as the menu is loaded with creativity. The alfresco dining area is a treat in the warmer months.
Final thoughts: "Staff is friendly and helpful when it comes to navigating the menu and making good selections. … I like this place best for date night — go early to avoid the rush and then settle in for some tasty, well-prepared dishes. … I love a French restaurant with so many seafood options and so many specials."
Paris Club
59 W. Hubbard
(312) 595-0800
www.ParisClubChicago.com
The story: From the highly successful Lettuce Entertain You restaurant group, Paris Club opened with much anticipation, thanks in large part to its impressive culinary team and a 5,000-square-foot main dining space with urban décor reminiscent of present-day Paris. Upstairs, Studio Paris is an indoor/outdoor lounge that d
oubles as a functioning photo studio by day and high-energy nightclub by night.
A favorite dish: The lamb meatballs and smoked salmon have a great flavor to start things off, and the curry mussels represent a nice combination. The short rib bourguignonne and roquefort-crusted filet mignon are highly recommended, as is the raspberry almond tart. Don't ignore the dipping sauces.
Why you should go: Quite simply, Paris Club is one of the hotter places to be right now in Chicago and a welcome addition to the Hubbard Street nightlife scene. The Melman brothers know what they're doing in this industry. If you're up for it after dinner, head upstairs to the nightclub to enjoy DJs from around the globe and the retractable roof.
Final thoughts: "This is a fabulous atmosphere, very trendy and busy, and the food is wonderful. … I forgot how much I love to people watch, and there is so much good people watching here. … I loved the fact that there are so many tapas-size dishes to share, and in a good price range."
Can't be forgotten…
Bonsoiree
2728 W. Armitage
(773) 486-7511
www.Bon-Soiree.com
Chez Joel
1119 W. Taylor
(312) 226-6479
www.ChezJoelBistro.com
Everest
440 S. LaSalle – 40th Floor
(312) 663-8920
www.EverestRestaurant.com
Henri
18 S. Michigan
(312) 578-0763
www.HenriChicago.com
Mon Ami Gabi
2300 N. Lincoln Park West
(773) 348-8886
www.MonAmiGabi.com
Tru
676 N. St. Clair
(312) 202-0001
www.TRUrestaurant.com
Your ads will be inserted here by
Easy Ads.
Please go to the plugin admin page to set up your ad code.