Summer's in season: A Chicago guide to outdoor drinking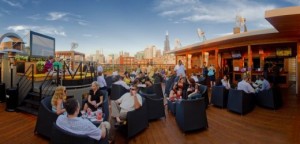 Your ads will be inserted here by
Easy Ads.
Please go to the plugin admin page to set up your ad code.
Want to grab a drink outside this summer? Rumor has it, we know of a few places
By Trent Modglin, Cheryl Mosley, Margot Thomas and Nicole Weddington
Citizen
364 W. Erie
www.CitizenBar.com
Located in a big business white-collar area of River North, Citizen is the place to go after work with the entire office. A classy sports bar that prides itself on its impeccable customer service and good food from scratch, Citizen features a resort-like rooftop deck and outside patio that has a very chill atmosphere.
— C.M.
Happy Village

1059 N. Wolcott Ave.
Happy Village's beer garden in Ukrainian Village resembles a wedding reception with its white tent and trellised walkway. The year-round garden is secluded with ivy-covered fences, and the garden's waterfall and beautiful trees provide a cool place to find shade during the summer months. Sunny tables are available as well in this neighborhood (cash-only) dive bar that is walking distance to both the Damen and Division blue line stops and serves $2 Hams in addition to daily drink specials. Although they don't serve food, they've got plenty of take-out menus for delivery.
— N.W.
Justin's
3358 N. Southport
www.JustinsBar.com
To me, Justin's is like that friend who you can't wait to host a party in his or her backyard. I've frequented Justin's a fair amount in my day, and it doesn't matter that the beer garden is not a particularly big space or that it can get crowded. With its leafy seclusion, coach-house bar and relaxing atmosphere, it's the kind of place you can joyfully spend an entire after­noon. And a bonus: You don't get the stumbling Cubs crowds, though it's close enough for a beer on the way to Wrigley.
— T.M.
Market
1113 W. Randolph
www.MarketBarChicago.com
If you're looking for a place to do some busi­ness networking or relax with friends and catch the game, then Market should be a destination. With a diverse crowd and music
variety, Market is an upscale sports bar that features American contemporary food, a great atmosphere, and both a rooftop patio and beer garden. Regularly named one of the best in the city, Market's rooftop patio serves up a "Miami day-club feel along with bottle service, where guests can indulge in a beautiful skyline view" according to Jacqueline, the floor manager. Live DJs can be enjoyed on Friday and Saturday.
— C.M.
Rock Bottom Brewery
1 W. Grand Ave.
www.RockBottomBrewery.com
For a laid-back rooftop experience in River North, head to Rock Bottom Brewery, conve­niently located next to the State and Grand red line stop. The wooden deck has a full bar and a limited food menu of salads, appetizers, sand­wiches and pizza. "The white lighting creates an ambient atmosphere for the crowd, which gener­ally consists of 25-to-45-year-old people," says manager Chris Patt. Two flat-screen TVs play sports with sound during the playoff season, but the real draw, besides the rooftop deck, is their 11 different signature home-brewed beers.
Your ads will be inserted here by
Easy Ads.
Please go to the plugin admin page to set up your ad code.
— N.W.
Sheffield's
3258 N. Sheffield
www.SheffieldsChicago.com
Sheffield's is a name that will surely roll off the tongue of most anyone who has spent any time living — and drinking — in Lincoln Park or Wrigleyville. Between the convenient location, huge tree growing through the middle of the beer garden, the picnic tables perfect for lounging with groups, and the impressive selec­tion of craft beer, it's earned the reputation as a Chicago staple for outdoor drinking.
—T.M.
The Red Canary
695 N. Milwaukee
www.TheRedCanaryChicago.com
The Red Canary is a River West lounge that features plenty of old-school nostalgia and American-style comfort food from scratch. With a libation menu of more than 40 beers and 20 wines, the Canary is the perfect place to enjoy a new favorite brand with friends. The very intimate outdoor area with lush trees and ivy-colored walls is all about "a natural, homey feel, like being in a friend's garden instead of a patio," says Jamie, the venue manager.
— C.M.
Zed 451
739 N. Clark

www.Zed451.com
I like to think of Chicago's skyline as the mountains once in a while. Being on the rooftop of the stylish restaurant Zed 451 makes it easier to imagine this. Architecturally, one might believe they were in Colorado with the log cabin-type decor and exquisitely designed fireplace and stair­case that takes you up to a comfortable, spacious rooftop. It's just beautiful up there. It even smells like the Rockies. Zed 451 has the ambiance to please any appetite and style. It can be fancy or it can be simple, but the location and mountain view make this spot one of a kind in Chicago.
— M.T.
Other favorites we enjoy…
Bad Dog Tavern | 4535 N. Lincoln
www.BadDogTavern.com
Benchmark | 1510 N. Wells
www.BenchmarkChicago.com
Boundary | 1932 W. Division
www.BoundaryChicago.com
Deuces and the Diamond Club | 3505 N. Clark
www.DeucesAndTheDiamondClub.com
Epic | 112 W. Hubbard
www.EpicChicago.com
Galway Arms | 2442 N. Clark
www.GalwayArms.com
Jack's | 2856 N. Southport
www.Jacks404.com
Kirkwood | 2934 N. Sheffield
www.KirkwoodBar.com
Mickey's | 2450 N. Clark
www.MickeysChicago.com
O'Donovan's | 2100 W. Irving Park
www.ODonovansBar.com
Rocks | 1301 W. Schubert
www.RocksBarGroup.com
ROOF on The Wit | 201 N. State
www.RoofOnTheWit.com
The Crossing | 2548 N. Southport
www.CrossingTavern.com
The Fifty/50 | 2047 W. Division
www.TheFifty50.com
Your ads will be inserted here by
Easy Ads.
Please go to the plugin admin page to set up your ad code.