The Big City Blog: A Chicago summer bucket list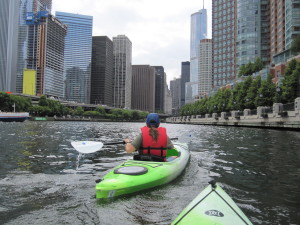 Your ads will be inserted here by
Easy Ads.
Please go to the plugin admin page to set up your ad code.
Setting a few goals for my first full summer in the city
By Taylor Tolbert
Being as this is my first full summer in this wonderful city and anyone you ask will tell you that this is truly the best time to be in Chicago, I'm looking to take full advantage of these months. Here are a few things on my to-do list.
HOMESTEAD ON THE ROOF
Rooftop dining is something I'm craving right now. We recently highlighted this restaurant in the summer issue, and the pictures look amazing. This restaurant could not be more perfect for a hot summer night — the food looks delicious, the tables and lighting are quite picturesque and you're literally surrounded by the garden that provides a lot of what you're eating. Give me a fruity cocktail and set me up at a patio table, and I'll be good for the night.
PARSON'S CHICKEN AND FISH
Negroni slushies, fried chicken and funnel cake on a red-and-white-checkered tablecloth draped over a picnic table — if that doesn't say summer, I don't know what does.
LITTLE GOAT'S ROOFTOP
Little Goat has been open for a while now in the West Loop, but they just recently opened their magnificent rooftop that offers great food and views of downtown. I've been a huge fan of Stephanie Izard since her season of Top Chef, so I always get excited when I go to her restaurants; she certainly never disappoints.
Your ads will be inserted here by
Easy Ads.
Please go to the plugin admin page to set up your ad code.
FOOD TRUCKS
There are so many fun and creative food trucks parked along Chicago's streets on any given day, I feel like I can't ignore them. They're quick and affordable and offer varieties of food you won't find at many restaurants in the city. There are websites that will track them all on the same page (www.ChicagoFoodTruckFinder.com, www.RoamingHunger.com/chi), but I prefer to track them individually on Twitter for the most up-to-date locations and info.
NEIGHBORHOOD FESTIVALS
Admittedly, I've limited myself to very few neighborhoods this past year. I guess you could say I need to get out more. It seems like every weekend, a different neighborhood has a great street festival, s
o maybe that's the solution to my lack of exploration. Chinatown Summer Fair, Wicker Park Fest and Square Roots in Lincoln Square are just a few on my list.
EXPLORE THE CITY NON-TRADITIONALLY
I haven't lived in the city for a full year yet, so there's still a lot of "touristy" activities to knock out. And I am behind on everything there is to see downtown, so why not do it in a fun way? Maybe kayak the river (www.UrbanKayaks.com) or even join the Croc-clad suburbanites for a Segway tour down through Millennium Park? I feel like it needs to be done, no shame here.
Your ads will be inserted here by
Easy Ads.
Please go to the plugin admin page to set up your ad code.