First Look review: Steppenwolf's "The Flick" succeeds with quiet introspection and questions raised in relationship to film, art and life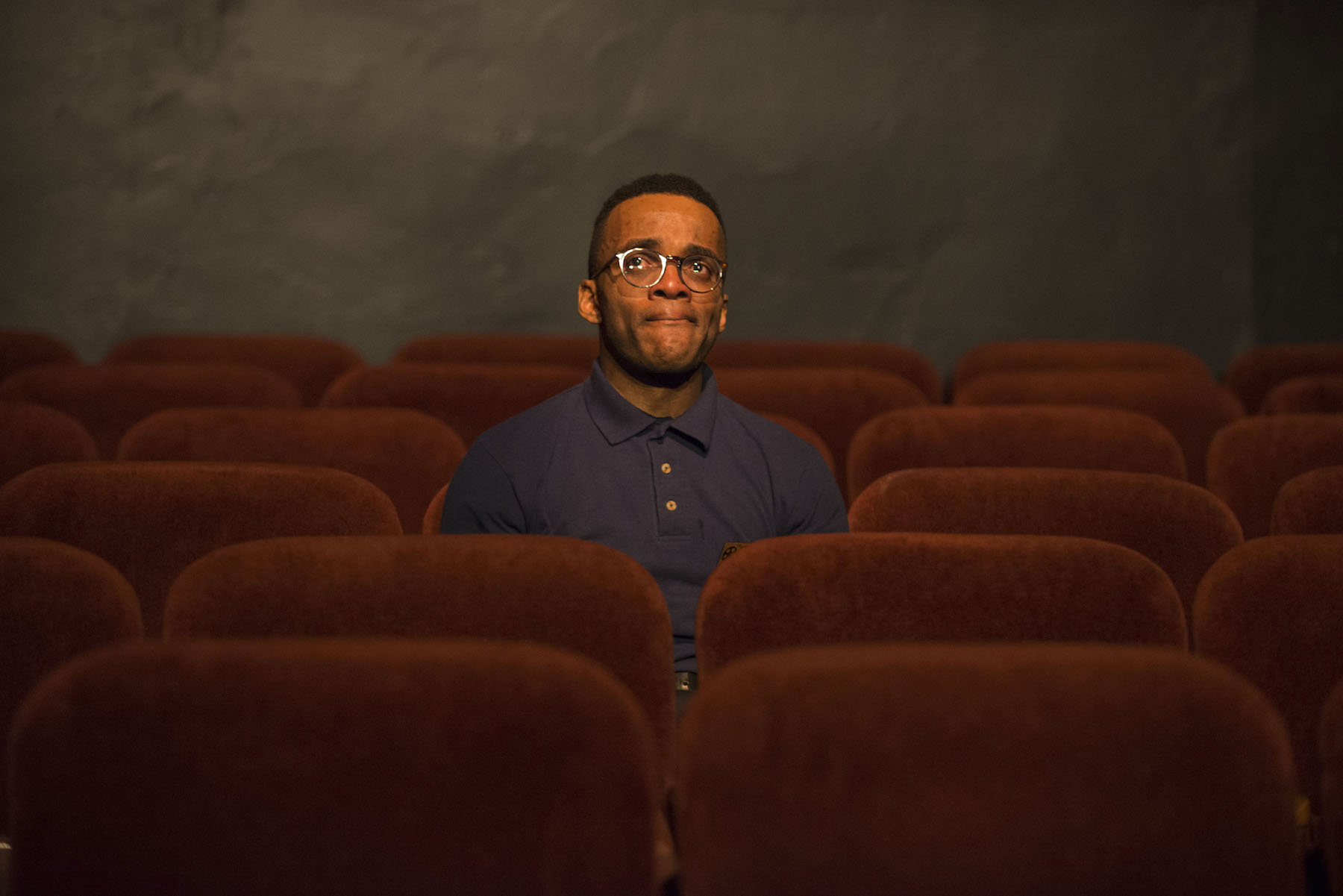 Your ads will be inserted here by
Easy Ads.
Please go to the plugin admin page to set up your ad code.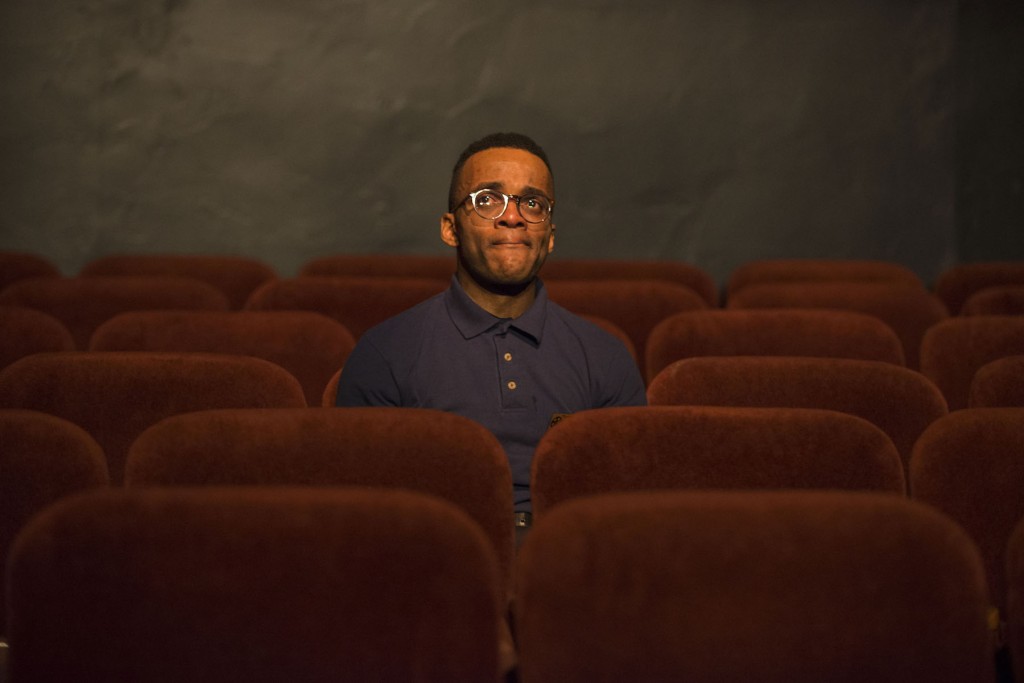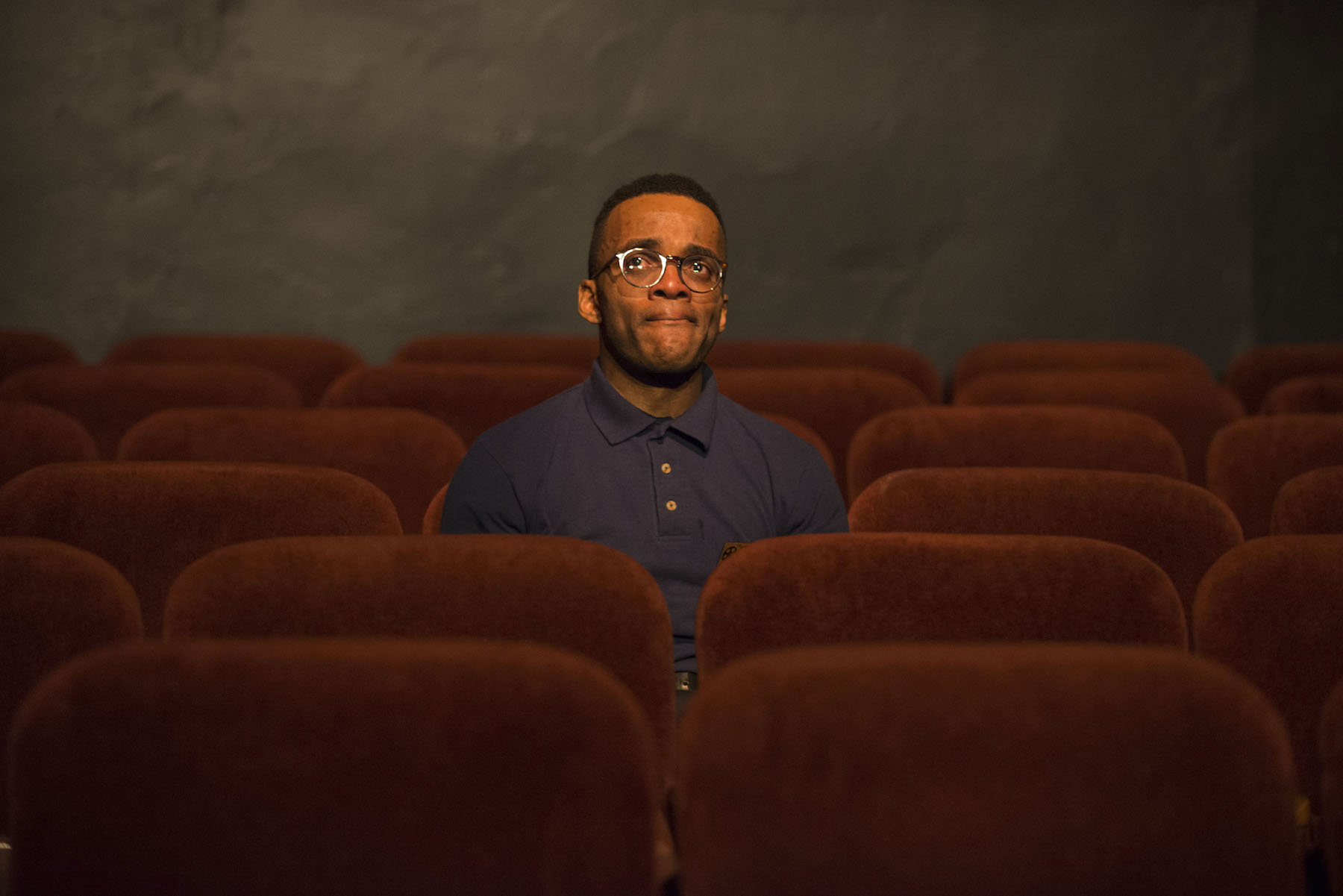 By Dan Ochwat
Playing at: Steppenwolf Theatre, 1650 N. Halsted, through May 8 in the Upstairs Theatre. Written by Pulitzer Prize-winner Annie Baker; directed by Dexter Bullard. www.Steppenwolf.org
Basic storyline: Annie Baker's The Flick takes place in a one-screen, crappy movie theater — solely when the credits end, the projection light burns out and the lights go up. What's left is popcorn on the floor and the employees to clean it up. The play surrounds three employees: Avery, a 20-year-old African-American film nerd attending a prestigious private college, who just started the job because The Flick movie house is one of the last in Massachusetts to cling to screening movies in 35mm. He's trained by Sam, a man nearing 40 who lives with his parents and can't get promoted to projectionist. Rose is the could-give-a-crap projectionist and checks in on the guys as they clean.
What unravels is a slow relationship drama, the intersection of three socially screwed up co-workers forced to interact in that contained, filthy theater when the movie screen, or any screen, is off. The three forge temporary friendships as they learn more about each other and themselves.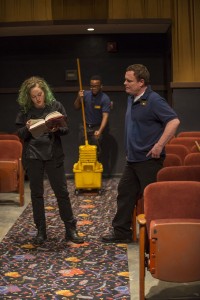 What stood out: The Flick earned New York playwright Annie Baker the Pulitzer Prize for Drama in 2014, but unlike some powerhouse screaming "stage match," as we might think of when we hear "Pulitzer Prize-winning drama," the power in Baker's play comes in its reserved tone and quiet. Director Dexter Bullard beautifully plays with space, often using the rows of plush-red seats and a dingy carpeted aisle to separate and alienate characters. Even more powerful is when he plays with silence. Notably, when the audience isn't privy to conversations being held behind the glass of the projection booth. The play even opens with a long bout of quiet, forcing the audience to sit through the credits, so to speak, and then in a long silence as the men clean the theater not quite talking yet.
Bullard directed Baker's play Circle Mirror Transformation at Victory Gardens Theater in 2011, a performance I did catch, and he clearly has a grasp of her material. Both The Flick and Circle Mirror Transformation pleasantly pit strangers together, and it's tremendously satisfying to see people just meet and organically form friendships and deeper connections, as uncomfortable as it may be for them. Secrets slowly unspool, trust is gained and lost; but it's all part of the deeper human connection these particular characters need to grow.
Your ads will be inserted here by
Easy Ads.
Please go to the plugin admin page to set up your ad code.
In Circle Mirror Transformation, the strangers bond through games in their weekly community center class. In The Flick, characters bond through work tasks and killing time. Avery and Sam bond while playing the six-degrees of separation game with actors. And it never gets old watching Sam struggle to stump the encyclopedic Avery.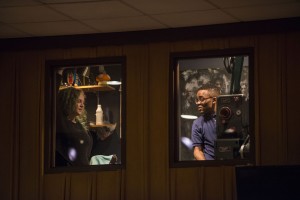 Final thoughts: Ultimately, the greatest strength of The Flick doesn't come from the dramatic moments that play out on stage, but rather its quiet introspection and the bigger questions it raises in relationship to film, art and life. By being set inside a movie theater, The Flick tackles the fear and meaning of a small movie theater moving away from 35mm film and going "all digital." It's doing away with that intimate white light in this theater and the click of a film reel, and replacing it with an alien-like blue light and hum of a digital projector. More than that, The Flick makes you and its characters openly question the blurring of life and the movies. In the play, Sam pours out his heart to Rose, but he's put to task if it's a "performance," like in a romantic comedy, per se. How true are his feelings? Is he allowing himself to be real in that moment? On the flipside, sometimes quoting a monologue from your favorite movie can be the most powerful way to express yourself, as we see with Avery.
Movies do movies well. (They do theatre well, too. Think Birdman.) Baker's The Flick is an interesting look at theatre addressing cinema, specifically through Avery, the movie geek who's quick to damn Avatar and gush over Pulp Fiction. I couldn't help but think of Spike Lee. Travis Turner plays the character with a squeaky Spike-like voice, wears big, round glasses and even wears shoes that look like old Air Jordans, making me think of Lee's iconic Mars Blackmon from his seminal film She's Gotta Have It. I don't know if it's true, but it's an example where the performance does seem to play homage to film in ways. A scene toward the end of the play even feels like a dolly shot. The Flick is a sound play with a wonderful performance from Turner, as well as Danny McCarthy (as Sam) and Caroline Neff (Rose) as the Richard Linklater "Slackers" to Turner's film geek.
Your ads will be inserted here by
Easy Ads.
Please go to the plugin admin page to set up your ad code.