The Big City Blog: I lost my shoe in a mosh pit, but what else is new? Riot Fest is everything I love about punk music brought out into the open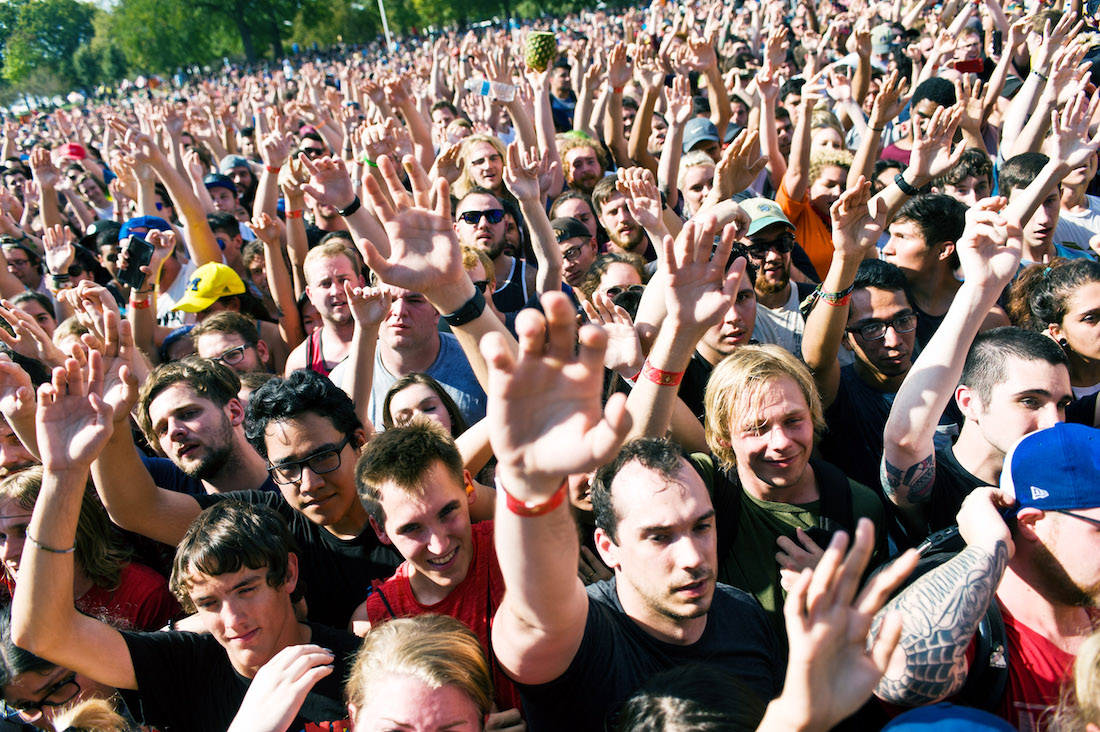 By Kelly Cunningham
Crowded CTA cars filled with enthusiastic, intoxicated and scantily-clad music fans pretty much describes the extent of my interactions with the plethora of festivals that hit Chicago over the summer. While there were a few headliners from Lollapalooza and Pitchfork that I would have loved to see, the lineup at Riot Fest fit me like angsty t-shirts, fingerless gloves and ripped fishnets fit the rest of the Riot Fest crowd.
Band I was most excited to see… FIDLAR. I've only caught this band once before, and I had to drive to Milwaukee because their Chicago show sold out in minutes. The four-piece group's lyrics echo everything their name stands for (F*ck it dog, life's a risk).
I lost my shoe in the mosh pit, had it returned in two parts, and then held on to it as a few strangers lifted me up into the sea of crowd surfers.
Did they live up to my expectations? Yes, and then some. My friend and I got to their stage early and wormed our way toward the front. The band played non-stop, and their occasional banter fit the snarky, nihilistic attitude that fans have come to expect. Front man Zac Carper announced they would play a song from their new album, confusing die-hard fans as he dove right into the song that first put them on the map (they do not have a new album… he was just kidding). Later, Mario Cuomo, lead singer of The Orwells, made his almost expected guest appearance on stage. I lost my shoe in the mosh pit, had it returned in two parts, and then held on to it as a few strangers lifted me up into the sea of crowd surfers.
I'm a new fan of… Dirty Heads. I thought only The Expendables could fuse reggae, rap, funk and punk together, but I was wrong. I'd never heard of them before, but I was drawn to their set at the Rise stage after overhearing them standing in the water line. Luckily, I was able to catch their last few songs. I'll definitely be listening to them later this week.
Artist I have a new appreciation for: Dessa. Her already short set before The Orwells was delayed due to technical difficulties, but rather than keep her crowd waiting, Dessa came out over the barrier and talked to her fans. Her appreciation and rapport continued when, halfway through a song, she asked the audience if anyone with asthma could lend her an inhaler. Once things were up and running, she played as many songs as the management would let her with a genuine smile and heartfelt "thank you" at the end. I've loved her songs for a while, but it was awesome to see that her personality matched her music.
Final thoughts: Throughout the festival, I was surprised by how many people I ran into. It was crowded, sure, but I didn't go more than an hour or two without running into an old friend, or making a new one. I destroyed a pair of shoes (and later lost my sock in the Streetlight Manifesto pit), but I wouldn't have it any other way. The strangest thing for me was watching the bands I'm used to seeing perform in dark bars and basement venues up on stage in the daylight. Everything was just as sweaty, and the crowds were just as wild. Riot Fest took everything I love about punk music and brought it out into the open.
Riot Fest 2017: Favorite songs and energetic crowds, this is always one of my favorite weekends of the year
By Jina Bute
Saturday was my most anticipated day of the three-day festival weekend. My entire day was dedicated to the Rise Stage, and I started out my afternoon with my first exposure to the Chicago pop punk band Knuckle Puck. Despite being unfamiliar with their discography, I still noticed the energy they drew from the crowd.
Soon after, to celebrate the 10th anniversary of rock band Bayside's album, The Walking Wounded, the band performed the record in its entirety from start to finish. While I'm not very familiar with their music, this wasn't the first time I've caught the band live at Riot Fest.
Following Bayside was New Found Glory, a pop punk band that celebrated their 20th year making music and playing shows together. They played hits and fan favorites from a plethora of original songs, and even performed their cover of Sixpence None the Richer's, "Kiss Me." New Found Glory is a band where you don't need to know every song to have a good time because they always put on a fun show, and the crowd is nothing less than energetic.
One of the coolest parts of Paramore's performance was when Hayley Williams chose an audience member to go up on stage to help perform the band's hit song, "Misery Business."
I ended my Saturday night with rock band Taking Back Sunday. They were the only band I saw that night where I knew every single song. Their set list consisted of a perfect balance between emo classics like "Cute without the E" and "You're so last summer," as well as the more recent fan favorite, "Better Homes And Gardens." Taking Back Sunday's sound may have changed drastically throughout the years, but regardless of what songs they perform, their fan base makes up one of the most fun crowds someone will ever experience at a rock show.
I unfortunately only caught the last few hours of Sunday at Riot Fest 2017. A highlight? My Sunday night ended with an hour-long set list by pop rock band Paramore. Fronted by the one and only Hayley Williams, one of the coolest parts of the performance was when Williams chose an audience member to go up on stage to help perform the band's hit song, "Misery Business."
Nothing gets me more excited than hearing a favorite song being performed live, and this past weekend at Riot Fest, there was at least one band each day that played one of my favorite songs. Riot Fest gives fans within the entire spectrum of rock music to see a variety of their favorite bands in one weekend, which is why it will always be one of my favorite weekends in Chicago.