Rise and dine: Start your day off right at these fun Chicago breakfast joints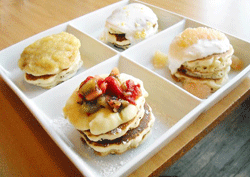 We identify some of our favorite Chicago breakfast spots to help start your day off right
By Casey Nunes
For most of us, breakfast is the anticipated first meal of the day that leaves the soul a little brighter than when you rolled out of bed. A steaming plate of hotcakes and a fresh cup of Joe can turn the worst case of the Mondays around.
With a plethora of quality eateries, breakfast or brunch in Chicago is a shared experience that can be difficult to turn down. Throughout the Windy City, restaurants fill by mid-morning with business associates, couples, families and friends pouring over omelets and pancakes to fill their bellies and people-watching from a perfect street-side perch.
Eleven City Diner
1112 S. Wabash
(312) 212-1112
www.elevencitydiner.com

For an authentic meal to blend the classic New York City diner with Midwestern roots, Eleven City Diner is the place to go. Equipped with a full bar and Jewish delicatessen to order almost anything served by the pound, Eleven City Diner is known for its refined family-diner atmosphere. The restaurant boasts fun décor and a large "Mish Mosh room" for family dining. Owner Brad Rubin's mother, Roz "the Lollipop Lady," can be seen around the restaurant talking to families and handing the children lollipops. For the classics, Eleven City serves hand-sliced lox boxes, matzo brie, and what's a Jewish diner without a little shmeared chopped liver? For the sweet tooth, their French toast is a heaping plate of the amazing fresh baked Challah bread loaded with strawberries, bananas and toasted coconut.
Lou Mitchell's
565 W. Jackson
(312) 939-3111
www.loumitchellsrestaurant.com

When speaking of the true Chicago breakfast stops, Lou Mitchell's must be paid tribute. As a staple of Chicago for 85 years, Lou's has earned the title of serving the "best breakfast on the planet." Walking into the restaurant, it is a grand tradition for all ladies and children to be handed Milk Duds and donut holes because "Uncle" Lou Mitchell wants every person to feel at home. The Lou Mitchell's family has extended to U.S. presidents and celebrities making a pit stop at the Route 66 institution. Lou's cooks up country fresh eggs, jumbo omelets and Belgian malted waffles to please your morning palate. When craving a home-cooked meal with no "mystery seasonings," Lou's is the place to go. Organic produce is served all day, and the orange juice is squeezed fresh. This is a quaint, vintage and historical restaurant that everyone should experience at least once.
Luxbar
18 E. Bellevue Place
(312) 642-3400
www.luxbar.com
Breakfast at the trendy Luxbar, located in the heart of the Gold Coast neighborhood, on Saturdays and Sundays is filled with the never-ending menu and the delightfully entertaining hobby of people-watching along nearby Rush Street. The outdoor seating at Luxbar in great, as summer and fall weather teases us through harsh winters, so Luxbar regulars tend to soak it up while they can. If the casually elegant atmosphere doesn't bring you back, the decadent food certainly will. Eggs are made to order all day, and breakfast plates like silver dollar pancakes and French toast are served until 3 p.m. The Luxbar egg menu includes favorites such as eggs benedict, filet medallions & eggs and the fried egg sandwich served with a challah roll and bacon. Don't leave without trying the pecan sticky bun. Trust us.
Orange With a Peel
3231 N. Clark and 2011 W. Roscoe
(773) 549-4400, (773) 248-0999
www.orangerestaurantchicago.com
Mon.-Fri. 9 a.m.-3:30 p.m.
Sat.-Sun. 8 a.m.-3:30 p.m.
For a gourmet twist on the classic hotcakes, Orange With a Peel is often referred to as "Charlie Trotters in pajamas." Orange-infused coffee and brunch seven days a week makes Orange a great place to munch on signature pancake flights, pan-fried oatmeal, French toast skewers and fresh fruit "frushi." The pancake flights offer four different flavors to tickle your taste buds, like the "Banana Rama" flight, which includes banana split, banana coconut cake, banana bread and banana sunflower. Every week, these pancakes take on a new theme to test. The orange "frushi" takes a try at the molecular gastronomy craze and turns fresh fruit into a fish-free sushi dish. The frushi changes daily to create new and different shapes. Orange has earned the reputation as a great brunch stop for families and friends alike.
Tempo Café
6 E. Chesnut
(312) 943-4373
www.tempocafechicago.com

Tucked away on East Chestnut lies the friendly Tempo Café. With an outdoor patio within walking distance of the Drake, Ritz and other hotels, Tempo is a great way to spend a lazy breakfast morning. Owner Stellios Kontos promises quick service that moderates the beat to the customer's tempo. Kontos wants his customers to be happy they are there: "Enjoy your food, enjoy your friends and enjoy your company," he says. Tempo is the place to indulge in "The Morning Glory" breakfast trio of strawberries, bananas and blueberries as a refreshing topping for your choice of pancakes, French toast or waffles. The Poor Man's Skillet is also a popular menu item, consisting of an egg skillet with a four-cheese melt that drips off the fork. Tempo is a great brunch spot for groups, as Kontos spends time to get to know his customers.
Wishbone
1001 W. Washington, 3300 N. Lincoln
(312) 850-2663, (773) 549-2663
www.wishbonechicago.com

The only problem I foresee when dining at Wishbone is attempting to choose just one meal off of their huge, diverse menu. With loaded omelets, fruit-topped pancakes and plenty of specials (smoked salmon benedict, corn-flake-dipped French toast, biscuits & gravy, blackened catfish, etc.) to go around, Wishbone offers up an assortment of Cajun and Southern-style comfort food. The atmosphere is fun and friendly with bright artwork on the walls and kitschy country paintings, and the food is unique and distinctively cooked. The "Hair of the Poodle" drink menu has funky breakfast cocktails and fresh-squeezed orange juice you would not believe. One item of note: The Washington Street location is very near Oprah's old Harpo Studios in the West Loop.