New on the scene: Several enticing bars have opened downtown recently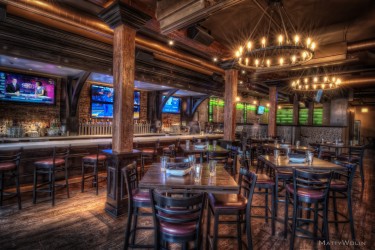 The winter season was busy with the opening of several new bars downtown. Here are a few worth stopping by 
By Trent Modglin

If you're looking for something to do when the sun goes down, and that something involves a cocktail or two, maybe a little music, a crowd and conversation with friends, strangers or the amicable bartender, Chicago has plenty of options. And now we've got some new options, like these, opened just this winter and still providing patrons with that special new-bar smell.
Haymarket Pub & Brewery
737 W. Randolph.
www.HaymarketBrewing.com
The scoop: Named for Haymarket Riot, which occurred nearby back in 1886, this is an enormous space that takes on a sports gastro pub vibe, with plenty of flat-screen TVs, dark wood and exposed brick. Haymarket's selection of house-made brew is garnering some serious attention. If you're a fan of IPAs and Belgian-style beer, you'll fit in seamlessly here.
What we like: We get a feeling this is a brewery that will make some noise and continue to churn out new surprises. It has all the makings of a solid beer hall oasis in a neighborhood made up of mostly trendy restaurants, and you won't go broke sampling the menu and plethora of beer options. Try anything from a four-ounce pour to a 20-ounce glass in the spacious front dining room or Drinking & Writing Theater space in the back.
What to eat: Like any good brewery, the Haymarket knows its sausage, homemade as it is. Try the brat or Italian sausage for some nice flavor. The Riot sandwich is a tender patty of Italian pork, topped with mozzarella and a delightful stack of pulled pork and served on a brioche bun and a side of giardiniera.
Hubbard Inn
Location: 110 W. Hubbard
www.HubbardInn.com
The scoop: Self-labeled as "Chicago's first continental tavern," the folks behind Chicago nightspots English and LaSalle Power Co. took inspiration from author Ernest Hemingway's favorite decor, food and drinks to create this gem of a multi-level restaurant/pub.
What we like: Enjoy pairing your meal with the proper beer like we do? They'll help you match up your order with one of their 22 craft brews on tap. This space is just plain interesting from top to bottom. The bookshelves, leather and restored wood furniture,
marble and mahogany bars, outrageous paintings, intriguing menu and the whiskey, scotch and beer selection will send you into sensory overload. You get a feel of a high-end establishment, only without the stuffiness that's usually attached.
What to eat: The Hubbard Inn delivers on a solid variety of interesting appetizers, flatbreads, sandwiches and burgers, but the small plates of specialties like steak tartare, grilled salmon, seared scallops, hand-made ravioli or braised short ribs take home the prize here.
Public House
400 N. State Street
www.PublicHouseChicago.com
The scoop: Opened in mid-January courtesy of the owners of the popular Bull & Bear nearby, the upscale but unpretentious Public House has been an equally big hit with both Chicago's trendy post-work crowd as well as the tourist market, thanks to its key River N
orth location, sleek decor and a staff that has a track record of success. TVs are everywhere, but the bar isn't overwhelmingly sports-themed like others.
What we like: A dozen booths with self-serving table taps (beer and chilled liquor), as well as a fireplace and semi-private party area with six taps built into the wall to keep mingling patrons from getting thirsty. Beer plays a major role as a principal ingredient in much of the menu, and the meat smoker in the kitchen works wonders. And it's not so loud where you can't carry on a conversation.
What to eat: Think American comfort food meets gastro pub experimentation. Try the tiger shrimp burger, New England mussel bowl, lobster pot pie or smoked Kobe beef brisket dip sandwich.
Additional new bars worth mentioning: Frontier (1072 N. Milwaukee), Maude's Liquor Bar (840 W. Randolph), Privet (937 N. Rush).