Chicago's hidden gems: Swim Cafe, Rudy's Roundup General Store and Colors and Bottles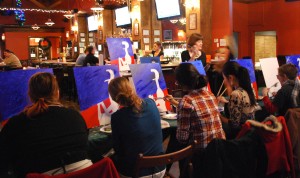 Your ads will be inserted here by
Easy Ads.
Please go to the plugin admin page to set up your ad code.
If you're searching for that special, out-of-the way experience that represents our great city, we've got you covered
Swim Cafe in West Town
Hipsters, students and families are all welcome at Swim Café, where local art and fliers adorn the walls
and bulletin boards of this West Town neighborhood favorite with a steadfast commitment to fresh food at an affordable price.
Swim's practices are almost as green as their products. Counter Culture, known for searching the globe for the best hand-crafted coffee directly from farmers, provides the beans for this serious coffee program, while Swim's meats are fresh-roasted and the baked goods are made in-house.
Sisters Karen and Debra Gerod named the café after their neighbors, the Eckhart Park Natatorium, in hopes of providing a welcoming and vegan-friendly space for locals, where Karen will put her 100-percent vegan seitan gyro up against any gyro in the city.
Swim Café is located at 1357 W. Chicago Ave. www.SwimCafe.com
— Nicole Weddington
Rudy's Roundup General Store
If you're looking for the perfect gift for the person who has everything, this store is your solution with its wide array of unique and vintage items for sale. Do you need a cologne bottle shaped like a hammer? A
holiday ornament carefully crafted to look like a banana split? Or perhaps a Cry-Baby t-shirt? This modern-day general store is for you.
Your ads will be inserted here by
Easy Ads.
Please go to the plugin admin page to set up your ad code.
You can find sassy gag gifts, hand-crafted jewelry, retro postcards and packs of classic trading cards complete with gum — that's right, the actual gum itself has been aged to perfection for your strange pleasure. Rudy's Roundup also offers a small selection of vintage clothing, hats and shoes. And don't forget the card — there's an expansive selection of independent greeting cards ranging from old-fashioned classic to pop culture sarcastic.
Rudy's Roundup General Store is located at 1410 N. Milwaukee in Wicker Park. www.RudysRoundup.com
— Corey O'Day
Colors and Bottles painting classes
If you're lacking creativity in your office life, why not pick up a paintbrush and kindle your artistic spirit? The best part is, you can drink while you paint.
Here's how Colors and Bottles works: Organizers arrange painting classes at local bars like Mad River, Revolver and The Joynt, and then hire local artists to instruct the 20-30 attendees.
"People find it to be really stress-relieving," says Elizabeth Bandaly, one of two Chicago event coordinators for the year-old national start-up. She says that art styles range from landscape to realism, and the Chicago skyline is by far the most popular choice.
Colors and Bottles also hosts private, corporate and bachelorette parties, and all skill levels are welcome.
Check out www.ColorsAndBottles.com to book a class today.
— Yelena Galstyan
Your ads will be inserted here by
Easy Ads.
Please go to the plugin admin page to set up your ad code.