Clothes on consignment: A growing trend for those looking for something timeless, trendy and reasonable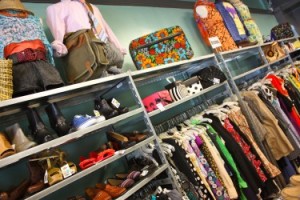 Your ads will be inserted here by
Easy Ads.
Please go to the plugin admin page to set up your ad code.
A growing trend for those looking for something timeless, trendy and reasonable
By Nicole Weddington
Consignment stores offer an opportunity to not only get your designer fix at a discounted rate, but also provide a fun way to shop for a new addition to the wardrobe or sell a few items that no longer see the light of day. Not to be confused with a thrift store, consignment shops only accept apparel in good condition and often are on the lookout for designer labels. The profits are then split typically between the store and the seller. What follows is a closer look at three of the more reliable consignment options in a city full of them.
New'd
1917 W. Division in Ukrainian Village
www.NewdChicago.com
A cute boutique without the attitude, this store carries both new and gently-used items ranging from $5-$450.
The clothing carried is a wide range of conservative to trendy with an average price of $20. New'd has a large selection of designer jeans and women's bags, but their jewelry, made by five different local artists, is what will really catch your eye. The work of local artists is also displayed on the walls of the store. "I seek out and carry locally made items, such as jewelry, belts, t-shirts, wall art, arm and leg warmers," says owner Nikki Arana. New'd also accepts clothing donations for various shelters around the city. For timeless and trendy items at a reasonable price, you can't go wrong here.
McShane's Exchange
815 W. Armitage in Lincoln Park
www.McShanesExchange.com
McShane's Exchange specializes in the resale of high-end designer labels, but you won't have a problem finding a $12 sundress here either. "We go by the cute factor," says employee Adina Ille. "If it's cute, we'll take it, even if it's Gap." Owner Denise McShane opened the Exchange more than 20 years ago and is known throughout the business as the mother of consignment shops. Daily specials of up to 60 percent off can be found on clearance items. "That's why people like coming here," adds Ille. "There are always sales, and nothing is set in stone." Whether you're browsing for business casual or maternity clothes, a $10 Gucci purse or a pair of Manolo Blahnik shoes for $78, chances are you'll find it at McShane's.
Your ads will be inserted here by
Easy Ads.
Please go to the plugin admin page to set up your ad code.
Buffalo Exchange
1478 N. Milwaukee in Wicker Park
www.BuffaloExchange.com
This chain offers the best of both worlds because not only do they purchase clothes in good condition outright,
they also buy more expensive pieces on consignment. The small location in Wicker Park has an excellent variety of used shoes ranging from vintage cowboy boots to Calvin Klein sparkly wedges. In addition, Buffalo Exchange is stacked with stylish accessories like funky jewelry, tights and sunglasses, and they offer a massive collection of jeans, cool vintage t-shirts and men's clothes. With a unique collection of new and used costumes, the store is also perfect for shopping during the Halloween season. While the space is small, the staff does a great job of organizing the clothes so that items are easy to find and categorized by style and color.
Your ads will be inserted here by
Easy Ads.
Please go to the plugin admin page to set up your ad code.