The Chicago Insider: Jennifer Gillette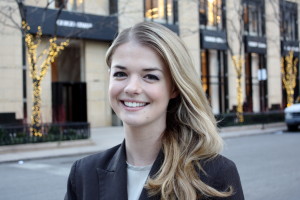 Ever wish you had an active local's advice on how best to enjoy the city? We have too, so here are some answers
Jennifer Gillette
How long you've lived here: One year and four months.
What you like best about Chicago: I love that there is always somethinggoing on. The city is full of life!
Best meal you've had recently: Frontera Grill. This place is absolutely amazing (food and atmosphere). The menu is always changing, and the food is full of flavor.
Favorite big-name restaurant: I really like Devon on Chicago Ave. Whether I'm going there for dinner or drinks/appetizers, I'm never disappointed. Not only is the food delicious, but there are many different cocktails, beers and wines to choose from. The ground level has more of a casual bar/lounge feel, while the dining room is perfect if you want something a little more formal.
Favorite "hidden gem" restaurant: Moonshine on Division. I have to admit, the first time I was taken there I wasn't very excited. I thought the place would have bad food and a boring atmosphere. I was completely wrong. The food was amazing, and the atmosphere was fun and lively. I would definitely recommend it, especially on the weekend with a live DJ and dancing.
Best sports bar to catch the game: The Boundary or Moonshine on Division.
A great night out with friends usually includes… good food, yummy drinks and a lot of dancing!
Favorite store or best shopping area: Downtown on Michigan Ave. There's something for everyone along this street no matter what your price point is.
The best way to spend a winter Saturday in the city: Start the night at Pops for Champagne andend the night at Social 25 on Hubbard.
One thing every visitor must do here: Have a drink at The Signature Room bar atop the Hancock and look out over the city. It's a spectacular view, day or night.
While in Chicago, don't bother… just staying in the downtown area. Try venturing out to the surrounding neighborhoods like Lincoln Park, Wicker Park/Bucktown, or Wrigleyville to truly experience the real Chicago.
Secret Chicago spot: Friends Sushi on Rush Street. They have delicious sushi at an affordable price.
Underrated activity in the city: This is going to sound silly, but I went on a Segway tour this past summer and had a blast! At first I was a little apprehensive about going, but I'm glad I did. It was a ton of fun, and something completely out of the ordinary.