Shop Around the Corner: Ten Thousand Villages stocks handmade items from 38 developing nations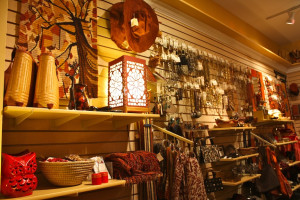 Browsing Chicago's unique, trendy stores and boutiques
By Amanda Parker
Ten Thousand Villages
840 W. Armitage Avenue
www.TenThousandVillages.com/WestArmitage
Ten Thousand Villages on Armitage is one of 81 store locations nationwide. The fair-trade retail store was founded by Ruth Edna Byler in 1946 after she visited Puerto Rico and saw the artisans making beautiful, high-quali
ty items but lacking the marketplace to sell their wares. Today, the shop stocks items handmade in 38 developing countries. The tag on each item informs you where it was made, and you can be sure the shop owner has worked directly with the producers.
There's a little bit of everything in the shop, but a lot of space is filled with unique home-decor items and distinctive scarves and jewelry.
When you walk in, you're encouraged to ask for more information on any of the items. A table displaying unusual instruments caught my eye, and a sales associate gave me a demonstration on how singing bowls work (look it up!) and their history.
Along with offering browsers a quaint and unusually informative shopping experience, Ten Thousand Villages provides artists with fair wages and safe working conditions. So you can feel a bit better about spending a chunk of your rent or mortgage money on that new scarf, necklace or piece of pottery.
— Amanda Parker