Shop Around the Corner: Swimwear and more at Londo Mondo and the eclectic inventory at Paperish Mess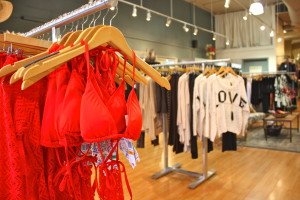 Browsing Chicago's unique, trendy stores and boutiques
Londo Mondo
2148 N. Halsted and 1100 N. Dearborn

www.LondoMondo.com
Londo Mondo, with two locations in Chicago, has come a long way since it opened 20 years ago. It began as an inline skate shop in the Gold Coast, then started carrying women's activewear and swimsuits, and eventually expanded to all women's fashion and opened a second location on Halsted in Lincoln Park.
We checked out the Halsted store, which has a great variety of Hardtail activewear, a plethora of cute bathing suits in all styles, and many trendy pieces for night and day. The store carries almost everything you'd find in a giant department store, but with the feel of an intimate, chic boutique.
Carly, a sales associate, said that the store really tries to cater to every lifestyle, with clothes that can transition from beach to daytime and from daytime to evening.
Along with its two locations in the city, the store has a great online marketplace where shoppers can buy just about everything found in the stores and even score a few coupons. Londo Mondo still sells men's and women's inline skates, but the brand has grown quite a bit, and women of Chicago should be very happy about that.
— Taylor Tolbert
Paperish Mess
1955 W. Chicago Avenue (at Damen)
www.PaperishMess.com
"We love this neighborhood because it's a little bit of local business, a little bit of grit," says Lisa Muscato, half of the owner/operator team at Paperish Mess on Chicago Avenue. She and her boyfriend, Sean Murty, opened the store in November 2012.
Paperish Mess is a unique combination of locally crafted wares, art gallery and community gathering space. Lisa and Sean are passionate about connecting people in the neighborhood and getting them out to interact with local art.
The retail section showcases goods from approximately 75 independent artists, mostly local, with a few out-of-towners from places like the duo's hometown of Buffalo. Their vast and varied collection includes everything from greeting cards to classic-books-turned-clock. The inventory is eclectic and constantly changing.
Each gallery artist occupies the space for about a month. For each new exhibit, they gather local musicians, beverages and snacks and roll them out to welcome the neighbors. The September soiree included brews from Allagash and bites from Yuzu Sushi.
Paperish Mess doesn't wait for new art to have a shindig — they usually host multiple events each month like readings, book releases and music nights. Be sure to swing by for their one-year anniversary party in November.
— Corey O'Day