Good Eats at the Bang Bang Pie Shop: Enjoy some creatively baked goods at this Logan Square gem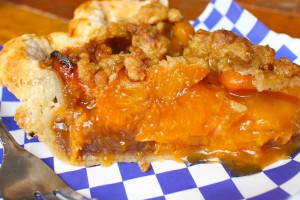 Your ads will be inserted here by
Easy Ads.
Please go to the plugin admin page to set up your ad code.
Bang Bang Pie & Biscuits
2051 N. California in Logan Square
www.BangBangPie.com
By Corey O'Day
What started as a pie and coffee shop in March of 2012 has grown into a neighborhood gathering spot and a staple of the Logan Square community.
"We set out to redefine the local coffee shop/bakery and found that people treat it more like a full service restaurant," says Michael Ciapciak, owner of Bang Bang Pie & Biscuits.
Ciapciak, who has a background in fine dining and hospitality, suggests he and his ace team are up to the challenge.
"The hospitality and warmth that people experience here is something I instill in my staff," he says. "We're only as good
as our last customer interaction."
Ciapciak is passionate about simple, quality recipes and is seeking to create a culture that is contagious. Each week they have three sweet pies to choose from: one fruit-based, one chocolate-based and one cream-based. The menu changes often, usually on Tuesdays, when they swap out one of their sweet pies for the next seasonal sensation.
Your ads will be inserted here by
Easy Ads.
Please go to the plugin admin page to set up your ad code.
I was able to try the rhubarb crumble and the lemon meringue pie with a mind-blowing graham cracker crust that is so homemade, they even make the graham crackers. Both were the ideal combination of sweet and tart and paired perfectly with a cup of their own special blend of coffee from Gaslight Coffee Roasters.
Last fall they added a savory menu, so there is a bit of something for everyone. This portion of the menu has remained roughly the same: individual chicken pot pie and vegetarian curry pot pie. The curry pot pie made my vegetarian dreams come true with the chewy, delicious top crust, perfectly crunchy veggies and so much substance I had to save half for later. What kicks this concoction up the extra notch, I think, are the golden raisins — unexpected and amazing. They add the perfect little pop of sweetness that blends wonderfully with the slight curry spice.
Bang Bang tends to whip up some delectable specials for the weekends to keep their customers and creative team from getting restless. Some recent mouthwatering masterpieces include chilaquiles with house-made chorizo and smoked pulled pork with house-made Carolina style BBQ sauce, and a crab cake and pimiento cheese gravy-smothered biscuit.
The best way to keep up with what's going on at Bang Bang is to stop in often. Also, keep an eye on their website and social media — they try to keep their Instagram, Facebook and Twitter pages up to date with timely, delicious details.
Your ads will be inserted here by
Easy Ads.
Please go to the plugin admin page to set up your ad code.