The Big City Blog: Free outdoor movies, concerts and dance lessons in Chicago this summer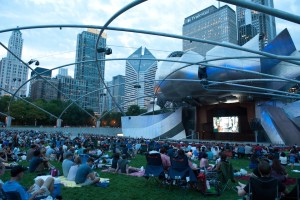 Your ads will be inserted here by
Easy Ads.
Please go to the plugin admin page to set up your ad code.
By Clare Edlund
Photos courtesy of the city of Chicago
Movies 
Summer Film Series

Tuesdays from June 24–Aug, 26 at 6:30 p.m.
Jay Pritzker Pavilion
www.MillenniumPark.org
Bring a blanket and snacks and enjoy a night out with weekly classic films shown on a 40-foot LED screen. Highlights include Top Gun, Field of Dreams, The Wizard of Oz and Ghostbusters.
Musical concerts
Loop and Variations
Thursdays from May 29–July 3 at 6:30 p.m.
Contemporary and classical elements mixed with electronic music.
Downtown Sound Series
Mondays from June 2–August 11 at 6:30 p.m. (no concert July 28)
Eclectic series combining indie rock, pop bands, global sounds and rock veterans.
Grant Park Music Festival
June 11-Aug. 16
Jay Pritzker Pavilion
www.Gpmf.org
Carlos Kalmar will lead the Grammy Award-nominated Grant Park Orchestra and Christopher Bell will direct the award-winning Grant Park Chorus in an anniversary season of world premieres, festival favorites, world-renowned guest artists, a weeklong composer-in-residency, two visiting youth symphonies and collaborations with local artists and cultural organizations.
Made in Chicago: 36th Annual World Class Jazz

Aug. 28-31 (Labor Day Weekend)
www.ChicagoJazzFestival.us
Chicago Cultural Center and Jay Pritzker Pavilion
Jazz fanatics can enjoy a weekend of performances, including Gary Burton and Sun Ra Arkestra. Along with this, expect a rooftop showcase of both college and high school students playing tunes arranged by the Jazz Institute of Chicago.
Your ads will be inserted here by
Easy Ads.
Please go to the plugin admin page to set up your ad code.
16th annual World Music Festival Chicago
Sept. 11-21
www.WorldMusicFestivalChicago.org
Enjoy an 11-day festival featuring renowned artists from around the world.
Tours, dance, exercise and family-related activities
Lurie Garden tours
May 15-Sept. 21
Thursday-Friday 11 a.m.–1:30 p.m., Sundays 10 a.m.-1:30 p.m.
A 20-minute guided tour around the Lurie Gardens showcasing the design history, perennial plants and wildlife.
Summer workouts
Saturdays from June 7-Sept. 6
Work out on the Millennium Park lawn with yoga, Pilates, Zumba, and Latin dance classes.
Chicago Bike Week
June 13-20
www.BikeChicago.us

A citywide celebration of cycling with several free activities at the park.
Chicago SummerDance
Fridays, Saturdays and Sundays from June 27-Sept. 14.
Grant Park
The Spirit of Music Garden blossoms into an 4,900-square-foot, open-air urban dance space with 44 different live bands. Free dance lessons are 6-7 p.m. on Fridays and Saturdays and 4-5 p.m. on Sundays. Live music and dancing follows from 7:30-9:30 p.m. on Fridays and Saturdays and 5-7 p.m. on Sundays.
Target Family Fun Festival
June 23–Aug. 24 from 10 a.m.-3 p.m.
Take your children out for an afternoon of Wiggleworms, Old Town School of Folk Music performances, a reading circle, family performances, activities zones and much more.
Your ads will be inserted here by
Easy Ads.
Please go to the plugin admin page to set up your ad code.