The Chicago Insider: Mike Steinkellner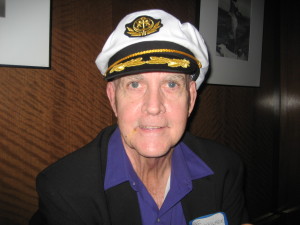 Ever wish you had an active local's advice on how to enjoy the city? We have too, so here are some answers
"Captain" Mike Steinkellner
Chicago visitor center
How long you've lived here: Most of my life.
What you like best about Chicago: Our beautiful "old" buildings and 26 miles of lakefront!
Best meal you've had recently: Corned beef and cabbage at Fado, an Irish pub in River North.
Favorite big-name restaurant: Weber Grill on State Street. You can get a variety of foods right off the grill, and the spare ribs are to die for.
Favorite "hidden gem" restaurant: The Chicago Brauhaus in Lincoln Square. They have delicious German food and a German combo that plays different songs every night except Tuesdays.
Best sports bar to catch the game: Timothy O'Toole's.
A great night out with friends usually includes… A nightcap on the 95th floor of the John Hancock Building.
Favorite store or best shopping area: T.J. Maxx, Filene's Basement and all of the Loop's State Street stores.
The best way to spend a spring Saturday in the city: A visit to the Museum of Science & Industry and a return trip to the Loop on either the No. 10 or No. 6 bus along Lake Shore Drive.
One thing every visitor must do here: Eat true "deep dish" pizza at one of the many pizza restaurants.
Secret Chicago spot: Beard Papa's, which has delicious cream puffs! They are located in the Pedway system east of the red line train stop. The way to visit Beard Papa's is to take the escalator down from the first floor of the mall at 108 N. State.
Underrated activity in the city: Dancing, especially ballroom dancing outside during the "SummerDance" festival in Grant Park.