The Big City Blog: We've got plenty of suggestions on how to do it up right for St. Patrick's Day in Chicago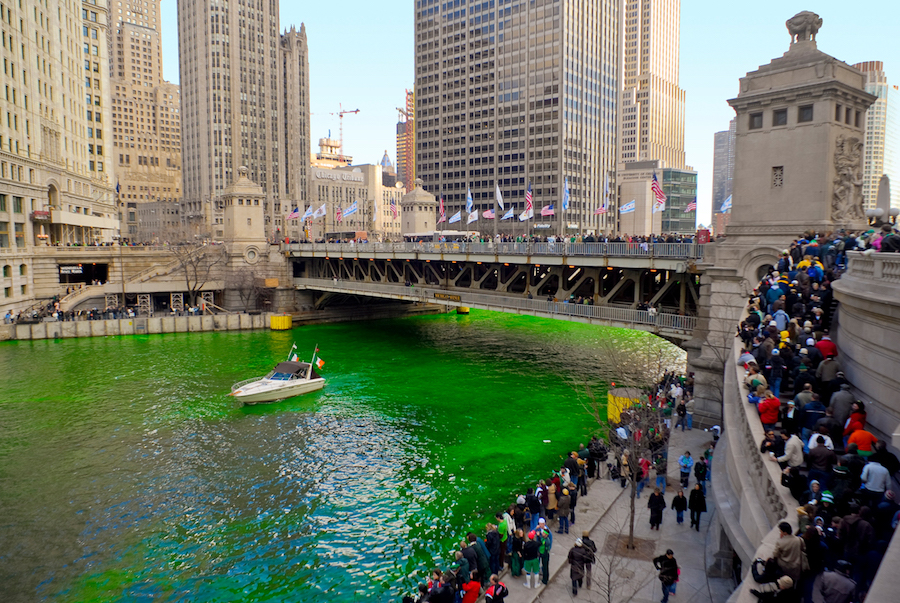 Your ads will be inserted here by
Easy Ads.
Please go to the plugin admin page to set up your ad code.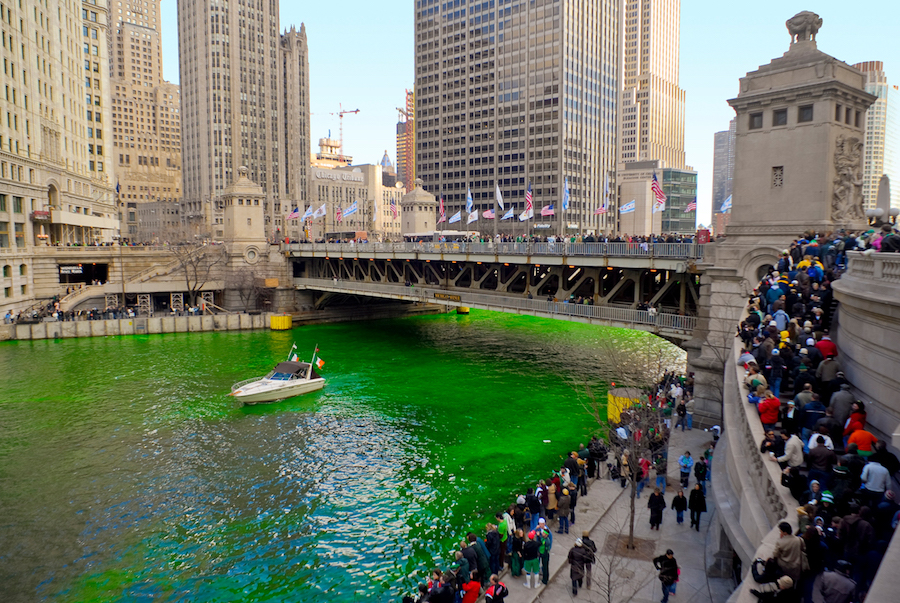 By Trent Modglin
This article was written in coordination with KEY Magazine.
It could be argued that no major city — outside of Dublin or Boston — celebrates St. Patrick's Day quite like Chicago. With deep Irish roots, a penchant for a good party and a look toward spring, Chicago has a host of fun activities to get you in the mood for all things green. And plenty of great bars and pubs to get you started early in the morning. Here are just a few options for the 17th.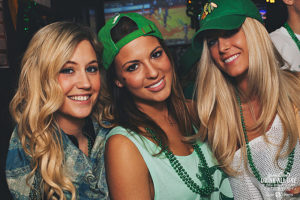 If you want to start the party early, one of the biggest St. Patrick's Day events in the city not only has a 22-year tradition, it's also held simultaneously at 15 venues across the city. The famous "You Can't Drink All Day if You Don't Start in the Mornin'" party runs from 9 a.m.-1 p.m. and includes a traditional Irish breakfast and drinks. Last year, nearly 6,000 revelers attended. Tickets are available at BashEvents.com
For an Instagram-worthy photo opportunity, head in the direction of Wacker Drive and Michigan Avenue for the annual dyeing of the Chicago River to an emerald green, scheduled for 9 a.m. on Saturday, March 17. This tradition draws 400,000 spectators, and the color tends to last five hours, so don't wait too long.
Nearby venues with especially good vantage points of the river turning green are Beacon Tavern (405 N. Wabash), Dick's Last Resort (315 N. Dearborn) and Raised Urban Rooftop Bar (1 W. Wacker), which also offers an Irish food and drink package starting at 8 a.m. and a live bagpipe performance.
River and lake cruises are a hot commodity on the 17th too, as popular boat companies like Shoreline Sightseeing (ShorelineSightseeing.com), Spirit of Chicago (SpiritCruises.com), Mystic Blue (MysticBlueCruises.com) and Wendella (WendellaBoats.com) all offer various breakfast, sightseeing, lunch or dinner options.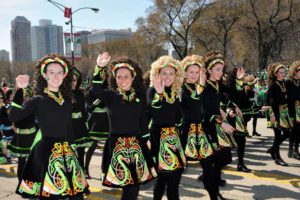 After you've snapped some quality pics — whether on land or from the water — head to the annual St. Patrick's Day Parade at noon, beginning at Balbo and Columbus in Grant Park and proceeding north on Columbus to Monroe. Plenty of bagpipes, Irish dancers and much more.
For some additional authenticity, the Irish Heritage Center on the northwest side hosts an annual St. Patrick's Day celebration, with more than 10,000 expected to celebrate under one roof from 1 p.m.-midnight. This is a large-scale, family-friendly event featuring traditional and contemporary Irish music, dance, food and drink, as well as a craft fair, vendors and children's activities. The museum and art gallery are also open to the public. The Heritage Center is located at 4626. N. Knox Ave. Tickets ($15 for adults, free for children 12 and under) can be purchased at Irish-American.org or by calling 773-282-7035.
Your ads will be inserted here by
Easy Ads.
Please go to the plugin admin page to set up your ad code.
If you're looking to grab a Guinness (or three) and some corned beef, Chicago has no shortage of quality Irish pubs and parties downtown. Here are a few worth checking out:
Timothy O'Toole's
Down a flight of stairs at the busy corner of Fairbanks and Ontario in Streeterville, you'll find a longtime Chicago favorite that has as much going on for St. Pat's as any bar in Chicago. A lively Irish sports bar with a wide-ranging menu (try their specialty burgers, ancho chile grilled fish tacos or tater tot poutine) and way more TVs (72) and draft beers (48) than the norm, O'Toole's offers something for everyone. Fond of brunch? Be sure to check out their Bloody Mary bar on the weekends. 622 N. Fairbanks. 312.642.0700. TimothyOTooles.com
Hard Rock Café's Get ShamROCKED party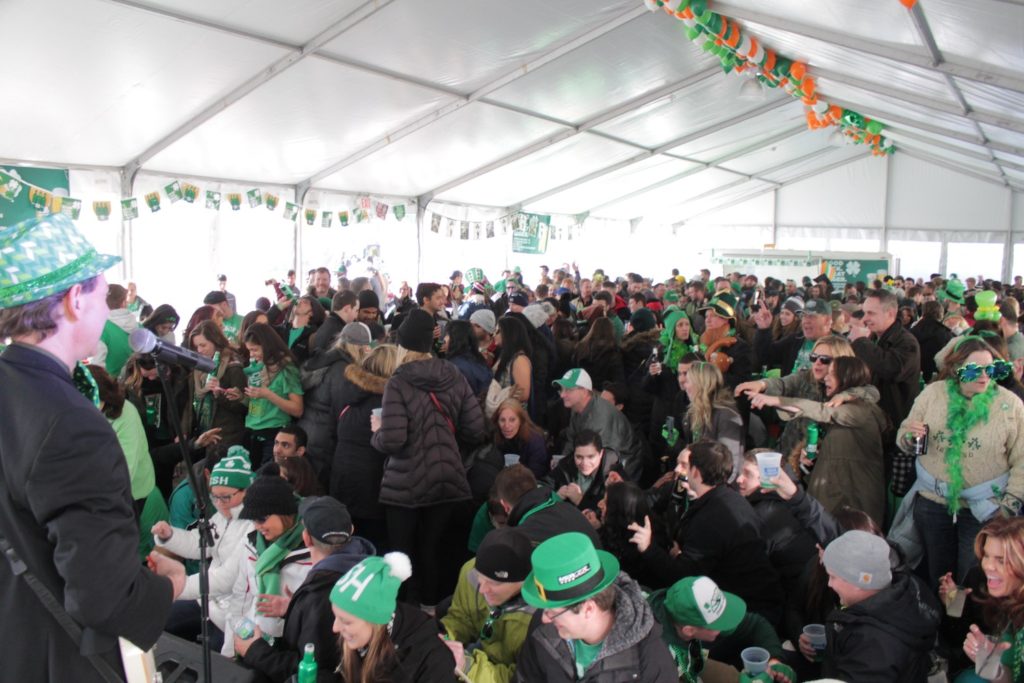 For 10 years, the Hard Rock Café in River North has celebrated St. Patrick's Day in a big way on March 17. Under a massive heated tent with live music from The Hat Guys and bagpipe performances from the Shannon Rovers, this free-admission celebration is one to behold. Enjoy plenty of Irish fare, including corned beef, as well as green beer, bloody marys and Irish coffee. The Hard Rock's restaurant will also be open for business. A suggested donation of $5 at the door on Saturday benefits the Hard Rock Heals Foundation. 63 W. Ontario. HardRock.com/Chicago
Emmit's
In a building dating back to the 1890s that once served as a bank with mob ties, this is an establishment frequented by cops and firemen, and it's served as a locale for scenes from such movies as Uncle Buck, Backdraft and Ocean's Eleven. In short, this is our kind of bar. Check out the ornate dark wooden bar, photos of firemen through the years, the varied selection of scotch, tasty Irish bangers with spicy English mustard, and Mrs. Finnegan's Irish stew. 495 N. Milwaukee. Emmits.com
Fado
One of Chicago's classic Irish bars is going with the following theme for March 17: "One Day. One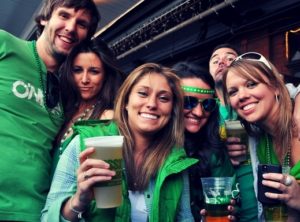 Pub. One Mission." Kinda says it all, wouldn't you say? With doors opening at 7:30 a.m. on St. Pat's, this promises to be an all-day affair. Plan for a $10 cover at the door, live music upstairs, plenty of European rugby on TV, brunch starting at 11 a.m. and a full menu available for 11 p.m. — in case you need a bit of sustenance at the end of the day. Try the shepherd's pie or fish fry. You won't be disappointed. And check out the century-old reclaimed bar from the Purty Kitchen in Dublin. 100 W. Grand. FadoIrishPub.com
Corcoran's
This Old Town neighborhood staple, located directly across the street from the iconic Second City comedy club, opens at 8 a.m. on the 17th, offering a free breakfast happy hour from 8-11 a.m. as well as $3 green beer and $3 bloody marys to kick off the St. Patrick's celebration. Irish dance routines, bagpipers and live music all day, too. Don't miss the back bar and beer garden, should the weather cooperate. The drunken mussels bowl (made with Belgian white ale, shallots, tomato and garlic toast), hearty burgers and baked mac and cheese concoctions come highly recommended. 1615 N. Wells. CorcoransOldTown.com
Your ads will be inserted here by
Easy Ads.
Please go to the plugin admin page to set up your ad code.