Inside Scoop: Free Chicago events, major music festivals, restaurant deals and more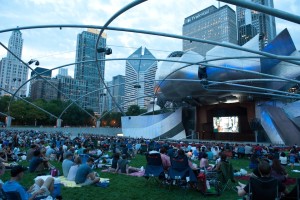 Learn what's hot and what's happening in Chicago this summer
Free things in Chicago
Movies
Summer Film Series
Tuesdays from June 24–Aug, 26 at 6:30 p.m.
Jay Pritzker Pavilion
www.MillenniumPark.org
Bring a blanket and snacks and enjoy a night out with weekly classic films shown on a 40-foot LED screen. Highlights include Top Gun, Field of Dreams, The Wizard of Oz and Ghostbusters.
Music
Loop and Variations
Thursdays from May 29–July 3 at 6:30 p.m.
Contemporary and classical elements mixed with electronic music.
Downtown Sound Series
Mondays from June 2–August 11 at 6:30 p.m. (no concert July 28)
Eclectic series combining indie rock, pop bands, global sounds and rock veterans.
Grant Park Music Festival
June 11-Aug. 16
Jay Pritzker Pavilion
www.Gpmf.org
Carlos Kalmar will lead the Grammy Award-nominated Grant Park Orchestra and Christopher Bell will direct the award-winning Grant Park Chorus in an anniversary season of world premieres, festival favorites, world-renowned guest artists, a weeklong composer-in-residency, two visiting youth symphonies and collaborations with local artists and cultural organizations.
Chicago SummerDance
Fridays, Saturdays and Sundays from June 27-Sept. 14.
Grant Park
The Spirit of Music Garden blossoms into an 4,900-square-foot, open-air urban dance space with 44 different live bands. Free dance lessons are 6-7 p.m. on Fridays and Saturdays and 4-5 p.m. on Sundays. Live music and dancing follows from 7:30-9:30 p.m. on Fridays and Saturdays and 5-7 p.m. on Sundays.
Made in Chicago: 36th Annual World Class Jazz
Aug. 28-31 (Labor Day Weekend)
www.ChicagoJazzFestival.us
Chicago Cultural Center and Jay Pritzker Pavilion

Jazz fanatics can enjoy a weekend of performances, including Gary Burton and Sun Ra Arkestra. Along with this, expect a rooftop showcase of both college and high school students playing tunes arranged by the Jazz Institute of Chicago.
16th annual World Music Festival Chicago
Sept. 11-21
www.WorldMusicFestivalChicago.org
Enjoy an 11-day festival featuring renowned artists from around the world.
Tours, exercise and family-related activities
Lurie Garden tours
May 15-Sept. 21
Thursday-Friday 11 a.m.–1:30 p.m., Sundays 10 a.m.-1:30 p.m.
A 20-minute guided tour around the Lurie Gardens showcasing the design history, perennial plants and wildlife.
Summer workouts
Saturdays from June 7-Sept. 6
Work out on the Millennium Park lawn with yoga, Pilates, Zumba, and Latin dance classes.
Chicago Bike Week
June 13-20
www.BikeChicago.us
A citywide celebration of cycling with several free activities at the park.
Target Family Fun Festival
June 23–Aug. 24 from 10 a.m.-3 p.m.
Take your children out for an afternoon of Wiggleworms, Old Town School of Folk Music performances, a reading circle, family performances, activities zones and much more.
— Clare Edlund
Major summer music festivals
Spring Awakening — June 13-15
Back for its third year, Spring Awakening transforms Soldier Field into the biggest rave in the city, featuring nearly 100 electronic acts over three days. Headliners: Tiesto, Pretty Lights, Diplo and Big Gigantic Steve Aoki.
www.SpringAwakeningFestival.com
Wavefront Music Festival — July 5-7
Quickly becoming one of Chicago's favorites for electronic music fans, and on the lakefront no less. www.WavefrontMusicFestival.com
Pitchfork Music Festival — July 18-20
Located in Union Park, Pitchfork continues to be the hippest festival around. Old-school favorites as well as rising stars make up the headlining list this year, including: Neutral Milk Hotel, Kendrick Lamar, Beck, St. Vincent and Grimes. www.PitchforkMusicFestival.com
Lollapalooza — Aug. 1-3
Since 2005, Lollapalooza has consistently brought the biggest performers and largest crowds, making it one of the most popular festivals in the nation. Whether it's rock, soul or rap, this Grant Park giant offers something for everyone. Headliners: Outkast, Eminem, Artic Monkeys, Skillex and Kings of Leon.
www.Lollapalooza.com
North Coast Music Festival — Aug. 29-31
An eclectic range of artists, from ultra chill wave to rowdy hip hop, will be performing this year in Union Park. Headliners: Bassnectar, Kid Cudi, Snoop Dog and STS9.
www.NorthCoastFestival.com
Riot Fest — Sept. 12-14
Held in Humboldt Park, Riot Fest features an enormous amount of big-name and local acts. A complete carnival tops this event off. Headliners: The Cure, Jane's Addiction, the National, Weezer, the Flaming Lips and Slayer.
www.RiotFest.org/chicago
— Harrison Schaefer
Treasures of the Walt Disney Archives at the Museum of Science and Industry
Located at: The Museum of Science and Industry through Aug. 3. www.MSIChicago.org
What to expect: Celebrating the iconic brand's 90th anniversary, Treasures of the Walt Disney Archives has more than 300 pieces on display, some of which have never been released to the public. There is a re-creation of Walt Disney's work space, an old cartoonist's desk adorned with sketchings of famous Disney characters, and several costumes worn in famous Disney movies like Captain Jack Sparrow's wardrobe.
— Jim Luchetta
Frontier announces their new Summer Patio Series, with specials including all-you-can-eat fried chicken on Tuesdays, a Half Acre oyster boil on Wednesdays and a patio smoke out on Thursdays.
The series is held in Frontier's 2,500 square-foot outdoor beer garden that features a retractable roof.
Frontier is located at 1072 N. Milwaukee. www.TheFrontierChicago.com
Classes at Second City
The Second City Training Center welcomes folks from around the world to learn new skills and take advantage of Chicago's rich comedy scene through Summer Adult Immersions.
Four levels of improvisation and sketch writing classes are offered to adults 19 and up in week-long sessions over the summer. The first session begins June 2, and new sessions will continue every week through Aug. 29. www.SecondCity.com/training/chicago
Restaurant and bar deals
Hubbard Inn
110 W. Hubbard.
www.HubbardInn.com
On Mondays and Tuesdays, Hubbard Inn serves up artisanal cheeses and charcuterie selections for just $2 from 4-7 p.m. On Wednesdays-Fridays, expect $1 oysters, $2 shrimp or lobster cocktail, $2 scallop crudo and $2 king crab legs in that same 4-7 p.m. timeframe.
Taco Joint Urban Taqueria and Cantina
158 W. Ontario and 1969 N. Halsted
www.TacoJoint.com
Mondays: $5 Taco Joint margaritas and $6 fruit margaritas. Tuesdays: $2 barbacoa and cochinita tacos and half off tequila. Wednesdays: $3 cheesburger tacos and $4 craft beers.
Timothy O'Toole's
622 N. Fairbanks
www.TimothyOTooles.com
Blue Moon or Blue Moon seasonal 25-ounce mugs are $6.50, and 22-ounce stadium cups of Miller Lite and Coors Light are $4.50 on Saturdays to go along with their weekend Build Your Own Mimosa and Bloody Mary Bar.