Summer fun with the family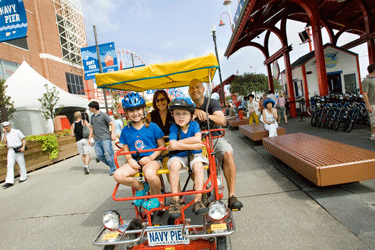 Your ads will be inserted here by
Easy Ads.
Please go to the plugin admin page to set up your ad code.
Wondering where to take the family in Chicago this summer? Here are a few fun options sure to bring out the kid in everyone
By Patricia Hall
When I was a kid, going into the city was always a big deal. I remember being awestruck at the sight of such tall buildings and all the hustle and bustle. To be honest, I'm still kind of captivated by all the sights in the city. And there really is nothing like summer in Chicago. For a family, the activities are endless. From sports and parks to museums and tours, it doesn't matter your age, because you're sure to have a great time. Here are just a few of some of the more memorable things to do or see with the kids this summer.
WILLIS TOWER / JOHN HANCOCK OBSERVATORY
233 S. Wacker
www.TheSkydeck.com
875 N. Michigan
www.HancockObservatory.com
See Chicago and beyond at the tops of these two world famous skyscrapers. On a clear day, you
can see 80 miles away — all the way to Indiana, Wisconsin and Michigan. Together, the family can pick out the major Chicago landmarks from either observation deck. If your family is a bit more daring, the recently opened Skydeck "Ledge" at the Willis Tower is a must. From about 1,300 feet off the ground, you'll be stepping out onto an enclosed glass ledge above the busy and seemingly tiny city below. If it's unparalleled views of Lake Michigan and the Magnificent Mile you seek, or perhaps a fascinating historical audio tour, then the John Hancock Observatory is the way to go.
LINCOLN PARK ZOO
2001 N. Clark
www.LPzoo.org
Something I never got sick of as a kid was going to the zoo, even into my teens. At Lincoln Park Zoo, you can get nose to nose with a gorilla, see just how playful river otters are or try to spot a 
wolf that has expertly camouflaged itself in the woods. One of the things the Lincoln Park Zoo does best is display an enormous variety of animals, nearly 1,100 in all, and the habitats are exceptional replications of their natural environments. To top it off, admission is free 365 days a year.
MILLENNIUM PARK
201 E. Randolph
www.MillenniumPark.org
Located in the heart of downtown Chicago, Millennium Park is a green haven, and the perfect
place to spend a lazy day with your family. Picnic on the great lawn while listening to one of the many concerts during the Grant Park Music Festival at the beautiful Pritzker Pavilion, catch your reflection in the magnificent city views mirrored in the "Bean" or best of all, cool off during a hot summer day by splashing in the giant Crown Fountain. The Lurie Garden is a great place for a stroll, and don't forget the Family Fun Festival — free family performances and hands-on activities every day starting June 9 between 10 a.m.-3 p.m. in the Family Fun Tent, located on the park's Chase Promenade North.
SHOPPING ON N. MICHIGAN AVE.
The Magnificent Mile offers shopping like you've never seen, with a store for everyone in your family along this strip of Michigan Avenue. You can start your journey at Water Tower Place, an eight-story mall featuring stores like American Girl Place, Macy's, Abercrombie & Fitch and Forever 21. Across the street, by the historic Water Tower, take the family for ice cream sundaes at Ghirardelli's or chocolate samples at Hershey. Further down the avenue are more big-brand choices like Niketown, the Apple store and the Gap.
NAVY PIER
www.NavyPier.com
www.ChicagoChildrensMuseum.org
Navy Pier is possibly the most family-friendly attraction in Chicago. It's the home of the Children's Museum, an Imax Theater, the Chicago Shakespeare Theatre and numerous boating and biking
opportunities, not to mention more restaurants, shops and rides than you can handle in one day. The Children's Museum is three floors of interactive exhibits for kids to play, create and learn. "The Children's Museum is great because there are all these places for the kids to draw or build and be creative, and they're learning while they do it." says Patti Osuoji of suburban Oak Park. The Children's Museum is open 10 a.m.-5 p.m. Sun.-Wed. and Fri. and 10 a.m.-8 p.m. Thurs. and Sat.
Your ads will be inserted here by
Easy Ads.
Please go to the plugin admin page to set up your ad code.
TALL SHIP ADVENTURES
www.TallShipWindy.com
(312) 731-9689
Step out of the norm to take the family for a sailing excursion on Lake Michigan with Tall Ship
Adventures, departing from Navy Pier and Burnham Harbor. While cruising on the schooner "Windy," hear true stories of piracy on the Great Lakes, learn about the life of a sailor and some history of the architecture in Chicago. Or enjoy the moon and stars on a Moonlight Sail, and on Wednesday and Saturday evenings during the summer, take in the fireworks launched by Navy Pier.
BOBBY'S BIKE HIKE
465 N. McClurg Ct.
Ogden Slip at River East docks
(312) 915-0995
www.BobbysBikeHike.com
Taking the whole family on a tour led by one of the knowledgeable, enthusiastic guides at Bobby's Bike Hike will get the group plenty of exercise and allow you to see more of the city than you ever
could on foot. The variety of tours offer unique sightseeing opportunities for popular Chicago places of interest. Founder Jeremy Lewno says the tours are "healthy, fun, informative and interactive for families." Don't have a bike? That isn't a problem. Bobby's Bike Hike lets you rent bikes for any age. The tours are also set to a relaxing and easy pace, so you won't have to worry about keeping up or missing anything.
SHEDD AQUARIUM
1200 S. Lake Shore Dr.
www.SheddAquarium.org
When my niece and nephew visited me last summer, they enjoyed the Shedd so much that we went
twice in one weekend. I don't know how long I watched jellyfish lazily float along while my nephew's nose was pressed to the exhibit glass, but it was worth it. The Shedd is home to nearly 22,000 aquatic animals. You can take a journey through the Amazon River, ask a diver questions while he feeds the fish and sharks in the Caribbean Reef exhibit or welcome the new baby beluga whale in the Oceanarium. The recently updated Oceanarium not only features belugas, but also has Pacific white-sided dolphins, Alaskan sea otters and rockhopper and gentoo penguins. The Shedd is open 9 a.m.-5 p.m. weekdays and 9 a.m.-6 p.m. weekends.
PIZZA PARTY
www.Giordanos.com
www.LouMalnatis.com
www.unos.com
No trip to Chicago is complete without trying a slice of our famous deep-dish pizza. Locals will argue over where to go for the best pizza in the city, but these downtown treasures regularly get top reviews: Giordano's, Gino's East, Pizzeria Uno and Due and Lou Malnati's. The deep-dish pizza at all of these places is better described as "stuffed," where the crust is topped with a thick layer of mouth-watering mozzarella, toppings and then tomato sauce, usually at the end. Come hungry because you'll definitely get your fill at any one of these restaurants, but get your name in on the list early, as the wait can be lengthy during the dinner hour.
DINOSAURS AND MORE AT THE FIELD MUSEUM
1400 S. Lake Shore Dr.
www.FieldMuseum.org
The Field Museum is home to Sue, the most complete and best-preserved T-Rex yet discovered. "My son literally ran shrieking in excitement up to Sue," says Lauren Carney of suburban Barrington.
"Now, whenever we go into the city, he asks me when we can go see the dinosaurs again." In the Genius Hall of Dinosaurs, kids can come face to face with full-sized skeletons from every major dinosaur group and learn more about prehistoric times. Open 9 a.m.-5 p.m. daily.
THE BEACHES OF LAKE MICHIGAN
www.ChicagoParkDistrict.com
One of the best visual aspects of Chicago is the miles and miles gorgeous Lake Michigan
lakefront. Spend the day swimming, biking, playing volleyball or just relaxing with the kids at one of Chicago's 31 beaches. Lifeguards are on duty at all beaches from 11 a.m.-7 p.m. "Certain beaches have different features," says Marta Juaniza, assistant press secretary for the Chicago Park District, as some are known for skate parks, playgrounds, accessible beach walking trails or spray pools, giving families more options.
Your ads will be inserted here by
Easy Ads.
Please go to the plugin admin page to set up your ad code.