First Look review: "Cirque Shanghai: Warriors" is a fresh, heart-pounding spectacle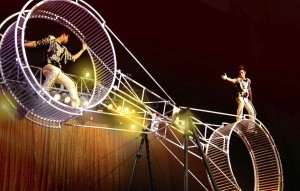 Playing at: Pepsi Skyline Stage on Navy Pier, through Sept. 1. www.NavyPier.com/CirqueShanghai/
History: Consisting of expertise from Chinese Kung Fu and Wu Shu masters, Cirque Shanghai: Warriors, now in its ninth consecutive season, combines impressive acrobatics and ancient arts. The result is a powerful show that emphasizes amazing displays of discipline and skill.
Basic storyline: Haiping Ge (producer) and Miao Chen (performer and director) have worked along with the ISA, a world leader in entertainment productions, to create this hit show.
This summer's production consists of a brilliant lineup filled with shocking, gravity-defying stunts.
What stood out: It's impossible to not appreciate the level of discipline, balance and athleticism the cast displays. In perfect sync from beginning to end, one slip-up could mean major trouble for any or all of the performers. This intensity keeps the audience on edge and indefinitely entertained.
The cast returns to this year's production with the fate-tempting "Wheel of Destiny," a sphere-like cage in which multiple acrobats perform stunts — all while riding their own motorcycles.
Final thoughts: Intriguing, fun-filled and seat-gripping. From the beautiful wardrobes, music and set design, the show is ideal for excitement seekers. Overflowing with energy and grace, Cirque Shanghai: Warriors is one of those performances you wouldn't mind seeing more than once.