It's cold out there: A few spots to warm up this winter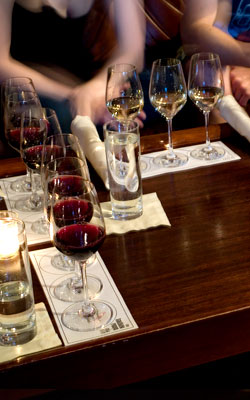 Chicago winters can be brutal, we know. So with that fact in mind, here are a few of our favorite places to stop in and warm up for a bit.
By Megan Green and Jennifer Billock
Chicago winters can leave even the bravest souls scrambling for cover. The wind and cold hit you until it hurts. Most would advise to stay inside as much as possible, but just sitting around during your stay can be boring. Luckily, the city offers a lot of options for fun things to do indoors. In downtown Chicago, finding a place to keep warm and have fun can mean a variety of things. You can keep out of the cold by finding a coffee shop. You can find a nice, cozy restaurant. You might even discover a little culture while warming up. We explored some cozy locales for you to check out on your visit. Just be sure to bundle up before you have to venture back to your hotel.
CAFÉ DESCARTES
327 N MICHIGAN AVE.
A coffee shop is a great place to think or catch up with friends or family. Café Descartes is an even better place than most because great philosophers adorn the walls. Along with Descartes, visitors can find images of Kant, Sartre, Plato and many others to look at while they are sipping their medium vanilla lattes. The philosophers aren't the only things that set this caffeine haven apart from chain coffee shops. Large couches, cobalt blue light fixtures, dark wood and a large, decorative mirror give Café Descartes a warm, inviting, almost European feel. Try their array of coffee drinks, teas and food. For the non-coffee or tea drinkers, there are also sodas, bottled water and juice to quench your thirst.
CHICAGO CULTURAL CENTER
77 E. RANDOLPH
After a brisk day in Millennium Park, stroll across the street to warm up in the Chicago Cultural Center. The Cultural Center was built in 1897 and contains some of
the most luxurious architecture elements found in the city. Originally opened as the city's first public library, the Cultural Center now serves as the venue for hundreds of events, concerts and art exhibitions. Starting Nov. 19 and running through January, you can get a preview of Yvonne Domenge's art before her sculptures are installed in Millennium Park. If you're more interested in the Cultural Center itself, building tours are available every Wednesday, Friday and Saturday, where you can learn more about the ornate architecture and the Tiffany glass dome — it's the world's largest. It also plays home to the Chicago Visitor Center. The Chicago Cultural Center is open Mon.-Thurs. 8 a.m.-7 p.m., Fri. 8 p.m.-6 p.m., Sat. 9 a.m.-6 p.m. and Sun. 10 a.m.-6 p.m.
ELEPHANT & CASTLE
185 N. WABASH, 111 W. ADAMS, 160 E. HURON
Chicago has its share of quality pubs. But the enticing pub choices in Chicago hardly end there. Another eatery offering that same great food, beverage and atmosphere is Elephant & Castle. This warmly decorated restaurant and bar has a handful of locations in Chicago, but the one on Wabash Ave. is located only one block from Millennium Park. It is also just a short walk from the theater district (theater goers can take advantage of their late-night menu until 11 p.m.). It isn't just the location that makes this restaurant ideal. It also has substantial beer and wine choices and an array of tempting British and North American food for any palette. Share your plates to experience a little bit of everything, and don't forget to cozy up next to the roaring fireplace.
FIELD MUSEUM OF NATURAL HISTORY
1400 S. LAKE SHORE DR.
Chicago's Field Museum is arguably one of the nation's most diverse museums, able to offer up an extensive variety of exhibits that are guaranteed to educate, enlighten and entertain people of all ages. Honestly — and you'll understand once you've
stepped foot inside — it would be east to spend about a week exploring the Field. From helping celebrate the 10th anniversary of Sue, the famous T. Rex, to examining the "Gold" exhibit to learn about the world's most desired metal and its power to shape history to perusing "Evolving Planet," which takes visitors on an awe-inspiring journey through four billion years of life on earth — it's all here, and then some. And what better reason to sneak in out of the cold than to learn a little something while on vacation. Nothing wrong with that.
THE MELTING POT
609 N. DEARBORN
Nothing aids a winter warm-up quite like the cooking of food over an open flame. That is one of the many reasons the Melting Pot is a great option during the winter. This restaurant has been a staple of many a romantic night since it opened. The low lighting and large selection of chocolate fondue and drinks are perfect for any couple's night out. But this fondue hot spot is also perfect for meeting up with friends or even a family dinner. What kid doesn't like to dunk his or her food in cheese? The Melting Pot has its share of beef, chicken and seafood to drench in different sauces. Vegetarians shouldn't be wary of this restaurant, as there are plenty of veggie options as well.
THE REDHEAD PIANO BAR
16 W. ONTARIO
Relax with a blast from the past at the Redhead Piano Bar. Reminiscent of a 1950s-style high-end nightclub, the walls are covered with sheet music and photos of Old
Hollywood's glamorous celebrities. The bar itself was opened 17 years ago by former Playboy bunny (and redhead) Eileen Wolcoff. You' ll feel like a celebrity too; there's never a cover, and the dress code is a classy business casual. "The music is the hook," partner Stephen Doherty says of the consistent entertainers. "It's very eclectic and broad." The bar asserts itself as a music club, and the atmosphere is fun, comfortable and cozy — and stays that way all year round, even on the patio, as it's covered and heated so the smokers don't have to freeze. And don't forget to try one of The Redhead's stellar martinis. On the third Wednesday of every month, The Redhead Piano Bar holds its "Uncorked!" wine tasting event. Four wines are sampled and a bonus surprise wine usually always makes it way out of the cellar. This event does have a cover, at $15. The Redhead Piano Bar is open Sun.-Fri. 7 p.m.-4 a.m. and Saturday 7 p.m.-5 a.m.
ZANIES COMEDY CLUB
1548 N. WELLS
Zanies, an intimate comedy club offering a reliable evening of laughs, is the only true place to go see national stand-up comedians in Chicago. This humor hot spot is celebrating its 31st year here. A number of big comedians such as Jerry Seinfeld, Jay Leno, Jeffrey Ross and Sarah Silverman have played to packed crowds at this tiny club, which fits about 100 people. For those who only want to be among adults, this is a 21 and older establishment with a two-drink minimum.
WINE BARS
THE TASTING ROOM: Situated right in the West Loop, the Tasting Room is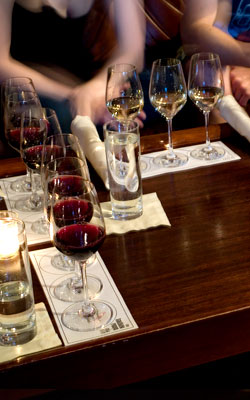 housed in a repurposed factory. The atmosphere is industrial but chic with exposed ductwork and bricks complemented by picture windows and comfy couches. The wine list is award-winning. Go there on a Monday to get half off all glasses or Tuesday for half off bottles. If you want a little sustenance with your vino, you're in luck. The Tasting Room has a full menu of nouveau-American comfort food. The Tasting Room is located at 1415 W. Randolph and is open Mon.-Fri. 5 p.m.-1 a.m. and Sat, 5 p.m.-2 a.m. Closed on Sundays.
SWIRL WINE BAR: "Pizzas, cocktails and casual dining" are the heart of the menu at Swirl Wine Bar in River North, although they are all based around the wine. In addition to Swirl's reserve wine list, the bar promotes 20 other wines served by the glass. The selection changes weekly, and there is a two-drink minimum, so you'll never feel like you're missing something special. Swirl maintains a small menu of salads, cheese plates and gourmet pizzas to enhance your enjoyment of that night's wine. If you're looking for a little live music, the bar has nightly jazz performances. And you can still have a conversation — the music isn't so loud you can't hear your friends. Swirl Wine Bar is located at 111 W. Hubbard and is open Tues.-Thurs. 5 p.m.-2 a.m., Fri. 5 p.m.-4 a.m. and Saturday 7 p.m.-5 a.m. Closed on Sunday and Monday.