Starfruit: If this is what the future of dessert looks like, we're in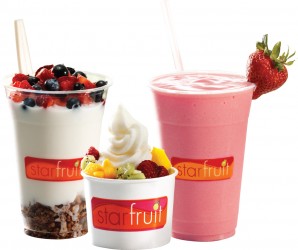 As the saying goes, this is not your father's frozen yogurt.
In fact, Starfruit is not yogurt at all. And it turns out that's a good thing.
The Starfruit collection of low-fat smoothies, frozen treats and tempting parfaits that are taking over Chicago are made with creamy Lifeway kefir. Named for the Turkish word for "good feeling," kefir really does give you a healthy lift.
It's light years beyond yogurt in regard to healthy living because kefir contains 10 live and active probiotic cultures that are responsible for aiding digestion, fighting lactose intolerance, lowering cholesterol and boosting your immunity. By comparison, yogurt typically has just two or three probiotics.
Not only that, but with kefir, you skip over the artificial sweeteners and colorings that are found in yogurt, too.
Now that doesn't necessarily mean you have to go totally healthy at Starfruit. What you choose to put on top of, or inside, your treat is up to you.
You can combine a strawberry-banana flavored frozen cup of kefir with
some mango, raspberries, coconut and a health boost like glutamine or whey protein added in. Or toy with your sweet tooth and try the candy route, with plain kefir topped with options like M&Ms, crushed Oreos, Cocoa Pebbles or granola, just to name a few.
Starfruit's nine smoothie options range from the Diva (blueberry, mango, banana, flaxseed, pomegranate kefir and vanilla kefir) to the Heavenly (banana, Oreos, almonds, peanut butter, caramel sauce, cappuccino kefir and vanilla kefir), while parfaits are made up of a blended dose of frozen kefir poured between layers of fruit, candy or nuts, or any combination of the above.
"Honestly, how often can you put together something that is so healthy for you and have it taste this good?" wonders Chicagoan Cathy Soric. "I usually go healthy, with mostly fruit and granola, but sometimes it never hurts to throw a little chocolate sauce or Butterfinger in there when no one's looking."
Um, is that your stomach growling or ours?
Locations

Lincoln Park
2142 N. Halsted
Monday-Sunday 10 a.m.-11p.m.
Wicker Park
1745 W. Division
Monday-Sunday 10 a.m.-11 p.m.
Loop
Block 37 Pedway
108 N. State
Monday-Friday 7 a.m.-7 p.m.
Saturday noon-5 p.m.
Closed Sunday
Merchandise Mart
Monday-Friday 7 a.m.-7 p.m.
Closed weekends