Sun and fun: Five must-do activities now that Chicago's best season is upon us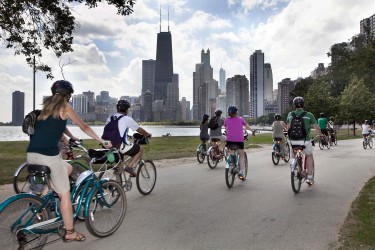 Five must-do activities now that Chicago's best season is upon us
By Hilary Ward
1. Millennium Park
Millennium Park isn't just a giant bean and spitting fountains. Pack a post-work picnic and get your fanciest happyhour on for concerts at the park's Pritzker Pavilion. From international indie bands to Beethoven's Fifth, there's music for everyone to toast to under Chicago's gorgeous skyline several times a week. To work off that wine and cheese, head to the same spot Saturdays from 7-11 a.m. for free yoga, Pilates, tai chi and Zumba classes.
2. Music festivals
My fellow music festival junkies, rejoice, for besides the muddy musical goodness that is Lolla and Pitchfork, we have new destinations. Spring Awakening occurs at Soldier Field in mid-June, Wavefront Beachside Fest will start your July off right on Montrose Beach, and North Coast will aid your Lolla withdrawal at Union Park.
3. Bike the (entire) lakefront
There's more to biking the lakefront than the strip between North Avenue Beach and the Shedd. Trek south to the end of the path, pausing for the great views at Promontory Point at 55th. Along the way, explore the under-populated beaches and perfect boulders for sunbathing that hold a solitude and serenity so nice you'll never want to make a footprint at bustling Oak Street again.
4. Running groups
Get a runner's high from this happy hour rather than a hangover. Fleet Feet offers free running groups at 6:30 p.m. three times a week at their two downtown sports apparel locations. Change out of your work clothes, leave your gear safely there, and prepare to run 3-6 miles with fellow like-minded runner pals. I love the Piper's Alley location since they run Mondays, Tuesdays (ladies only!) and Wednesdays along the gorgeous main and side paths along the lakefront.
5. Sit outside at Big Star
Wicker Park's Big Star is where all the big kids come out to play – and eat and drink solid Mexican fare on thecheap. After an afternoon of shopping around Six Corners, grab some guac and $3 whiskey shots on the sprawling patio of this hot, hipstery scene to-be-seen. Don't miss the $3 pork shoulder, beer-battered tilapia or pork belly tacos created by the genius of chef Paul Kahan.