Chicago's Signature Dishes: Benny's Chophouse and Pitchfork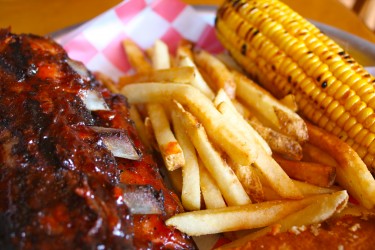 An inside look at a pair of standout meals from two popular establishments 
By Trent Modglin
Benny's Chophouse
444 N. Wabash
www.BennysChophouse.com
The city of Chicago is flooded with steakhouses, but the list of places that do things right — I mean really do things right — is not as long as one might expect.
Benny's is the kind of beautifully sophisticated venue the characters from "Mad Men" might particularly enjoy.
Lobster cobb salad
During the warm summer months, lighter meals are often the way to go, and Benny's lobster cobb salad is an ideal option. Loaded with big chunks of rich lobster and hearts of palm, celery, tomatoes, avocado, bacon and corn, this wonderful blend of fresh flavors makes for a perfect summer lunch.
Benny's burger
Now there are also days when you just need a big 'ol burger, and Benny's version is a juicy classic. Topping it with blue cheese, lettuce and port wine onions takes it to another level.
A bit of mayo is mixed with the lettuce to provide a nice, tangy consistency, and the basket of crispy truffle fries are seasoned to perfection.
Pitchfork
2922 W. Irving Park
www.PitchforkChicago.com
Pitchfork, the newest establishment from the folks behind popular
bars like Waterhouse, Rebel and Bluelight, is a whiskey and barbecue establishment that does a lot of things right. But we're focusing on barbecue because the craving hit, and we couldn't resist.
Rack of ribs
As a bit of rib connoisseur, I have a list of favorites from across the country, and Pitchfork's recipe may have vaulted to the top. The intoxicating sauce, concocted from a sugar, vinegar and tomato base, is made with grape jelly and some 17 spices.
The meaty ribs are cooked for four hours until they're ready to fall off the bone. Our order arrived with fries and an ear of corn that is roasted in the husk, then peeled and grilled with a light dusting of butter, salt, pepper and garlic.
Brisket sandwich

"The brisket is the best worst thing to happen to me in Chicago because I want to eat it every day I'm at work," says Nikki, Pitchfork's manager.
I can attest to this issue of hers, as it easily surpassed my already lofty expectations. The tender slices of sweet and juicy beef have a nice layer of "bark," or charred crust, a product of being smoked for 20 hours, and it's served up on a soft pretzel roll.
Add a little of Pitchfork's homemade sauce and a surprisingly light and creamy side of baked macaroni and cheese and you'll be in barbecue heaven.