Good Eats at Lula Cafe: This Logan Square favorite offers a casually delicious experience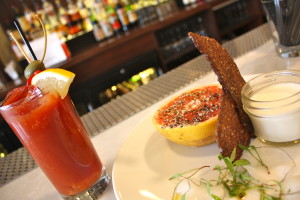 Your ads will be inserted here by
Easy Ads.
Please go to the plugin admin page to set up your ad code.
A cute, casually comfortable gem with original, farm-fresh recipes and tempting Bloody Marys
By Nicole Weddington
Location: 2537 N. Kedzie Blvd. in the heart of Logan Square. www.LulaCafe.com
Hours: Sunday, Monday, Wednesday and Thursday from 9 a.m.-midnight, with the bar open until 1 a.m. Friday-Saturday: 9 a.m.-1 a.m., with the bar open until 2 a.m.; closed Tuesday.
The scene: To put it simply, this is a warm and comfortable coffee shop with delicious food. Mismatched chairs line the bar and tables in this cute, uniform-free environment. The décor is a mix of modern meets vintage, and the walls are covered with pin art by Anders Nilsen — the rest of the wall art rotates four times a year. Opened in 1999, owners Jason and Amalea Hammel wanted a neighborhood coffee shop where their friends could hang out. It didn't take long before the couple got interested in cooking in a way they never intended.
The food: The Hammels have a serious commitment to purchasing from local and organic sources, and their creative contributor/sous chef Mike Simmons helped them create delicious origin
al recipes. Priding themselves in being one of the first casual restaurants in Chicago to utilize local farmers' markets, their ingredients come from more than 30 farms in the Midwest. The menu at Lula Café is stacked with tasty salads and sandwiches, but the brunch is what has people talking. The hand-whipped honey butter goes perfect with the sourdough toast, and Lula's potatoes are roasted and tossed with parsley, lemon and fresh garlic. The menu contains a page designated for specials that rotate weekly, including Jason Hammel's favorite dish: "The Royale" breakfast sandwich, this particular week made with a grilled pork chop, gruyere cheese and brussel sprouts.
Your ads will be inserted here by
Easy Ads.
Please go to the plugin admin page to set up your ad code.
Get your drink on: Lula Café carries 14 beers that change seasonally and a small collection of wine. But the specialty cocktails are what you have to try. Considering myself a Bloody Mary connoisseur, I had to try both options. The impressive Lula '99 is made with Tito's vodka and lemongrass, garnished with tiny gherkins and sweet and spicy cucumbers. But I really fell in love with the 11 a.m. Sunday, 54
East 1st St. Bloody Mary. The sriracha and horseradish gave it a spicy kick that accented the smoked oyster and caperberry garnishes nicely. Inspired by a bar called Prune in lower Manhattan where you couldn't get a drink before 11 a.m., this inside joke/drink also proudly wears a prune. These bloodies are run through the garden. No skimping on the veggies here. Other house favorites include the beer-mosa and The Gypsy's Kiss with Campari and Lambrusco. For a non-alcoholic option, Lula offers fair trade and organic teas, as well as rich coffees, espressos and cappuccinos and sweet treats like hot apple cider and hot chocolate.
We'll be back because… the neighborhood is adorable and the staff was friendly and efficient. The prices were reasonable, and we were seated fairly quickly even though the wait was long. There are few places busier for brunch, so make sure you go early on the weekends, as no reservations are accepted for brunch. Long after the brunch rush is over, the bar stays open late and is a romantic place to chat and grab a bite.
Your ads will be inserted here by
Easy Ads.
Please go to the plugin admin page to set up your ad code.