The best of Broadway: Plenty of diverse food options call this lively street home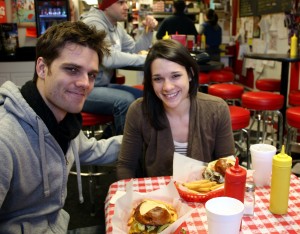 Your ads will be inserted here by
Easy Ads.
Please go to the plugin admin page to set up your ad code.
The plethora of diverse food options on Broadway Avenue can be a little overwhelming. Unless you have a seasoned expert to give you her favorites
By Hilary Ward
Bobtail Ice Cream Company
2951 N. Broadway
www.BobtailIceCream.com
Bobtail's warm parlor interior and sweet scents wafting out to the street tend to lure corner passersby in like teenagers to Twitter. With generous home-brewed scoops of specialty flavors (merlot/dark chocolate chip please!), sprinkle-dipped waffle cones, thick shakes and loaded sundaes, you can't go wrong here. Bobtail is an old-school standout amongst its overbearing kid sisters, the dime-a-dozen frozen yogurt shops.
Joy's Noodles & Rice
3257 N. Broadway

www.JoysNoodlesAndRice.com
When I'm craving Thai, Joy's Noodles is one of my main go-to spots in the city. The vast menu options are reliably delicious, and the speed at which my steaming entrée is placed in front of me never ceases to amaze, even on a bustling Friday night. Don't miss out on their hidden back patio if weather permits. With main dishes around $8.50, a no-corkage fee BYOB policy and responsive service, Joy's is a no brainer.
NhuLan Saigon Subs
602 W. Belmont (at Broadway)
www.NhuLanSaigonSubs.com
Never thought I'd be addicted to Vietnamese fast food, but Nhu Lan has rendered me just that. Combining the unique flavors and textures of a crunchy baguette packed with pickled carrots and daikon, cilantro, jalepeno and an overwhelming amount of options for protein, Nhu Lan produces a mean bahn mi sandwich. Fresh, friendly and, in my opinion, more authentic than other city vendors, this is a quick stop for a tasty
six-inch that puts Subway to shame.
Your ads will be inserted here by
Easy Ads.
Please go to the plugin admin page to set up your ad code.
Flub a Dub Chubs
3021 N. Broadway
www.FlubADubChub.com
For the best hot dog under Wrigley's shadow, head to Flub a Dub Chubs. Halfway underground, it's easy to miss but impossible to forget. My 100-percent Vienna beef "flubby" dog always looks like its straight off a food magazine cover. I fully admit to being a ketchup fanatic and load up on my hot dogs (yes, I know…), but Flub's is so good I easily resist. Coming from me, that's a big deal. Fries and friendly service are included, not to mention burgers and Italian beef.
Crisp

2940 N. Broadway
www.CrispOnline.com
The Broadway tour around the world continues at Crisp for Korean barbecue. My old reliable choice is any Buddha bowl — a steaming mass of veggies, rice and protein, complete with a fried egg on top. The gigantic wings are killer, all the more so perhaps if you choose the "suicide" sauce. I prefer the addicting "Seoul Sassy" sauce. I'd put it on my Bobtail ice cream if I could.
Your ads will be inserted here by
Easy Ads.
Please go to the plugin admin page to set up your ad code.