Chicago hidden gems: Movieoke, Aroma Workshop, Jaiyen Sushi & Noodle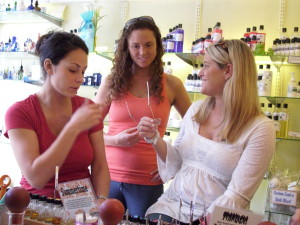 If you're searching for that certain out-of-the-way experience that represents true Chicago, we've got you covered
We here at The Real Chicago understand it's often the little things — the eclectic pub off the beaten path with great craft beers, the rousing performance at a neighborhood theatre company or the selection of purses at the cozy little store miles from Michigan Avenue — that can often make living in a city like Chicago feel extra special. We live and breathe Chicago, so here are a few hidden gems we thought you should know about.
Movieoke at The Whistler
The Whistler offers a unique option for a night out with friends with their Movieoke night. On the first Monday of every month, participants can pick from more than 300 movie scenes to be acted out karaoke-style for an audience while the movie is shown on a screen behind them. Some of the movies include such classics like "The Big Lebowski" and "Titanic."
Break the ice on a first date by embarrassing yourself or entertain your friends with a hilarious re-enactment. Movieoke is sure to leave a lasting impression on its viewers. Try one of The Whistler's award-winning cocktails for some extra liquid courage.
The Whistler is located at 2421 N. Milwaukee. www.WhistlerChicago.com
— Nicole Weddington
Create your own fragrance at Aroma Workshop
If you're tired of never finding that perfect perfume or cologne in a department store, maybe it's time to create your own signature scent. I recently got my wife and her friend a gift certificate at Aroma Workshop in Lincoln Park, and I'm still hearing her rave about it a week later.
With the assistance of a helpful "perfumer," you get to explore the scent bar with more than 100
fragrances. It doesn't just end with perfumes, as you can also create personalized lotions, oils and linen sprays, as well as sort through a wide selection of face creams, soaps, misters and more.
"The employee has the experience to know which oils go well together out of the ones we selected," my wife, Debbie, explains. "Also, once you find a combination that you like, they take down your name with the selection so that they can simply reorder your personalized perfume or lotion.
"It is definitely a unique experience. It would also be fun for a group of girls, a bridal party or a couple."
Aroma Workshop is located at 2050 N. Halsted in Lincoln Park. Visit www.AromaWorkShop.com for more information.
— Trent Modglin
Jaiyen Sushi & Noodle
In larger cities, sushi restaurants can sometimes seem like a dime a dozen, mainly because there's so much competition.
But when you combine a diverse menu with flavorful Japanese, Chinese and Thai options, and do them all consistently well in a cozy atmosphere with a BYOB policy and no corkage fee, it's worth mentioning.
From tempura to a variety of noodle, fried rice, teriyaki and curry dishes, or fresh sushi, sashimi and makimono creations, Jaiyen covers it all, and they do so without sacrificing quality.
Jaiyen's two locations are at 3734 N. Broadway and 3159 N. California. Visit www.Jai-Yen.com for menus and more information.
— Trent Modglin