First Look review: City Winery's Klezmer Brunch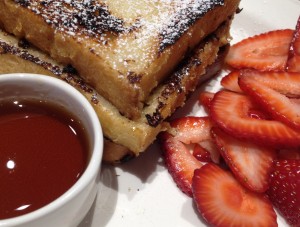 This spacious new West Loop venue offers a tasty way to start the weekend
By Leah Karabenick
Michael Dorf, founder of New York's iconic Knitting Factory, recently revealed his latest endeavor: a restaurant meets winery meets music venue he calls City Winery.
I was fortunate enough to attend their premiere Klezmer Brunch, a culmination of live, culturally inspired music, delicious cuisine and what will soon become, for me, a ritualistic Sunday dining experience.
From the moment I entered the restaurant, I was overwhelmed by the sheer massiveness of the space. Fully fitted with floor-to-ceiling wine-filled wooden barrels and brick arches, this West Loop factory space is certainly a marvel, and the 300-seat music hall is no exception.
As I dined, I felt subconsciously detached from the Chicago bustle. The usual expected brunch crowd of loud 20-somethings was replaced mostly by families, three or four generations worth, chatting quietly while enjoying traditional fare and the music of the Chicago Klezmer Ensemble.
Ambiance aside, the moderately-priced menu boasts simplicity, with a perfectly small range of the savory and sweet. I tried what I believe to be just shy of 75 percent of the menu. Somewhere between my 19th bite of the lavender-infused salmon in my bagel and lox plate and polishing off my challah French toast, I realized that I had intentionally stumbled upon a gem — and might I add a kosher one (available by request).
The Klezmer Brunch truly defines experiential dining, and I will most certainly return for dinner, Klezmer Brunch round two and, perhaps, the last 25 percent of the menu.
City Winery is located at 1200 W. Randolph in Chicago's West Loop.
Visit https://www.citywinery.com/chicago/ for menus, music schedule and more.