Good Eats at Quartino: Stop in for tasty Italian tapas and a vibrant atmosphere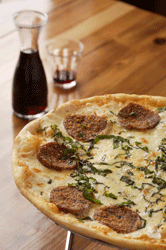 Your ads will be inserted here by
Easy Ads.
Please go to the plugin admin page to set up your ad code.
By Trent Modglin
For as popular as it is, Quartino can qualify as a unique restaurant option in Chicago's trendy River North neighborhood.
It's labeled an urban Italian neighborhood restaurant and wine bar. May not exactly sound unique, I realize, but the approach is, featuring a variety of small plates meant to be shared, family style, similar to the popular trend of Spanish tapas restaurants that create perfectly proportioned options for groups of any size. Authentic and affordable Italian tapas, if you will.
In the middle of the main dining room is the salumeria, or Italian deli, which serves up a number of imported Italian meats, cheeses and olives, as well as the chef's own recipe meats like duck prosciutto, pork loin and spiced Italian salami.
That should only tempt your palate for what's to come next. With the idea of sharing in mind, don't hold back from the possibilities, starting with the incredibly popular Neopolitan-style thin crust pizzas. Wine bar plates (Portobello mushroom bruschette, grappa-cured salmon, etc.), hot plates (like the incredible veal sliders or crispy calamari), soups and salads come next.
Then try a round of homemade pastas (perhaps the gnocchi, spaghetti or linguini with clams), risotto (with shrimp and sun-dried tomatoes or Tuscan sausage), mouth-watering fondue or one of the house specialties like sea scallops, braised lamb shank, beef short ribs or farm house chicken, just to name a few. The desserts are best described as "divine" by patrons, especially the doughnuts served with honey or dark chocolate.
Your ads will be inserted here by
Easy Ads.
Please go to the plugin admin page to set up your ad code.
Only now do we get to the fact Quartino's extensive wine list boasts more than 30 hand-picked selections from all regions of Italy, served in carafes, which just feels right.
Lively and inviting, Quartino is cozy yet bustling at the same time. Whether you're stopping in for a fulfilling meal prior to the theater, hosting a private party or corporate function or making a late-night stop for a glass of merlot and a quick bite, Quartino has something for everyone.
"It's a big place and always has an energetic and fun vibe," says general manager Matt Graham. "The late-night dining and atmosphere is something we established from the very beginning because there are few really good options past 11 p.m. to get something good to eat. And the wine bar is so central to
our concept. We have a good energy right up until we close, especially in the bar."
If that's not enough, the average cost per person or food and wine is less than $30. Seriously.
"The staff is so friendly and patient, they truly know how to enhance a dining experience," says Chicagoan Sara Johnson. "With a festive crowd, fun wine scene and great food, it's really perfect for any occasion."
Quartino is located at 626 N. State, at the corner of Ontario. Call 312-698-5000 or visit www.Quartinochicago.com
Your ads will be inserted here by
Easy Ads.
Please go to the plugin admin page to set up your ad code.