Good Eats at Hugo's Frog Bar: Fresh seafood flown in daily and a nightlife hotspot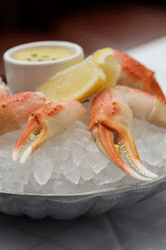 Your ads will be inserted here by
Easy Ads.
Please go to the plugin admin page to set up your ad code.
A classy atmosphere, fresh seafood flown in daily and a nightlife hotspot all in one
By Kristen Prosise
Many consider Chicago's Rush Street the place to go for high-end dining. Hugo's Frog Bar fits that bill, with portions large enough to share and a working philosophy to help consumers save money. Don't let the cartoon frog fool you, this restaurant is one serious dining experience.
Part of the Gibsons Restaurant Group, Hugo's has been in business since 1997, when owners Hugo Ralli and Steve Lombardo were looking for their next big project. Operating directly next door to the ever popular Gibsons Bar and Steakhouse, Hugo's patrons can enjoy some overlapping menu items like the famous W.R. Chicago-cut ribeye.
It's easy to spend an evening in Hugo's dimly lit, fresh and sophisticated nautical-inspired dining room, as it provides a real sense of classy comfort. Not only does the atmosphere exude quality, but the service is gracious and attentive.
"Our personable staff emphasizes splitting and sharing entrees," says general manager Kevin Arnold. "The economy is hurting, and we want customers to be able to walk out of here for less than $20."
All frills aside, the main reason to go to Hugo's is the fresh fish, crab cakes, and of course, the frog legs. The fish is flown in daily from locations such as Chile, Hawaii, Canada and Holland to guarantee the freshest selection possible. They don't believe in filler with the signature jumbo lump crab cakes, which leaves room for the large chunks of juicy crab meat, served with hot pink mayo that adds a flavorful punch to every bite.
Your ads will be inserted here by
Easy Ads.
Please go to the plugin admin page to set up your ad code.
Replace the rubbery texture of standard restaurant calamari with the fresh sink-your-teeth-in texture of Hugo's calamari, which is never a frozen product. Or try the classic frog legs, ordered as an appetizer if you have qualms about the delectable little guys, or an entrée if you anticipate enjoying more than your fair share. Sautéed in garlic butter and topped with scallions, the tender meat is every bit appealing.
A tempting prix-fixe menu is available for $29.50. It includes a choice of salad or bowl of soup (ultra creamy clam chowder!), choice of entrée (frog legs, crab cakes, salmon or a petite filet) and the perfect ending to any meal — a giant piece of Hugo's famous key lime pie with a graham cracker and macadamia nut crust topped with homemade key lime filling and crowned with a mountain of fresh meringue.
Pair an entrée with a glass of wine from an extensive list or try a signature martini while listening to the live blues entertainment, as Hugo's transforms into a hotspot for Chicago nightlife. With the kitchen open until midnight and the bar until 2 a.m. daily, Hugo's Frog Bar has long been a destination for locals enjoying a night on the town.
 Hugo's is located at 1024 N. Rush Street. Call 312-640-0999 or visit www.HugosFrogBar.com for reservations or more information.
Your ads will be inserted here by
Easy Ads.
Please go to the plugin admin page to set up your ad code.