Good Eats at Pork Chop: Southern specialties and much more at this hip West Loop gem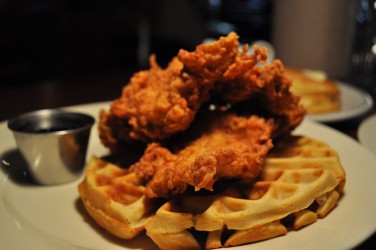 Your ads will be inserted here by
Easy Ads.
Please go to the plugin admin page to set up your ad code.
By Margot Thomas
Since opening in June of 2011, Porkchop, the comfortably hip pork belly joint created by restaurateur Dion Antic, has complimented the West Loop restaurant scene well, serving as the perfect stomping ground for a memorable meal without the need to put on the blazer or the high heels and lipst
ick.
The rustic ambiance, country-style wooden tables and workshop tools hanging as décor reminded me of my grandfather's carpentry shop. But instead of a fancy armoire, they've got some pretty darn good Southern-inspired creations with a touch of big-city flare to boot.
While most of the restaurants on West Randolph are known more as pure dinner destinations, Porkchop not only competes in that department with its live music and carefully crafted cocktails, often favoring whiskey, but it also draws in a Sunday brunch, weekday lunch and late-night crowd (open till at least 2 a.m. six nights a week).
My parents flew in for Easter weekend, and I decided to try something new with them. They have moved past what I consider the tourist stage, as I have been a Chicagoan for six years and they have served as visitors all the while. Therefore, I've felt increasingly confident stepping outside the box and replacing traditional tourist-type restaurants with the more favored local joints, like this one on West Randolph.
Stricken with some serious after-church hunger pains, it took one look at the attractive brunch menu to make me start to salivate. As first-timers, we each decided to try a different entrée, and since Porkchop has a clear glass wall exposing the kitchen, we attempted to pick up on some of the chef's tricks for home.
Your ads will be inserted here by
Easy Ads.
Please go to the plugin admin page to set up your ad code.
The pulled pork eggs benedict with a poached egg and hollandaise sauce, the pulled pork sandwich topped with chipotle barbeque sauce, and the hammy omelet were across-the-board scrumptious. Each meal was accompanied by hash browns, which had tasty vegetables mixed in with them. Some sort of magnetic force was pulling me toward the cornmeal pancakes, so I gave in and ordered them "for the table." Good decision, as they were, hands in the mud, the best pancakes I've tried in my many years of being a culinary aficionado. These cakes don't need a dollop of butter or whipped cream. Just the heaven-sent maple syrup will do.
"Never knowing what to expect from Margot, I was pleasantly surprised to
find a unique eating experience once again in my daughter's favorite town," my mom said when asked what she thought for this review. "I know why I can't lure her back to upstate New York."
The Easter brunch was a great introduction to Porkchop. On my next visit, I'll have the outdoor patio, live music and special fried chicken-and-waffles combination to look forward to.
There is no need to put any lipstick on this pig. Porkchop rocks out just the way it is.
Porkchop is located at 941 W. Randolph. Call 312-733-9333 or log on to www.PorkchopChicago.com for more information.
Your ads will be inserted here by
Easy Ads.
Please go to the plugin admin page to set up your ad code.