Cupcakes: The increasing popularity of this (nearly) guiltless pleasure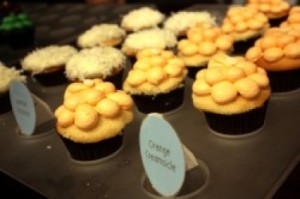 Cupcakes definitely aren't just for kids' birthdays anymore
By Margot Thomas
A few years ago, a decadent and delicious dessert seemed to suddenly become socially acceptable to enjoy at any time, for any reason, almost anywhere. The cupcake had reached a tipping point in its existence.
Bakeries specializing in creating these treats shot up all around town. Perhaps it's that (nearly) guiltless pleasure of finding a way to satisfy the sweet tooth without indulging in an oversized piece of cake. Or the recession that made the idea of affordable desserts more popular. After all, cupcakes associate a sense of happiness and celebration and remind us to enjoy the simple things in life. Or maybe it's just that these unique shops make a product that is so delectable, it's nearly impossible to walk by without stopping in.
We explored some of the most popular bakeries in Chicago to taste the desserts that keep their customers coming back for more.
Bring your kiddies to Sweet Mandy B's, a Lincoln Park staple for 10 years that has catered to plenty of neighborhood kids — and adults who want to act like kids — with a variety of tempting treats. The pastel colors, cake decorating classes and friendly atmosphere keep patrons smiling. The level of excitement is heightened as soon as you sink your teeth into one of their specialty cupcakes, each unique and beautifully decorated. The standout classic: yellow cake. Wars have been fought for possession of Sweet Mandy B's yellow cake recipe. Even if you are a chocolate lover (which is to die for as well), you will gain a new appreciation for its arch nemesis. Sweet Mandy B's is located at 1208 W. Webster.
Amongst the sky-high buildings and hustling and bustling of the city crowd comes a familiar scent that takes you back home to your grandmother's kitchen. This is what the folks at Magnoli
a Bakery bring to State Street shoppers in Chicago. A comforting oasis offering mouth-watering, "fresh-from-scratch," kosher dessert options every day, Magnolia Bakery's flagship store is in the heart of New York City, and they've been sharing grandmother's love with Chicago since October 2011. Magnolia's standout cupcake: the hummingbird. Banana cake and pineapple unite with their friends nutty pecan and cream cheese frosting to form a sense of heaven for the taste buds. Other famous treats include the banana pudding, pistachio cake and icebox cakes and pies. Magnolia Bakery is located at 108 N. State.
The Bleeding Heart Bakery in West Town (and Lakeview) is not your mother's bake shop. This punk rock-themed bakery is like no other in Chicago. The nationally renowned bakers are inspired by quotes painted on the walls like "Shut up and Bake" and "There's no crying in pastry." To boot, it is the first certified organic retail bakery in the United States. Every ingredient comes from local farms, and menu items are customizable. Welcome gluten-free, nut allergies and vegans to this utopia. Cupcakes are baked fresh daily, and the current flavors can be found online. The Bleeding Heart is well known for its cake balls. Think donut hole, but this cake ball knocks the hole out of the park. Go for the French toast cake ball and you'll find yourself a new standard of scrumptious. As if my heart couldn't be bleeding more love, the bakery features a full bar upstairs with an outdoor patio and a garden to grow their owns spices and herbs. The Bleeding Heart Bakery is located at 1916 W. Chicago and 1351 W. Belmont.
Sugar Bliss is another game-changer downtown. These cutie cupcakes decorated often with frosting in the shape of a flower make a perfect treat, morning or evening, because Sugar Bliss offers a unique
collection of breakfast cupcakes, baked fresh daily. Frosting is optional, as these breakfast treats are already covered in a delectable streusel topping. Sugar Bliss has its unique weekly cupcake lineup available online, and wallet-sized versions are at the store. Not sure what to try? Go for the black and white. The chocolate has just the right amount of richness accompanied by the oh-so-perfect flower of icing. Sugar Bliss is located at 115 N. Wabash and 509 N. Orleans.
Other favorites we can't forget:
Sprinkles (50 E. Walton)
Molly's Cupcakes (2536 N. Clark)
Phoebe's Cupcakes (3327 N. Broadway)
The Cupcake Counter (229 W. Madison)
More Cupcakes (1 E. Delaware)
Crumbs Bake Shop (numerous locations)