Hidden gems: Pequod's pizza, Bottle & Bottega art parties and a Wrigleyville newcomer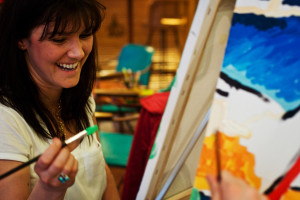 If you're searching for that certain out-of-the-way experience that represents true Chicago, we've got you covered
PEQUOD'S PIZZA IN LINCOLN PARK
Pequod's is one of those special places. The kind you could drive or walk past a dozen times and never really notice it. But then you see how crowded it is on a Friday night. You catch the intoxicating aromas from all the way down the street. You're drawn in by the family-friendly atmosphere and the hulking, oven-scorched pans of deep-dish pizza on the tables.
And the rest, as they say, is history. You, my friend, are officially hook
ed. It's just that easy here. Seriously, you mention Pequod's in this city, and most people will give you a knowing smile and nod. And that's in Chicago, where the competition is so fierce, even good pizza places don't always make it very long.
You want charm? A sign on the menu reads: "Our deep dish is baked in cast iron pans blackened by decades of seasoning, the overflowing cheese emerges from the oven as a halo of caramelized crust."
Don't call it burned. It's more "singed" or "perfectly crispy." Or better yet, just right.
"Pequod's has been a Lincoln Park staple for years," says my friend Mike Florczak, who would find a reason to go there once a week if he could. "The pan pizza is the most unique of any pizzeria in Chicago. Caramelized crust, the most flavorful sausage, fresh ingredients, lively atmosphere … what's not to love? They also have a great beer selection, including local brews from Half Acre. Pequod's is a gem."
Pequod's is located at 2207 N. Clybourn Ave. in Lincoln Park. Call (773) 327-1512 or visit www.PequodsPizza.com.
— TRENT MODGLIN
Bottle & Bottega is a fun, unique alternative to a typical night out with friends, corporate groups and for special events.
"Our vision is for guests to walk into our studios or our partner venues and feel like they're having a party in their living room," says president and co-owner Stephanie King-Myers.
The unique approach, which combines various forms of hands-on art instruction with a glass of wine, has helped create lasting memories for guests since 2009. The hands-on art sessions allow anyone to uncork their inner artist and create something of their own, whether it be a painting, sculpture or piece of jewelry. Get inspired by original works of art, an on-site artist's guidance and, of course, a little wine.
Bottle & Bottega is located at 2900 N. Lincoln Avenue in Lincoln Park. Call (773) 313-9133 or visit www.BottleAndBottega.com.
DEUCE'S + THE DIAMOND CLUB
I'm going to preface this by suggesting Deuce's only belongs on this page until late April or early May. By then, the Cubs' season will be well underway, and this undoubtedly will be one of the new hotspots in the popular Wrigleyville neighborhood.
Deuce's opened in September of last year, at the tail end of another sour season at the Friendly Confines, so it didn't have a ton of time to make a proper impression on baseball fans. But it will soon enough.
First, it's an impressive space, with seating for more than 500 on two levels designed with reclaimed vintage and industrial, edgy decor. There are two bars downstairs, 75 beers on hand and an escalator to the more upscale Diamond Club upstairs, where you'll find a raw bar, bottle service on the weekends and a photo booth.
One bonus for the warm months — a heated outdoor garden patio with a waterfall and seven private cabanas, each with its own TV.
And we can't overlook the food. Start things off with a glass of bacon, and then go for the smoked duck quesadilla and one of the 14 specialty burgers.
Yes, I did suggest the glass of bacon. You'll just have trust me on this one.
Deuce's + the Diamond Club is located at 3505 N. Clark, about a block south of Wrigley Field. Call (773) 644-5554 or log on to www.DeucesandtheDiamondClub.com
— TRENT MODGLIN