Good eats at Taco Joint: Upscale, authentic Mexican food and drink in River North and Lincoln Park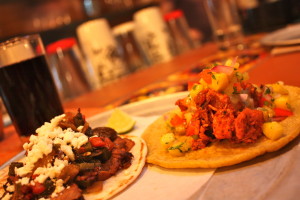 Seriously authentic (and affordable) Mexican grub in a trendy, modernly rustic atmosphere
By Margot Thomas and Trent Modglin
Where it's at: 154 W. Ontario in River North and 1969 N. Halsted in Lincoln Park. www.TacoJoint.com
The scene: When you and your friends want a flavorful meal, a menu full of margaritas and an authentic yet hip ambiance, all while being part of the River North or Lincoln Park scene without the high-end restaurant expense, this is a solid choice.
Designed with a modernly rustic appeal, Taco Joint creates a scene that is both comfortable and trendy. At the Lincoln Park location, you may find a group of girls straight from yoga class or a couple on a date, while the new River North spot attracts a steady after-work crowd and groups making a night of it afterward.
Food and drink: Everyone loves a taco, especially with a little sophistication, and the options here are mouth-watering. The classics are done right, like the al pastor with grilled chicken and pineapple pico, the carne with caramelized onions and the beer-battered tilapia topped with a creamy cabbage slaw. In the mood for a torta? Try the pollo al carbon, which is brushed with a cilantro pesto, or the panela with red jalapeno aioli. Both are standouts here. The tinga sope looks like a little black bean pot pie and comes loaded with marinated shredded chicken.
As for cocktails, go for the passion mango or the prickly pear margarita. In a city full of snazzy drinks, nothing beats the refreshing taste of a margarita rimmed with sea salt. The original goes down like Gatorade, and the flavored margaritas are so good you may want to ask for a flight so you can try them all.
What caught our eye: The modern hanging-bulb and classic lantern light fixtures, along with a ton of dark wood paneling, old-fashioned water jars and a long bar area with enough stools to satisfy any crowd waiting for a table or ready to eat now.  … A fair amount of orders were placed to go on the snowy night we visited the Halsted location.
We'll be back because: The selection of price-friendly, tasty tacos and delicious margaritas. This is the ideal place — either in River North or Lincoln Park — for an authentic, upscale Mexican meal and a cocktail or two with friends before heading out for the night.