Chicago's hidden gems: New England Seafood Company, Big G's Pizza and the Holiday Club's '90s night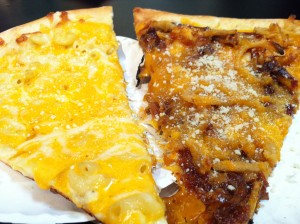 If you're searching for that special, out-of-the way experience that represents our great city, we've got you covered
New England Seafood Company
Funny how I love seafood and belong to a gym about a block away. And the place always seems to have a decent crowd inside. And yet for some unknown reason, I passed the New England Seafood Company no fewer than a few dozen times before I finally stopped in.
But I'll say this: I'm glad I finally did. Not only is the menu a top-notch collection of all kinds of seafood — from lobster rolls to fish tacos, Maine mussels, pan-seared tilapia, clam chowder bread bowls and all-you-can-eat fish 'n chips — but they also boast a fresh market (crab legs, swordfish or live lobster, anyone?) for customers, sell wholesale across the country and specialize in catering events of all sizes.
Those additional offerings are fine and dandy, but the real treat here is the menu, and a reasonably affordable one at that (with a BYOB option to boot), considering the majority of the items are flown in fresh from the East Coast. The only thing missing, I suppose, is the smell of ocean air. But for now, I'm happy to have another good spot for lobster rolls and chowder.
The New England Seafood Company is located at 3341 N. Lincoln. www.NESeafoodCompany.com
— Trent Modglin
Big G's Pizza in Wrigleyville
Let's face it, there are a lot of pizza places in town, and a majority of them could best fall into the dime-a-dozen category. But one that caught our eye recently was Big G's on Clark, just a few doors north of where the Cubs tend to
lose.
Yes, we were in Wrigleyville, but it was not one of those kinds of slices — you know, where you need to soak up the alcohol to keep from sending texts you might regret later. No, this was just because we were hungry. And because the creativity of the menu was undeniable. Need proof? The monster slices I tried were the Jack Daniels BBQ pulled pork and Big G's specialty, the mac 'n' cheese. And I contemplated the chicken cordon bleu and something called "campfire s'mores" as well.
"We are all about taking the pizza game to the next level," says co-owner Jaime Gamez. "Our creativity is only limited by the imagination of our staff and customers. We always welcome suggestions, and it should go without saying that one of the best perks is that we get to sample all of our experiments."
Quite the perk indeed.
Big G's is located at 3716 N. Clark. www.Big-GsPizza.com
— Trent Modglin
'90s night at the Holiday Club
Every Saturday night, the Holiday Club dusts off its parachute pants and busts out the '90s tunes. The house DJ offers up dance grooves from N'Sync to Whitney Houston with a few of today's favorites mixed in for good measure.
If you're looking for somewhere to shake your groove thing without an ounce of pretension to contend with, this is the spot. They also have '80s night every Friday if you're more into hair bands than Hollaback Girl, and karaoke twice a week if you prefer to be the star of the show.
Even if you'd rather swallow a scorpion than dance in public, the Holiday Club is still a fun hangout. There is a pool table, a photo booth and plenty of screens full of sports to keep you entertained while the rest of your party sweats it up in the back lounge.
Holiday Club is located at 4000 N. Sheridan. www.HolidayClubChicago.com
— Corey O'Day