Inside Scoop: Standard Market and Concord Music Hall open, restaurant deals and must-see shows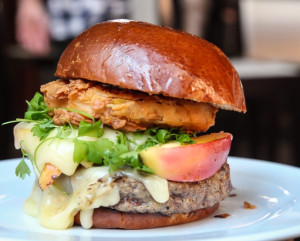 Learn what's hot and what's happening in Chicago this fall
Epic's pumpkin burger and beer pairing
Each month at Epic, chef Matthew Pollock creates a different burger and beer pairing, available in the lounge and on the rooftop. During the month of October, chef Pollock's pumpkin-themed pairing features a prime burger topped with fried pumpkin, caramelized apple and Swiss cheese, served with seasoned, hand-cut fries and a bottle of Lakefront Brewery's Pumpkin Lager for $15.
Epic is located at 112 W. Hubbard. www.EpicRestaurantChicago.com
Art You Can Laugh At
Art You Can Laugh At is back with host comedian Nathyn Gibson. The new Ready Coffee in Wicker Park is hosting this complimentary event on Wednesdays, featuring six performers in addition to Gibson. Limited seating is available, but there is plenty of standing room to watch the performers.
Ready Coffee is located at 1562 N. Milwaukee Ave. For more information, call 773-360-7041 or visit www.ReadyCoffee.com
Standard Market Grill opens in Lincoln Park

Standard Market Grill has opened in Lincoln Park and is ready to take your order in the new 5,000-square-foot space. With executive chef Brian Wright at the helm, Standard will be offering a huge selection of food for lunch, dinner and weekend brunch.
To go along with the fresh food items and ingredients from their store in suburban Westmont, 16 local craft brews will be on draft along with a global wine selection and specialty cocktails.
Standard Market is located at 444. W. Fullerton.
— Jim Luchetta
Concord Music Hall is open for business
With such reputable promoters as Riot Fest, Silver Wrapper and React Presents coming together to program, Concord Music Hall is guaranteed to be a new go-to spot for cutting-edge live music.
That manpower, combined with a killer location on Milwaukee Ave. between Wicker Park and Logan Square and large crowd capacity, shouldn't disappoint. The new venue launched with a stellar fall lineup, including official Riot Fest aftershows, DJ sets by Passion Pit and Capital Cities, Laidback Luke and an opening weekend performance from Gogol Bordello.
They're clearly opening their doors to many different music scenes, which is good news for music lovers of Chicago. Visit their website for a full calendar and ticket sales.
Concord Music Hall is located at 2047 N. Milwaukee Ave. www.ConcordMusicHall.com
— Jim Luchetta
Restaurant deals
Union Sushi and Barbecue daily specials

Union is offering $1 oysters every Monday-Saturday from 5-6:30 p.m. If oysters aren't your thing, you can grab $2 beef skewers and $4 shrimp tempura rolls.
Union Sushi and Barbeque bar is located at 230 W. Erie.
La Madia's anniversary specials in October
In celebrating its sixth anniversary this October, La Madia is offering $6 Neapolitan-inspired pizzas and $6 glasses of wine during lunch from Sept. 30-Nov. 2. Pizza selections will be changed from week to week, with a three-cheese pizza featuring mozzarella, provolone and pecorino, a house-made lamb sausage, and goat cheese.
La Madia is located at 59 W. Grand.
Standard Market Grill's Bears specials
Standard Market Grill will be providing $3 craft beers and $6 bar bites during every Bears game day this season. A total of 16 craft beers will be available to choose from, along with a selection of food that includes wings, sliders and chips with guacamole. All of which will be centered around watching the Bears on Standard Market's four flat-screen TVs.
Standard Market Grill is located at 444 W. Fullerton.
Entertaining fall shows
Second City's Miracle on Wells Street

The Second City's holiday revue, Miracle on Wells Street is ready to entertain you and your guests this holiday season. The hilarious sketch comedy show performed by The Second City Touring Company is the perfect way to celebrate winter in Chicago.
Miracle on Wells Street begins previews on Nov. 20 and will run Nov. 27-Dec. 31 at UP Comedy Club, located at 230 W. North Ave on the third floor of Piper's Alley. www.SecondCity.com
Best Musical at Up Comedy Club
Best Musical is a completely improvised musical comedy developed in "Off the Porch," Porchlight Music Theatre's new works development program.
You suggest the song titles, then watch the cast create hit after show-stopping, high-kicking musical hit in Act I based on your ideas. Cast your vote for "Best Song," then return for Act II where the cast creates a fully improvised and hilarious musical comedy (complete with costumes and choreography) around the very song the audience selected.
Best Musical plays every Wednesday through Nov. 6 at Up Comedy Club. For ticket info, visit www.UpComedyClub.com
Cupid Has a Heart On at Stage 773

Cupid Has A Heart On: A Musical Guide to Relationships has been named a "must-see" and feted as "full of wit and zest" by the Chicago Tribune. Backed by a lively pianist, the comic musical performers of The Cupid Players perform songs and scenes developed by the cast. The production's sketches combine sharp writing and catchy songs with a witty take on relationships, love and life. The result is a musical sketch show that is raunchy, sweet, cynical, touching, smart, inane and funny.
Cupid Has A Heart On: A Musical Guide to Relationships in on an open run Saturday evenings at 8 p.m. Stage 773 is located at 1225 W. Belmont. Tickets are $20 and may be purchased online at www.Stage773.com or by calling 773-327-5252.
Kate and Sam Are Not Breaking Up
For years Kate and Sam have been Hollywood's hottest couple – both onscreen and off. But as their Tween-Fantasy franchise of movies comes to a close, the duo decides to split up for good. As the media and fans alike erupt in speculation about the split, one superfan is determined to reunite his teen idols – by any means necessary. Through a combination of kidnapping, torture and couples therapy, Kate and Sam Are Not Breaking Up explores just what happens when our obsession with celebrity spins wildly out of control.
Kate and Sam Are Not Breaking Up is playing at Collaboraction, Room 300 Theater in the Flat Iron Arts Building at 1579 N. Milwaukee Ave. Regular run: Nov. 7-Dec. 14 on Thursdays, Fridays and Saturdays at 7:30 p.m. Tickets are available at www.thenewcolony.org