Chicago's iconic architecture series, part two: The Chicago Theatre, Merchandise Mart and Second City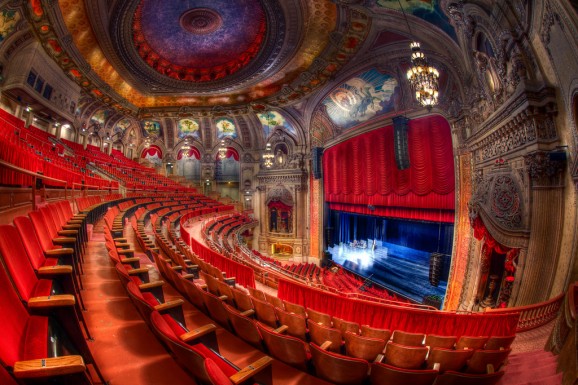 Your ads will be inserted here by
Easy Ads.
Please go to the plugin admin page to set up your ad code.
The second offering in a series on Chicago's most historic buildings
By Scott Hartge
The Chicago Theatre
Location: 175 N. State in the Loop.
www.TheChicagoTheatre.com
History: On October 26, 1921, the Chicago Theatre opened its doors to the public and quickly became an architectural marvel. Built in French Baroque style, the elegant theatre houses an astounding 3,600-seat auditorium, a beautiful lobby and the photogenic "CHICAGO" sign that hangs over State Street. The arch behind the sign was modeled after the Arc de Triomphe in Paris. It was originally a luxurious movie palace, America's first, but over the years the venue has housed countless impressive live acts like Duke Ellington, Frank Sinatra, Arcade Fire, Robin Williams, The Allman Brothers and Jerry Seinfeld.
What's happening: Now owned by Madison Square Garden, Inc., the Chicago Theatre will be holding a number of standout performances and concerts in the coming months. For fans of the popular cartoon Bob's Burgers, there will be a live reading of an episode by the cast of the show on March 20. On April 25, folk singer-songwriter Sufjan Stevens will be returning to Chicago in support of his first album in five years.
Fun facts: In 1986, the building was scheduled to be demolished until the Chicago Theatre Restoration Associates and the City of Chicago teamed up to save the iconic venue, which stands seven stories tall and spans half a city block. The theatre, which is registered as a national and Chicago landmark, is also known for its grand Wurlitzer pipe organ, one of the oldest still in existence.
Merchandise Mart
Your ads will be inserted here by
Easy Ads.
Please go to the plugin admin page to set up your ad code.
Location: 222 W. Merchandise Mart Plaza in River North
www.MMart.com
History: Originally built by Marshall Field & Co., the massive Merchandise Mart is one of Chicago's most eye-catching buildings. Located on the banks of the Chicago River, this greyish building spans an astonishing two city blocks, covering 25 stories and 4.2 million square feet. Since its opening in 1930, the Merchandise Mart has served as the largest commercial building in America and was owned by the Kennedy family for more than 50 years until 1998.
What's happening: The Merchandise Mart currently is home to dozens of retail shops, wholesale showrooms, restaurants and trade shows. Each day roughly 38,000 people pass through its doors, and 10 million visit it each year. Even if you are not looking to shop, walking around the building is still entertaining due to its sheer size.
Fun facts: Since the structure is so big and holds so many businesses, the Mart actually had its own zip code until 2008. It also has its own El stop that leads people straight into the building.
Second City
Location: 1616 N. Wells in Old Town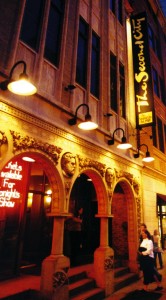 www.SecondCity.com
History: Second City, arguably the most influential comedy club in America, opened in 1959 before moving into its current home in 1967 in the heart of the Old Town neighborhood. Over the years, Second City's performance space has served as a launching pad for comedians and actors on their way to Hollywood. Climbing the stairs of the mainstage theater is like a walk up memory lane, complete with black and white photos of previous casts (and famous faces in their youth) through the decades.
What's happening: Second City has been a permanent fixture in Chicago for generations, much like Wrigley Field, Navy Pier and deep dish pizza. People from all over the country flock to the hilariously satirical and culturally relevant sketch and improv revues. Current shows include Panic on Cloud 9, Apes of Wrath and The Best of Second City, which includes some of the best sketches of Second City's historic 52-year existence.
Fun facts: The likes of Tina Fey, Stephen Colbert, Steve Carell, Bill Murray, Mike Myers, John Belushi, Alan Alda and John Candy are just a few who planted their comedic roots at this legendary club.
Your ads will be inserted here by
Easy Ads.
Please go to the plugin admin page to set up your ad code.