A Round of Drinks at Kingston Mines: Two stages of the blues, plenty of dancing and tasty Southern-style cooking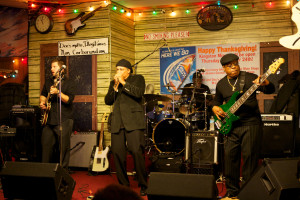 Your ads will be inserted here by
Easy Ads.
Please go to the plugin admin page to set up your ad code.
By Trent Modglin
WHERE YOU'LL FIND IT

2548 N. Halsted. (773) 477-646. www.KingstonMines.com
WHEN IT'S OPEN
Sun.-Thurs. 8 p.m.-4 a.m., Fri. 7 p.m.-4 a.m., Sat. 7 p.m.-5 a.m.
HISTORY IN SHORT
First established on Lincoln Avenue in 1968 as a coffee house, it was soon converted into a center for the blues and is credited with being the first club to bring the blues to the north side of Chicago. It moved to its present location in 1980.
PEAK TIME
Kingston Mines thrives in the late-night hours, especially on weekends, though it's not uncommon for crowds to arrive early for good seating, an acoustic set and some grub.
FIRST IMPRESSIONS

At first glance from Halsted Street, you'd never know what lies behind the doors. Kingston Mines is a fairly large yet intimate venue, complete with two separate but adjoining rooms, two bars, Doc's Rib Joint and more. … The stages can hold an entire band, but they're small enough to keep the musicians connected with the crowd. … The interior, with all its wood and space, almost makes it feel like you're stepping foot into a comfy lodge. Long, skinny tables and plenty of seating are perfect for accommodating large groups. … Pictures and paintings of blues legends and the deep South give some historical perspective and an artsy feel.
THE ATMOSPHERE
The vibe at Kingston Mines is what you make of it. There are some folks who hit the dance floor like they're at an open-bar wedding, while others are content to sit back with a cold beer and just let the foot tap the floor beneath the table. There is an unmistakable energy about the place that brings a steady crowd. The music is the reason you come, but it's not so overwhelming to where it prevents you from having a conversation at your table.
MENU VARIETY
Tons of Southern-style barbecue and comfort food (ribs, catfish, fried mushrooms, etc.) to keep you going well into the night, plus two full liquor bars, one in each room, offering a plethora of beer options by the bottle.
Your ads will be inserted here by
Easy Ads.
Please go to the plugin admin page to set up your ad code.
WHO YOU CAN EXPECT TO SEE THERE
One of the best things about a night out at Kingston Mines is the diversity of the crowd. From 20-something locals having beers to 60-year-olds dancing like children and European tourists catching a wave of true Chicago blues, you really will see a broad mix of folks enjoying themselves.
IT'S A GREAT SPOT TO… "bring a group of friends, grab a table and settle in for a night away from the norm. … catch some of the best live blues you'll hear anywhere in the country, from five-decade veterans to some of the area's best new acts. … come for the music, but stay for the food."
WHAT PEOPLE ARE SAYING…
"Ever since I was young, my mother's always been bringing me to blues concerts. Kingston Mines represents everything I love about the blues, and I have an amazing time whenever I come."
— Taryn, DePaul student
"I remember the first time I stepped foot in here, and I was shocked by how big it
was and the energy it had. We were supposed to stay for a quick set and then meet friends out. Four hours later, we were finally headed home, still singing to ourselves."
— David, 45, Chicago
"The Mines is very important to Chicago. I have been playing here for (15) years. …. When people come here, they expect to hear the blues. Good blues."
— Blues front man Linsey Alexander
Your ads will be inserted here by
Easy Ads.
Please go to the plugin admin page to set up your ad code.