Bucktown boutiques: This trendy neighborhood has become a shopping destination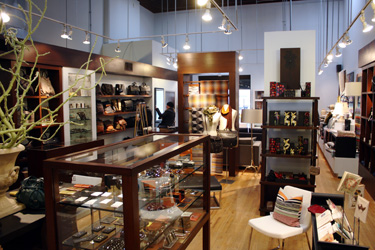 Your ads will be inserted here by
Easy Ads.
Please go to the plugin admin page to set up your ad code.
The Bucktown neighborhood has steadily become home to some of the city's most chic and trendy stores
By Danielle Berry
Who would have thought that a predominately Polish neighborhood that got its start in the early 1800s and was initially known for raising goats could transform into one of the hottest niche areas for shopping in Chicago? Jammed pack with trendy restaurants and upscale boutiques, Bucktown has quickly become a viable alternative to downtown shopping.
Damen Avenue is the neighborhood's main street for chic boutiques that are both exclusive to the city and known globally. Here is a sampling of the shops along this quaint strip that will satisfy and excite even the most jaded shopper.
Since 1997, Stitch (1723 N. Damen Ave.) provides everything for the trendy shopper who can appreciate great products for the entire family. This clean, wood-grained shop has great finds for men, women and children. The handbags, timepieces, eyewear and unique gadgets draw you in, but the contemporary crafted furnishings for home and office are real crowd pleasers.
Belly Dance Maternity (1647 N. Damen) believes that expectant mothers still should be fashion-forward. This store has everything under the sun for mommies-to-be, including intimates, skincare, clothing and diaper bags. There is nothing matronly about the chic separates and loungewear. This place is a must-stop if you're unimpressed with the more hum-drum maternity stores sprinkled in shopping malls. Even if you're not expecting, check out the diaper bags. They are uber-cute and can be converted into a multi-purse satchel.
Your ads will be inserted here by
Easy Ads.
Please go to the plugin admin page to set up your ad code.
For those fashion mavens who have a love affair with high-profile labels, Intermix(1633 N. Damen) is the boutique of choice. Intermix is originally from New York, but it has made a secure home here in Chicago. Get carried away with an extensive selection of designers like Stella McCartney, Diane Von Furstenburg and Fendi. The store has day and evening options as well as beautiful handbags, shoes and jewelry.
Definitely an innovator and originator when it comes to style in Bucktown, P.45 (1643 N. Damen) is one of the first boutiques that opened more than a decade ago. This clean and streamlined shop is a minimalist's dream with tailored, clean statement pieces that are great for day or night. Most of the designers featured in the store offer customers fresh and unique outlets for fashion. P.45 is perfect for silver and gold jewelry as well as simplistic tunics and dresses.
After experiencing the more fashion-forward boutiques on Damen, save time for the T-Shirt Deli (1739 N. Damen) for a more personalized touch. Set up like a vintage deli, this is the place to customize shirts, underwear, baby clothes and anything else you can think of. Come in and grab your choice of garments from a picnic basket and design it using a decal, custom letters or your own design that can be uploaded on the spot. It's a great place to personalize a gift or create a statement piece for your own wardrobe.
Your ads will be inserted here by
Easy Ads.
Please go to the plugin admin page to set up your ad code.