Shop Around the Corner: Twosided and The Boring Store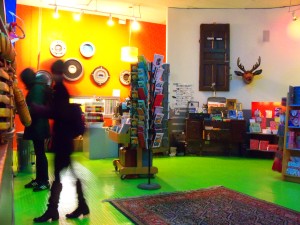 Browsing Chicago's unique, trendy neighborhood stores and boutiques
Twosided
2958 N. Clark in Lakeview

www.FourSided.com
Need an instant pick-me-up? Step into Twosided at the corner of Clark and Wellington for an immediate joy-inducing experience, and pick up a last-minute gift while you're at it.
This small shop is filled to the brim with character, providing quirky, one-of-a-kind goods to help you really show off your professional-with-a-touch-of-hipster personality. Basically, it's an emporium of awesome, generally witty things. You'll find vintage globes, frames and trinkets that will add character, class and humor to anyone's home. Get a good laugh at the greeting card wall, where your happy/sorry/congratulatory needs are all covered in a wide scale from pleasant-but-not-grandmotherly to outrageously hilarious. For more adorable paper goods, there's also boxed thank-you notes, blank journals, stationary and gift wrap, all with their own unique, local feel.
Every inch of the store is exploding with charming items, and you'll find yourself making laps to avoid missing anything. Speaking of exploding, head to the connected holiday pop-up shop next door for more fantastically glittery holiday decorations than you can possibly handle.
For your framing-focused needs with a dash of similar quirk, head to their sister store, Foursided, with one location on Broadway and one in Andersonville.
— Hilary Ward
The Boring Store
1331 N. Milwaukee in Wicker Park
www.BoringStore.com
This place is anything but a snooze. The Boring Store has every manner of secret agent gear a young spy could require. Here you'll find invisible ink pens, secret hiding chambers shaped like shaving cream and soda cans, and my pe
rsonal favorite — rear-view sunglasses. I think I'll be gifting them as walking-home-by-yourself glasses for my street-wise Chicago girlfriends.
All proceeds from Boring Store sales go to benefit their not-so-secret mission: 826CHI, a non-profit organization that offers writing and tutoring programs free of charge for Chicago students ages 6-18.
"I like that the store is interactive," says assistant store manager Anna Gross. "I think it does a great job of informing the public about the non-profit in an interesting and low-pressure way."
The Boring Store sells just about every Dave Eggers book ever written, as well as quirky books like The Latke Who Couldn't Stop Screaming: A Christmas Story by Lemony Snicket. It also has a wide selection of literary journals including McSweeny's, N/A Literary Magazine and chapbooks full of student work from 826CHI. This is a great place to find a smart and quirky gift for your eccentric someone (adults and kids alike), all while making a difference in your community.
— Corey O'Day